Music / Features
A Bridge Between Worlds -
A Chat With Mindy Meng Wang 王萌
Mindy Meng Wang 王萌 is a gifted experimental artist masterfully trained in the Guzheng - an important classical instrument from her homeland. With an unbridled and adventurous approach to her craft, Mindy skillfully weaves traditional practice with contemporary sound. To celebrate the release of her new boundary-shattering EP, An Improvisation Through Time and Space 穿越时光的即兴, she took the time to share with us her globe-spanning story and the inner-world that has defined it.
My first impression of Mindy Meng Wang was of a genuine desire to connect. I had initially planned the interview as an email-based Q&A - 'it's more convenient for everyone' thought my socially apprehensive COVID brain - but Mindy insisted we do a video call. After the obligatory seesaw ritual of Zoom connection attempts, I was greeted with a smile that transcended the barriers of screens or distance. "It is nicer that we hear each other's voices!" I barely had time to press the record button before Mindy was telling me about her music: what it means to her, who she is when she plays and the contradictory space she inhabits as she does so.
There is not a trace of anxiety as she relates her story - she is comfortable projecting herself to the world, even if it might not understand her back. It quickly becomes clear that Mindy's entire life is characterised by this earnest bravery.
In only a few short years, Mindy has already made a significant mark in Australia. If you frequent Chinese cultural events or celebrations, there's a good chance you've seen her perform. Maybe you experienced her love for exploration at Dark Mofo, Mona Foma, OzAsia, Mapping Melbourne Festival, AsiaTOPA, Brisbane Festival or the Adelaide International Festival. Maybe you saw her onstage with Regurgitator, Sui Zhen, Nadia Ratsimandresy or the Australian Art Orchestra. Wherever she is and whoever she's with, Mindy's passion for excellence and innovation stands out. Her new EP,
An Improvisation Through Time and Space 穿越时光的即兴
- released through
Music In Exile
- is no exception.
When I first listened to Mindy's work, I imagined an acrobat doing cartwheels on a razor-thin wire. Like a master aerialist, Mindy crosses between the two worlds of the traditional and the contemporary with wisdom and ease. This seamless link is particularly potent in
An Improvisation Through Time and Space 穿越时光的即兴
, her first published set of improvisations. Throughout all five pieces, the EP beautifully channels the unique sonic landscapes that only the Guzheng can create in symbiosis with contemporary ambient swells and atmospheres.
I asked her how it felt to improvise as opposed to a more intentional composition. "So, I think with composed music, you put in a lot more planning. Whereas in improvisations you actually demonstrate everything about your journey - your musical journey and your emotional journey," she shares. "I called it
Through Time and Space
because I think inside the music there is my life in China, my life in England - all these things that I have been and done until now. It's basically me. I think doing improvisations puts a musician in a really vulnerable space. You cannot do good work without opening up completely. What you hear is a person. You don't just hear music."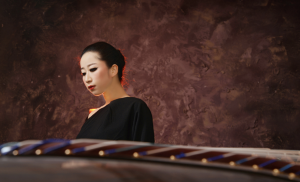 The Guzheng - sometimes called the 'Chinese Zither' - is a large horizontal harp, usually with 21 to 26 strings suspended over adjustable bridges that are plucked or vibrated using both hands. It has a long history, dating back over 2500 years. It has been an important part of Mindy's life since she was a child.

Growing up in a university town in Lanzhou in northwestern China, she was surrounded by art and culture. "When I was about five years old, it was quite popular in my hometown to educate your children in the arts, music or dancing or whatever. So, at the beginning my mother wanted me to learn piano - which I hated at the beginning. I didn't like playing and I didn't like practicing at all." She laughs wistfully, "so they gave up - 'maybe she doesn't have any musical talent.'"

This certainly wasn't the end of Mindy's musical path. Serendipitously, one of the neighbours in her apartment building was a Guzheng master who taught at the university. Six-year-old Mindy heard her practicing from across the hall and fell in love with the beautiful sound. Her neighbour became her teacher, and after ten years of devoted practice and study Mindy was ready for new things. "So, when I was around 15 or 16 I had already finished all the exams and had done all the top exams. I was ahead of everyone." She was prepared to study at a conservatory, the practical next step for any accomplished classical musician. Instead, Mindy decided to go to England and study Western Musicology. Since most Guzheng players stay in China - eventually to become teachers themselves - this was the first leap in a life of experimentation. 

New challenges awaited her in England, including the navigation of two new languages: English and western music theory. "Everything was just so different. The music system was so different. The western theory and the Chinese theory are based on very different systems, so I became probably the worst student in my class." She laughs again and explains that after a difficult first year, she considered returning to China. The thought of coming back empty-handed however just didn't feel right, so she stuck it out, eventually graduating with honours. Her resilience led to more success - a spate of European tours with the Silk String Quartet, showcases at the Tate Modern, and a collaboration with British super-band Gorillaz. It was during this time she also began to realise the potential of the Guzheng. "I think it helped a lot to understand the western music system. So after that I started to have ideas of mixing in western music with my playing." 
A seed was planted, and Mindy began to steer her craft in a bold new direction by using the Guzheng in uncharted territory: improvisation. "I was a bit nervous because people don't really do improvisations for the Guzheng. It's a very traditional instrument. Even the masters just stick with the traditional scores. The Chinese philosophy surrounding the instrument and its music is about passing something down and preserving the tradition. So in the way that I was trained, you are aiming to do something exactly the same as what your teacher can do." 

It was here that Mindy diverged from the traditional path of a budding Guzheng master. To feed her hunger for experimentation, she embraced heterodoxy, using her instrument in ways that no one else has. 

Where the Guzheng is traditionally plucked, Mindy often uses a violin bow - a technique emitting a deep yet sparkling drone that you'll hear throughout the second half of An Improvisation Through Time and Space. But this isn't the only innovation Mindy has up her sleeve. "In the [second] track, 'Clown's New Trick' I actually put a lot of weird techniques and new sounds. I used the tuner to slide the strings and get a weird sliding sound. I remember when I was doing this, I was just thinking about how this weird technique is not accepted, but that it shouldn't be like that. So ['Clown's New Trick'] gives the feeling of someone who brings all the tricks out but is not sure whether it will be liked or not."

She explains the contrast to the opening track, 'Forbidden City, A Cold Moon'. "This is probably the most traditional sounding on the EP. Although it's an improvisation, all the tonality and all the patterns are still inspired a lot by traditional Chinese music. Chinese music is very narrative. If you look at traditional music - even the names - are either describing an image or telling you a story."


Visualisation is a vital part of Mindy's process, and an undeniable attribute of all five compositions on the EP.  'Forbidden City, A Cold Moon' is a reflection on Beijing's Forbidden City, a place she often visits in her mind's eye. It is the history contained within its walls that captures her. "In Chinese tradition, most people who lived there never got to leave. The Emperor for example, had many concubines, they often had more than a hundred. And some of them - they don't even know who they are. So those women have to live in a corner of the Forbidden City and wish one day that the Emperor would think about them. And a lot of them just die there, having lived their whole life without even seeing the Emperor. Because of all of this, there are so many stories within the Forbidden City. So many whole lives lived and ended there." 

This melancholic mirage has a modern counterpoint later in the record. "The last two tracks in the EP, both of them are based with a 'bowed' sound, and I used loop layers with melody. The first thing I think about is Inception actually." She lets out a slightly embarrassed laugh, "so when I'm playing  I feel like I'm in a weird place, another dimension, or in a computer game where you go into a different life. Or after a war in a science fiction movie." 

Through her music, Mindy dreams of the past and the future side-by-side - a potent reflection of her own journey through time and space.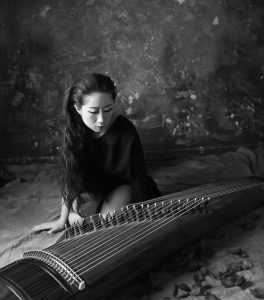 As our time wraps up, I get in one last question - one I've been itching to ask. How does it feel to play the Guzheng? 

"I feel like it's an extension of my body. An organ. It doesn't feel like an instrument. It's definitely a part of me. It's one of the ways I communicate with the world. How I speak and how I interact with people, that is one part - but another very significant part of my communication comes from my music. Through my music people might listen to it and have a certain emotion come to them. Someone might say, 'Oh I've been listening to your song on my morning walk, and I'm really enjoying that - with the trees and the birds, it's perfect' All this means that part of my experience can become other people's experience. That's the best thing! I think this is why the instrument and the music has become part of me." 

A pause and Mindy holds up both hands, shrugging her shoulders, "that's how it is."
An Improvisation Through Time and Space 穿越时光的即兴
is out today via Music in Exile - head
here
to pre-order the EP on 12" vinyl, and keep up to date with Mindy Meng Wang by following her below.