Music / Features
Teether and X Amount Records:
The New Aussie Hip-Hop Underground
Teether represents a new age in Australian hip-hop. On his latest album Desert Visuals, he rejects tired traditional sounds and aesthetics, in favour of an abstract, off-kilter approach that is nurtured by his label-mates at X Amount Records. We caught up with Teether to dig into the blossoming underground scene and the endless possibilities of creation and experimentation in the modern era.
Hip-hop in Australia has always been a polarising subject. Whether it be the accent or the aesthetic or the blatant indebtedness to international influences, there's always been a slight feeling of disrespect towards the scene. Whilst our country has birthed some domestic cult records such as Lyrical Commissions 2003 classic The Stage is Set, and a number of acts have found great popularity within our borders, other than Iggy Azalea, not many have been able to really hit on a global scale.

Over the last few years however, things have taken a turn. The familiar festival headline fillers of Hilltop Hoods, 360 and Bliss n Eso have been pushed aside for an eclectic mix of creative, forward thinking artists - with Tkay Maidza and Kwame bringing high octane energy and experimentation to the mainstream side of things, and Remy and Sampa the Great embracing the bubbly jazz and funk of Melbourne's groovier scenes. Meanwhile, OneFour in Sydney are channeling the genres forefathers in translating their struggles into hard-hitting, confrontational street tales. Just in the last year between these acts, we've seen collaboration with international stars the likes of Jpegmafia, Denzel Curry, Billy Woods, Dutchavelli and many more - proving the Aussies are on the rise. 

With the bases loaded, it was only a matter of time before the underground would begin to emerge. Where there is culture, there is a counter. Whilst only one example of this bubbling scene, one of its most significant proponents is local label X Amount Records. The label is composed of a dizzying array of creativity - ranging from melancholic avant-garde rapper RealName, to wonky beat maker Stoneset, through to abstract wordsmith Teether and many more. In ways, sharing the wild and eclectic energy of American label Awful Records and embodying the infinite possibilities of creation in the internet age. 

I had the chance to zoom with Teether and chat about the label, the Aussie scene, his new record Desert Visuals, using psychedelics in lockdown and much more. As is expected from his deeply introspective and philosophical musings on record, our conversation flowed in an equally scattered and observant way.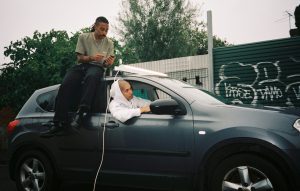 Our conversation started, as is unavoidable, by discussing isolation and the experience of releasing an album from within lockdown. "I've never really had that much hype before, it just sort of felt like a normal couple of weeks. Though it's pretty cool this has been the most listened to record right off the bat." He references his Zoom background, a screenshot of a calculator that reads 3,750, and explains represents his current level of debt following the album's production. It's not exactly been a mainstream release.

He mentions not being too upset about being unable to perform live for the launch. Contrasting some punk, electronic and other high tempo records, the melancholic reflection of Desert Visuals definitely translates well into an isolated listening experience. "I wrote most of it after working night shifts, at 3am, alone. So it's cool lots of people are listening to it in the same kind of situation. I feel bad for the guys missing out on live performances, but I just kind of hate it. I feel it's definitely an extrovert's game."

Teether's style is one both deeply indebted to hip0hop's history whilst equally hyper modern. Built with experimental sliced sample loops and deliberately obscured vocals, his music makes for an entrancing and psychedelic atmosphere, furthered by his lo-fi production and abstract poetic lyricism. All techniques that can be traced back to the dusty soulful loops of J Dilla and Madlib, the creative collages of plunder-phonic acts like DJ Shadow or Australia's The Avalanches, and the subdued subversive delivery of underground legends like MF DOOM. All these influences are being utilised and re-contextualised in parallel by a wave of modern artists, with Teether pioneering the sound on Aussie shores. This hazy hypnagogic hip-hop scene has been spearheaded in recent years by seminal records from the likes of MIKE, Earl Sweatshirt and Standing on the Corner.

In regard to his sound, Teether explains "I worked on Desert Visuals on and off for a while. It took about 3 years. When I started in 2017, The OOZ [by King Krule] came out, so I was listening to a shit tonne of him. Then I was kind of revisiting a lot of Madlib beats and that older stuff, then around that time I came across MIKE and Pink Siifu, and I was just chopping up samples without putting in drums for a while. But then Earl dropped Some Rap Songs and I was like 'shit, damn. That's what I was gonna do'." 

At first he was concerned people would just assume he was copying Earl, before realising "it's cool that he obviously came to a similar conclusion from what was around him at the time. He's probably been listening to similar shit." But not to be boxed in to any particular sound, he continues, "I just call it bedroom music. I'm trying to diversify with my next releases. I have one album next year with a similar approach, then also a death metal album and an electronic EP to come out when we can start going to raves again."

This diversity of sound and artistic vision is heavily encouraged by the increasingly wide borders of 'hip-hop'. Like rock before it, the world's most oversaturated musical product requires innovation to remain engaging. Coupled with widely available software designed for rap production, people from all walks of life and all ears of development are able to freely create and explore with increasing disregard for the genre's traditional components. 

We mention Zillakami and Denzel Curry for their fusion of metal and hip hop which Teether clearly has an interest in. We talk about Danny Brown's post-punk influences and the likes of Death Grips and JPEGMAFIA manipulating the genre into the wild worlds of industrial, hardcore punk, gabber and far beyond. It's this kind of trail blazing creativity that seems to drive Teether, whether he's aware of how he gets there or not.

"There's lots of parallels between metal and rap. Lots of low ends and repetitive loops. It's all designed to put you into a meditative, hypnotised state where you're vulnerable to listen to it. I was always a metalhead in high school, just locked up in my room playing guitar. Listening to Metallica and all that. I only really started listening to rap in Year 12. Now I guess I'm sort of bringing all those influences together. Definitely my slower, drawn-out poetic approach is coming from metal. But I don't really know how to describe it. It's kinda all an accident."

From first listening to rap in 2013 to now chasing a career in it, I ask when he wrote his first bar.  "Shit. It would've been that year, which is ridiculous. Like how dare you? Start listening to rap and try to make it in the same year. It was horrible, I only had Pro Tools at the time. I started just trying to make beats, then I just wanted to rap and find my voice."

Speaking about the track 'Sweet Tooth' from his latest record, and notes the polarity of his dad purchasing software for him before later kicking him out of home. "Yeah I thought it was quite a good encapsulation of some of the mixed messages I received growing up. When he was feeling supportive and had his money sorted he'd buy me Pro Tools, then when money became a stress again and I was spending too much time in my room, we would have a lot of clashes. But getting kicked out and not having a job I was just making beats all the time, so it all kinda worked out. Going the Kanye route of a thousand beats a summer."


Though his initial output was purely independent, he eventually came to join experimental label X Amount Records, which Teether describes as more of a collective, but a label out of necessity. "It is essentially just our friends, the albums just happen. We just kick it and sometimes make shit. Eventually it's like 'oh shit this album exists now, we should release it through X Amount'."

He first joined the circle after meeting label-mate Mr. Society in 2014. "We were both in our first year of university, studying sound production at RMIT. Him and Realname had a band called Dead Vandals and I wasn't really rapping or telling anyone about it, but they were sick and I was a fan. We were hanging every day and eventually he mentioned X Amount - which went by another name but was essentially a creative network of everyone around us."

Within this highly collaborative collective, Teether and Realname have developed a particularly fruitful partnership, bouncing off of each other with a friendly competition, almost like Australia's abstract answer to Run the Jewels. "Every time he records a verse I'm just like 'fuck he's so much better than me'. Then it's like this perpetual motion machine. Where I see him doing shit and I wanna do that and then we just keep doing shit." 

This mutual inspiration resulted in the frantic creation of last year's collaborative project Leave Yourself Alone. Created almost independently, with Teether's continued prolific beat creation and Realname scribbling lyrics on his long work commutes, the album came to life when Teether showed Realname his work, who simply said "yeh I got shit for this". They recorded the entire album in three hours.

This internet-age freedom of access and creative collaboration allows for wholly unique lighting-in-a bottle moments like Leave Yourself Alone to be captured. This spontaneous DIY production has long been a staple of the punk scenes in Australia, but now for the first time is being embraced within the hip-hop world.


This free-form creation and resurgence in the genre's prominence has led to many interesting scenes. With the underground bubbling around labels like X Amount and Mirage Records, the jazzy scenes, the drill and the mainstream all doing big things, Teether definitely recognises a change in the tide.

"[Aussie rap] always had that sort of connotation. Even when we started first playing shows, which was only like two years ago, we'd be out in the suburbs playing with what you think of when you think of Aussie rap. Like the BBQ shit, some 40 year old cunt just rapping about his struggles, which are valid I guess. But it definitely has changed with so much more diversity over the last couple years. Even just recognising we have a unique accent. We have words and slang that they don't have overseas. This city is so unique, even compared to Sydney. All my friends that rap there sound so different compared to us. Which is super encouraging. Not in terms of 'success' or monetary purposes, but in the sense that it's not as alien to people. That you can just make shit and be yourself which is just so much more interesting."

I tell him that it was nice mentioning to my friends that I was interviewing an Aussie rapper and not be met with eye rolls. It seems like people's minds don't immediately go to pop rappers anymore. "Back then that was the sound. That was the only sound really and if you weren't doing that people were like 'wtf are you doing'. I used to not tell people I rapped. I'd just say like spoken word shit because I just didn't want to be associated with the connotations of being a rapper in Australia."

But in a world shrunk to the size of a megabyte, as the internet continues to disrupt the distribution, promotion and creation of music, it's becoming increasingly difficult to determine the importance of location on creation. Something that Teether has spent a lot of time thinking about himself. "I've been very focused on pinpointing my location and my surroundings, and the places you frequent, and where your parents are from and how they grew up, and how you grew up and your friends and all that shit. I think as I get older, that context is becoming more and more relevant and important in unpacking things. Like even within X Amount, why do we all think these sounds are cool? Is it because we all grew up in the suburbs of Melbourne? Is it because of some other external reasons? Have we all endured the same trauma that has drawn our brains to this sort of sound? I don't have any answers but I think it's interesting, and I love how there's infinite access and you don't have to be limited by your location. But still where you're from is just as important in shaping the shit you end up making".

Reflecting on the inquisitive nature of his music and its quest for self-discovery, it's unsurprising that one question results in many more. "I feel like the older I get and the more I feel like I understand the world, the less I feel I understand shit and the more questions I have. I'm kinda freaking out all the time, but I feel like that's a perfectly rational reaction to the world. I'll probably never know or meet anyone who can answer these questions, but that's kind of the beauty of it. Like we don't know shit and are all just trying to figure it out. But there's still a lot of context with which we can piece together and approximate our own image of the world."

The image of the world that Teether has pieced together has had its fair share of surreal moments. In the process of creating his 2018 album Don't Come Back Here, Teether and Stoneset set out to find a few features to complete the package. "Now I'm very focused on including my immediate surroundings and that kind of context, but on Don't Come Back Here, we were more trying to make a separate statement that we could always look back on -as not necessarily our big album, but a big undertaking for us personally."

But things went quiet for a little while after that, until one unsuspecting day Teether received a phone call. Not from Billy Woods, but from a mysterious crackly voice. He was told he'd won free tickets to LA from voting on an online poll. Something which both of us believed was not something that actually happened. He assumed it was spam but by the end of the day had tickets and was sorting out his trip, which he organised around a Billy Woods show. "I bought one of his shirts and told him who I was, then he took me back to the greenroom and played his Armand Hammer album Rome before it dropped. I sat down with him and spoke about the concept of the album, which was like a surreal dream that I kind of forget happened. I feel like there's certain moments in life that are just overly perfect and way too lucky and that was just one of those. It was very inspiring. It made it feel like everyone's around and you can probably work with someone eventually. Maybe not now but if you try and reach out maybe in a few years it'll happen for you."

People making hip-hop in Australia don't have to sound like 'Australian hip-hop' anymore. They don't even have to make hip-hop with Australian's anymore. There's no real reason a kid from Melbourne can't be in a collective with artists in the US or UK or UN or anywhere. With Billy Woods working with Teether, we are seeing that a big budget isn't required for Americans to cosign our talent anymore. This isn't Lupe Fiasco on a song with Guy Sebastian. This is talent recognising talent and it shows that the borderlines are beyond blurred at this point.


As noted previously, Teether's latest projects have aimed to represent his current context, and his most recent record Desert Visuals does this to a tee. With recognisable features from Stoneset, Realname and Mr. Society, the album has hazy themes of disillusionment, anxiety, distrust and self-discovery, that grapple with the temporary nature of life.

I ask how the title Desert Visuals encapsulated all of that - perhaps Teether is staring out into the baron wasteland that once was an active society? In actual fact, the name was very much a last minute decision. The project had been under development for three years with seven titles in rotation, It's Okay being the front runner. But in the wake of the pandemic fuelled chaos of 2020, Teether felt the title was too on the nose and had to switch it up.

"There was a night during the first lockdown where there was nothing to do. And we were like 'its been a long time since we've done acid so fuck it'. You always forget what you're in for, it's a lot easier in theory. It ended up just being a really long night. But we realised we had all this technology at our disposal since we were stuck in our house. We had a TV screen, two computer monitors, two laptops and those adjustable LED lights. So we decide to get a theme going on. Which at first was red. So we had the red light on, we had volcanoes and a lava lamp visual playing. Then I was hit with a feeling to put up a red desert. Which was just one of those 4K ASMR desert videos. That's all it was but I found it oddly calming."

Though on the surface he says it means nothing, it's clear there's a little more to it than that, even beyond an interesting parallel to ease of access to technology and creation within our own homes. "I had this moment that night where I just faced that we're in an apocalyptic timeline where if we leave the house we can get sick. That's real life for us. The closest we can get to being in nature is taking psychedelics and watching simulations of being in nature. Which is fucked up. It's so cooked and so inhuman and unbelievably our reality. Honestly one of the best things I've taken out of this year is how comforting and nice it is when I put on desert visuals. Not the album, but the actual video. So fuck it why not just call it that. I put three years into this album but it was all optional. Life is silly, you can't plan it, you just have to adapt."

When I started it the project was going to be a 10 song double EP, which went out of the window and it became its own thing that I couldn't have planned for. So it was only suitable to give it a title that I could never have planned to give it. It was only like the week before that I decided to call it that, so it kind of means nothing, but means a lot to me, but also doesn't mean shit to me. You know, it's just desert visuals."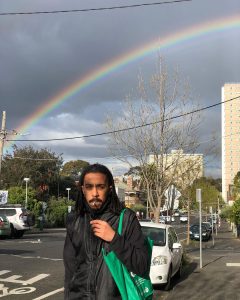 We chatted a little more about the state of the world, and the views from our windows, but Teether's search for understanding stuck with me long after.

It's awful that technology and social media have eroded reality. It's awesome that we have the means to create from anywhere and overcome unimaginable things. It's a shame that local identities and sounds are becoming less distinct. It's incredible that everyone, everywhere can create and embrace any sound imaginable.

Teether and X Amount represent the icing on the cake of this moment in Aussie hip-hop. You can't have an underground, without some higher ground being covered by the others. And this whole package that is created can almost double as a welcoming entry point for newcomers, encouraging them to be themselves, find their own voices and make the music they want to make.

Whether the next project Teether releases is rap, metal, techno or anything else, it will certainly be interesting and exactly what he wants to do.