Music / Premieres
Premiere:
Horse Meat! - Horse Meat
Today we have the pleasure of premiering the debut album from Horse Meat!, a collection of dark and uncompromising post-punk, unironically built around the sounds of 80's synth-pop and unpinned by a furious, agitated edge.
On his debut release as Horse Meat!, Tom Thomas (also of Melbourne garage group The Backs) offers up an unhinged barrage of electronic post-punk. Initially sparked by a Total Control set, the collection of tracks on Horse Meat lean into a similar style of sinister and unnerving synth-infused punk, making for a deliriously dark and murky listen from beginning to end.

Across these nine tracks, stark synths fluctuate and merge incessantly over throbbing programmed beats, but remain anchored by Tom's drawling vocals, his sardonic presence only occasionally breaking to reveal the humour that bubbles beneath his scathing performances.

Despite the album being largely recorded in isolation in a spare room in his share house ("my housemate moved back to Daylesford to escape the big bad city and so I sorta took over his room and turned it into a crude recording studio" Tom explains), Horse Meat's strongest moments appear amidst flashes of collaboration. That's not to say Tom lacks prowess - in fact, his ability to blend and warp electronics seems especially effortless right throughout the listen - but it's these moments, that appear like unpredictable hiccups amongst the relentlessness of the album, that provide some light in the darkness.

Whether that's Anna Gordon's velvety sax solo on opening track 'Put Your Teeth Where Your Mouth Is', Annie Fox's disconcerting reporter-esque performance on album highlight 'Slop', or the enigmatic group vocals that introduce 'A Survey From Hell' before it unravels into a simmering groove, it's these instances that make Horse Meat feel like far more than a synth-heavy punk album. Instead, by constantly blurring the album's abstract punch with a grimy, visceral sincerity, Horse Meat manages to encompass the ugliness and beauty of humankind at once, and gives us a strangely compelling undercurrent to latch onto.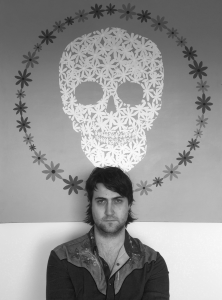 Horse Meat
is out officially tomorrow. Head to
hhhorsemeat.bandcamp.com
to pre-order the album, with all proceeds going to
The Healing Foundation
, a national Aboriginal and Torres Strait Islander organisation that partners with communities to address the ongoing trauma caused by actions like the forced removal of children from their families.