Music / Features
Signals -
A Chat with Goldminds
Powered by a thunderous fusion of pulsating guitars, fierce drumming and arrestingly unapologetic female vocals, Goldminds' debut album Signals is a force to be reckoned with. Ahead of its release today, we were lucky enough to chat with Goldminds' frontwoman Courtney Constantinou to dig into the album.
Despite only kicking off in 2019, Goldminds have erupted into Melbourne's rock scene with their powerhouse energy. Although this year has stripped the live scene bare, the band have proven themselves to be fiercely resilient, essentially spitting in the face of these challenges in order to bring out their debut album Signals.

When talking with frontwoman Courtney about the album, it becomes clear that this band is a paragon of gritty, forceful rock, their music emanating energy as an artistic outlet and a powerful voice for change. This album is a fiery encapsulation of four conscientious and like-minded artists, bellowing their anger and command for justice in a symphony of articulated musical raucous.

When interviewing Courtney, her dominance and strength shone through, alongside a true caring nature and worldly intelligence.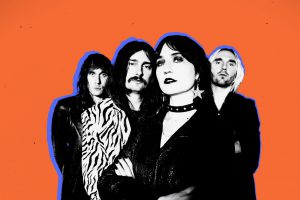 The wild rollercoaster of a year that 2020 has been has brought challenges for everyone. Starting out as a fresh band of 2019, Goldminds knows this all too well, but they've spent the time making the most of what they've got.

CC: I think we've just been able to re-shift our focus on releasing the album and I think we've had more time to focus on the band admin and the business side, as well as writing new material - as opposed to being out performing. We had a tour planned for our album release and obviously all of that got cancelled. So, we've just had to sort of like keep ourselves busy by getting our music out there and trying our best to promote it.

Well I guess, the silver lining of that is just having more time to do those sorts of things, as opposed to being on the road or playing gigs every weekend. Even though that's what I prefer to be doing.

The whirlwind of challenges still hasn't been enough to strip Goldminds of their passion and gratitude.

It feels strange to be releasing an album in what this year has been. It's totally exciting to get it out and we're all really proud of this album. Yeah and we're really thankful to be able to share it with everyone."

In this interview with Courtney, it was evident that she and the band alike are deep thinkers and regularly delve into reflection about the world around them. Courtney finds herself writing at the end of each day. Through words she transcribes the injustices and confrontations of the world into material for defiant projections of voice in blustering rock anthems. We asked her to unpack the meaning behind the album.

The album is called Signals and I guess the overall meaning, it's sort of, I mean the songs have been written as through a result of personal development and deep self-reflection in a lot of ways. I think that each individual song has been quite interesting. Like being asked about songs and about the album because I think there's a lot of deeper messages that have come through in some of the songs. 'Deadwood' for example, it's sort of about getting rid of outdated and antiquated ways of thinking. So, I think it's quite a positive message to come through, especially in this new year of 2020. There's so much going on in the world and like yeah, the deeper messages are to wake up and stand up to fear and oppression and inequality and the many injustices in the world. And the toxic ways we've treated our planet.

Then there's songs like 'The Spirit Knows' which is sort of to do better as a collective. And to do better as an individual as well and stepping up and to acknowledge and respect and to listen to our Indigenous ancestors. And to honour our land and the natural spirit of this land. And also, our mother earth. There's lots of messages and Signals was the best way to condense that. It's kind of a word for lots of different messages coming through in each song."


Amidst Goldminds' powerful presence in the face of justice and equality, Courtney is a symbol of defiance herself. The rock industry has been a predominantly male world of music from its initiation. Things have changed and continue to change but the presence of powerful women like Courtney in the rock scene remain a vital message of empowerment to women. In talking to Courtney about being the front woman of a band with three men, she spoke of being lucky to have such supportive men who back her all the way. Bandmates Brendan, Nic and Jordan stand with her as powerful and progressive figures of rock.

It's an important time for women to stand up and for females to come to the front.

The coming together of rhythm, instrumentation and conjuring of lyrics are important elements to the process of creation, but so too is the place. We talked with Courtney about the experience at Hothouse studios and the making of the album in incredible speed.

So, the album itself was recorded over three days at Hothouse Studios in St Kilda, with our friend Michael Badger producing the album and Jez Giddings engineering. They're both just really easy, fun people to work with. We had a lot of laughs in the studio. It's kind of funny because when you're in that space you don't know what kind of day it is outside because it's very dark and just like dimly lit. It gets the mood set nicely but yeah, I think you can go into your own kind of world when you're in the studio. And it was a really fun space. Jez is a really funny guy and has a great sense of humour and we all bounced off each other really well."

Goldminds truly have been busy this year with the set-up of their own label Romantic Rights, through which the album is being released.

"With the onset of COVID-19, we had to pivot to a sustainable way of releasing our music within the changing industry. Fortunately, the lockdowns allowed Jordan (bass) some time to set up Romantic Rights for the band to run. We have all been in and around the music industry for a few years so it was a good time to combine our experience. We managed to secure worldwide distribution with Believe for the streaming side of things, coordinate the vinyl pressing and t-shirt printing. We built our own website and webstore to facilitate the pre-orders for the vinyl, t-shirts and bundle packages to generate some income to help pay for the costs associated with the label. It has been an exciting way to get our music out during the miserable lockdowns in Melbourne and helped us connect with fans."

It seems like Signals couldn't have come at a better time, with Melbourne starting to approach some sense of normality again, and the band is looking forward to getting back to gigging. So, if we're in luck, it won't be long until we'll be able to hear all these songs in a live setting, at Courtney's favourites The Tote and The Old Bar.
Goldminds' debut record
Signals
is out now today - head to
goldmindsband.com
to grab the album on black vinyl.