Music / Features
Once in a Blue Moon -
A chat with Ed Moon
Enriched with whimsical poeticism, honey-like vocals and a captivating and timeless charisma, Ed Moon's latest single 'Moon' is a gentle, soul-inspired creation. We had the pleasure of chatting with the emerging singer-songwriter about the new track and what's next.
With a compelling and colourful online presence, Ed Moon has established himself as a magnetic musical identity, following the release of his debut single 'Pass the Blame' earlier this year and more recently, his immaculate next offering 'Moon'. Certifying his talent, the young singer-songwriter was recently featured on Mushroom Group and Victoria Together's live streamed series State of Music: Introducing, and after being introduced by Matt Corby, he shared a stripped-back rendition of 'Moon' from his bedroom, the intimate performance perfectly matching the contemplative yet inviting nature of the song.

'Moon' sets the vintage mood of falling in love beneath a planetarium, crafted with nostalgic harmonic progressions and wistful melodies. Anchored by Ed's heartfelt vocals, the track blossoms open around a gently strummed acoustic guitar, before being adorned by mystical chimes, delicate percussion and a classic string arrangement that sparks a sentimental romanticised aura, leaving us feeling giddy and warm by the song's end.

Unperturbed by the hush of Melbourne's current live music landscape, we chatted with Ed to find out some more about his music and what's coming next as he gets set to bloom on the virtual stage.
TJ: For those hearing about you for the first time, can you tell us about yourself and the music you make?

ED: I have been performing around the Mornington Peninsula, since I was about 13 years old. I'm now nineteen and have spent my whole life just wanting to perform. My music is a fusion-blend of soul, jazz, funk, indie-folk and pop, with some occasional rock undertones. Musically and generally, I dislike being put into a box - I write as the music comes to me, without any restraint of genre. I feel like the music that I have released so far shows only a small part of who I am, as an artist and performer. I have a back catalogue of songs, yet to record and am constantly producing new work.

My most recent release 'Moon' has a timeless quality. Dave Ruby Howe (triple j Unearthed's music director) said "if Ed wrote this for Dean Martin or Smokey Robinson in a different era it'd be on one of their 'best of's'". Sean Gage's (foreign/national) production in 'Moon' has added so much magic to the track.

Congratulations on your incredible performance on State of Music: Introducing last month! Amidst a silent live music scene in Melbourne, can you share with us a little about what it was like bringing your new single to audiences through a camera?

Introducing was a perfectly timed opportunity for me. It caught me as I was riding a wave of motivation to create. Studying media in high school has made the transition to being a completely remote, online performer much easier. Thankfully, I have the help of my two friends, Hayden Flynn and Sarah Jones, who have assisted remotely with refining my online output (lots more to come…).


You've shared that the lyrics of 'Moon' were originally written as a poem before becoming a song. Is there usually a strong relationship between your music and poeticism? We'd love to hear a little more about your songwriting process.

My songwriting process has always been different every time. Sometimes the chords come first, without the lyrics, and sometimes the opposite can happen, as was the case with 'Moon'. These days I allow my songwriting to be organic and don't specifically force it or try to lead it in any direction. I just write what I feel.

Previously I'd set a time to write in my dedicated songwriting journal, but over time I have moved to the less formal approach of writing notes on my phone (allowing more spontaneity). Now, in isolation, it's been a combination of that and recording little snippets on my phone's voice recorder.

What have been some of the inspirations and influences behind your sound and the creation of this piece?

One of my biggest inspirations, especially this year with her new album, has been Fiona Apple. Her songwriting has taught me there are no rules when writing songs and that I could write about anything. Whether it was about something emotional, fictional or something happening in the other room - she was one of the artists that showed me I could use my music to express things that I couldn't with just words. Music is my communicator. Other artists who have influenced my sound include Leon Bridges, Amy Winehouse, Lianne La Havas, Bill Withers and Ella Fitzgerald.

'Moon' has been a stunning follow-up after releasing your debut single 'Pass the Blame' earlier this year, can you give us a sneak peek into what we can look forward to next?

Honestly, I feel there are so many options as to where I could go with my next track. With all the songs I've written, it's a bit like picking a favourite child. In the meantime, I have so much planned. I have truly embraced this opportunity to make virtual content, with open arms. I'm going to continue delving into modelling, interviewing and collaborating with other musicians and performers. I'm creating weekly content, so there will always be something to look out for.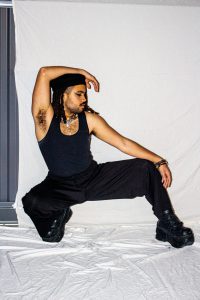 Moon is out now in all the usual places.