Music / Premieres
Premiere:
The Eyeballers -
Lost At Sea / It Wasn't Over
Back with a new double single, The Eyeballers once again entice us into the surf-rock realm with 'Lost at Sea' and 'It Wasn't Over.' With an energy that drives the body to dance but the mind to ease, these tracks are a quintessential combination of grit and groove.
As 'Lost at Sea' begins, we're instantly thrown from reality and into a voyage through the howling seas with invigorating guitars and a western spin, thrashing us about with an energy that tastes like rebellion. An enthralling new rendition of an earlier track, this version dunks us into a ripple of thrilling rhythmic madness and doubles the power of the previous cut.

The second track, 'It Wasn't Over' slows things down a bit and transports us to a psychedelic state, soothed by the echoey voice of guitarist and vocalist Nick Hasting. This track elucidates the dizziness and uncertainty of a hazy day but rocks the mind to a state of tranquillity.

Keep your eyes peeled for 2021, as The Eyeballers work towards the release of their debut EP. Drawing inspiration from his and the band's life experiences, Nick composes raw lyricism for the band to assemble into a unison of symphonic truths. The new EP will blend together the individual inspirations of band members Nick, Cam and Luca into a coalescence of 90's surf rock, modern psychedelia and spaghetti-western grit.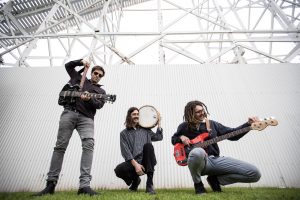 Keep up to date with The Eyeballers by following them below.