Music / Premieres
Video Premiere:
Time For Dreams - New Conflict Dream
After a couple of years of quiet, sinister pop duo Time For Dreams are back with 'New Conflict Dream' - the first taste of their long-awaited sophomore album, 'New Conflict Dream' is an enigmatic return to their disorientating dream-pop sound.
Since the release of their debut album In Time in 2017, Time For Dreams have established themselves as one of Australia's most intriguing underground acts, specialising in expansive and disorientating pop soundscapes that can somehow lull us into a daze while overwhelming us at once. Their forthcoming second album Life Of The Inhabitant, which is set to drop early next year, intends to trade in their debut's muggy grooves for something even more unnerving - the album's mission is to play as "personal and romantic, set in the ruins of the currently unfolding apocalypse" - and on the album's first cut 'New Conflict Dream', the duo more than accomplish this brief.

Dream-pop in the most visceral sense, 'New Conflict Dream' is simultaneously transportive but just as grounded in the grime of real life. Anchored by an incessant and gritty backbeat, the track slowly emerges - first with vocalist Amanda Roff's stunted vocals, before layers of fluctuating synthesisers materialise to bathe the song in an elusive, transient sheen. At the track's highest points, it could be blissed-out dance music, with its glowing synths and buoyant grooves, but moments later, the soundscape shifts to reveal the restlessness and anxiety that constantly bubbles underneath.

Seemingly playing into the track's push and pull, the new clip finds Amanda donned in full KISS attire and make-up while she potters around her house, plays video games, and briefly ends up at some kind of low-budget disco. It's playful and irreverent, but as Amanda seems undoubtedly out of place as she stares longingly down the lens of the camera, there's a confusing sense of melancholy, adding an extra layer of turbulence to the track's hazy atmosphere.

Speaking about the track, Amanda explains "I have a general fear of suburbs and small towns, as I believe a lot of terrifying, bleak and grim stuff happens there. I like the city and I like the bush, but everything in between scares me. All those people living cheek by jowl, together but alone, having entirely disparate realities". She continues, "I always think about the house in Pasadena where Jack Parsons, Marjorie Cameron and L. Ron Hubbard were conducting occult ceremonies and building rockets, and wonder what the neighbours thought about it. Were they out watering the lawns and fertilising their shrubberies while Parsons masturbated onto magical writing tablets accompanied by Prokofiev's 'Second Violin Concerto'? And ultimately what is the difference between these two activities, if both are used to manifest the fantasy of control over one's existence?"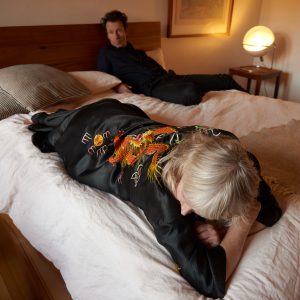 Time For Dream's forthcoming album
Life Of The Inhabitant
is out next year through
It Records
- in the meantime, you can head to
timefordreams.bandcamp.com
to stream or purchase 'New Conflict Dream'.