Music / Features
No Sovietski -
inside the new wave of Russian and Ukrainian underground music
In this ongoing series, Melbourne-based musician and artist Veeka Nazarova is inviting Trouble Juice readers into the mysterious world of the Motherland, as she introduces us to five acts from across Russia and Ukraine. Up next is ВАТСКИИ (Vatskyy), a synth-pop project from Krasnodar, Russia.
Veeka Nazarova: What do we know about Post-Soviet music? Not much, only a handful of musicians from Russia/Ukraine/Belarus that we accidentally stumble upon on Spotify or YouTube, that's probably it. I tried looking up 'best Russian bands' or 'best Ukrainian bands' on Google, and it's just not coming up with anything interesting. I felt like the only way to find out was to switch to my Russian Fb (called VK-Vkontakte) and try finding something on there.

However, it was definitely not an easy task! My investigation continued by going on Instagram and flicking through some of my musician friends' profiles, searching for some interesting acts from the Motherland that they follow. I felt like I was being a special agent from KGB trying to gather all the precious information about these mysterious musicians and bands that I found. 

Being of a Russian descent, I always wanted to re-connect with my country and discover the Post-Soviet music scene. So in this article I would like to introduce that mysterious European world to Australia or whoever is reading this in English. Being musician myself got me very excited talking to other musicians from the Motherland, so in this series I've gathered five musical projects of my taste from Russia and Ukraine and asked them a few questions about their music, as simple as that!

It was an absolute pleasure interviewing all these talented people and hopefully they will find their fans here, amongst Trouble Juice followers!


Introducing ВАТСКИИ (Vatskyy)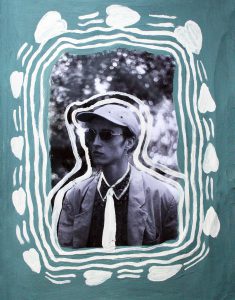 Vatskyy is a very interesting and catchy name for a music project, isn't it? Vatskyy is  a one musician project from Krasnodar, South of Russia, who makes a lo-fi synth pop in his bedroom. The music of Vatskyy is channeling an obsession with minimal synth, new wave and 80's synth-pop, and in my opinion it's one of the best current Russian synth projects! Vatskyy's music is very captivating and I can't stop listening to his latest album Odezghda ('Clothes') - such a perfect blend of the vintage 80's sound and modern pop sound. Trouble Juice spoke to Ilya - aka Vatskyy - about his musical adventure and his life in the COVID times. 
VN: Who is Vatskyy and what does your name mean, if it's not a secret?

V: ВАТСКИИ (Vatskyy) is a one man band, just me, and Vatskyy is the second half of my last name. It's actually more like a family brand, I would say. My dad's friends call him this too! 

From what I've learnt from your other interviews, you grew up in Ukraine and moved to the South of Russia later in your life. Tell us, how did it affect you and your art? Could you explain the difference between these two places? 

Before I was 16 I lived in a small town and now I live in a bigger town and that's the only difference I would say. In Krasnodar, where I live now, I met some really cool music people who helped to shape my music taste.

How did you start composing music and what are your main music influences at the moment?

I started making music in my childhood, always made up little songs and sung them to my parents, and when I was 14 I discovered DAW's and tried to make some hip-hop beats. At the time, I only listened to hip hop - I think I started drifting away from it after I moved countries and started listening to various music, for example, Russian artist Miisha and Canadian Peaches, and later on got sucked into minimal synth and early synth-pop music. At the moment, I listen to Yellow Magic Orchestra and Shibuya-key, as well as Jimi Tenor, Sexy Sushi, Felix Kubin, Lee Fields, The Kinks, Liquid Liquid, Hannah Diamond , Esquivel and many more! 

Tell us about the music crowd of Krasnodar and what in your opinion, was the coolest gig you've ever been to? 

To me, I don't think there is an actual music scene here in Krasnodar. We barely have any gigs happening or at least the ones I wanna go to. Everyone moves to bigger cities like Moscow or Saint-Petersburg, and not many people want to stay and put on cool gigs in Krasnodar. I think the most memorable gig was by Sonic Death - they always tour and come our ways. The only 'New Russian wave' band that actually makes an effort to come to our city haha. Oh actually, I just remembered, there was a really cool gig by this band Verbludes, I really liked it too. I'm not a huge fan of their music but somehow they managed to get all their instruments sound very nice and clean and it was just very nice to listen to them at the time, not gonna lie, we had so much fun at their gig! It was cool.

How do you record your songs?

It all depends, it could be either me jamming on guitar and suddenly coming up with an idea or maybe if I play bass, I sometimes get a sick bass riff out of it. Usually, it takes me a couple of days to record and do a basic mix of a song - just do it on my laptop, sometimes can do it for six hours straight, nonstop. Next few days or weeks are the longest stage, where I try to get everything sounding right, do a lot of mixing and sometimes mastering. It honestly can take forever, because I always need to make it sound exactly the same as the original idea, I am very perfectionist about this. Mastering is a huge deal for me as well, it takes FOREVER. Sometimes, I think I mastered my song and the next day I can change my mind and start doing it all over again.


I was really impressed by your latest album Одежда ('Clothes' - pronounced 'odezghda'). Would you mind commenting a little on what personal things have influenced this record and how it is different from your previous album?

I consider the first track on the album the best song I have ever done in my whole life! It is a song about cross-dressing. To me, clothes are just a metaphor and also not a metaphor at the same time. I attempted to make a good song about a forbidden topic in Russia and also wanted to express in it my thoughts about love. I hope I accomplished it? Track called 'Egoist' is also about relationships. I think about the topic of relationships a lot, it's a very important theme to me. I think my previous albums were not really about myself, and the last release turned out to be pretty personal. 

How did 2020 - the year of COVID affect your music/schedule?

I have already been in isolation for two or three years. Why do you need to go anywhere if you can just look things up on the internet? To be honest, I think it did affect me a bit, like back in the day I was always sitting at home just for the sake of it, and now when we are actually not allowed to go anywhere, I wanna go out and do all these things, wanna go out and protest haha. However, I have been following all the rules of isolation and try not to go to too many places and only go out when I need to. Maybe only on the weekend...

I've been listening to a lot of Russian and Russian-speaking music and I struggled finding some good synth-pop stuff - like honestly, you were such a blessing in disguise, such a rare gem to discover! Would you say you are influenced by some Russian/Ukrainian/Belarus bands/artists or you're mainly listening to foreign artists? What are your thoughts about the modern Post-Soviet scene?

Oh thanks so much! Yeah, you got it right, I mainly listen to foreign music. I don't know why, but in Russia they have a very strange relationship with synth music. It's like, they are looking in the wrong direction. For example, I can definitely differentiate early synth-pop and the mainstreamsSynth-pop from the 80s, it's two absolutely different genres. Although, I don't think the year matters, it's all about approach. To me, the best synth music is Cabaret Voltaire, Human League, Absolute Body Control, and to most Russians it's some very cheesy 80's synth stuff. If I were to choose some current Russian synth projects, I would pick ARM Author, Miiisha and Supersonic Future, and from more old projects it would be Электроклуб (Electroclub), Закрытое Предприятие (Zakritoe Predpriyatie - Closed Workspace). I love this new Ukrainian band Kurs Valut, they sing in Ukrainian and sort of remind me of EBM, and of course I ADORE Ivan Dorn. From the old Ukrainian bands I like Скрябін, Катя Chilly. I still think that modern Russian music is cool and very well produced, however it doesn't really match up with my personal standards so it all just goes past me.

What are your hobbies and what do you like doing in your spare time apart from music?! What are your plans for the nearest future?


Music is a very multifaceted passion and it honestly takes up most of my spare time. I constantly search for new music and listen to it all the time, I make circuit bending and DIY pedals, I study history of music genres, sound design and songwriting of course. Any other spare time is usually spent watching comedy shows, I usually incorporate elements of comedy into my gigs! In the nearest future I'm going to release another album and upload it on every possible streaming service, that's about it.

Last question, what do you know about Australia and Australian music scene?

I just found a Wiki page on Australia and now I know everything about you guys! (*laughs*) I don't know, do you have that pop band Empire of the Sun, are they Australian? Oh I'm sure I'm already listening to a lot of Australian music, I'm just not aware. Oh, I think I remembered one really funny Youtube channel called "I did a thing", I'm pretty sure, those guys are Aussies. But other than that… nothing comes to mind sorry.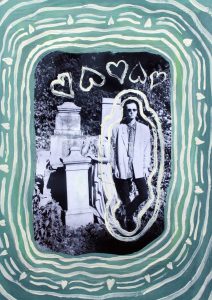 ВАТСКИИ (Vatskyy)'s latest album
Одежда
is out now through
Dopefish Family
- listen to the album
here
and follow ВАТСКИИ below.