Music / Premieres
Premiere:
Ausecuma Beats - Cherie
With their debut album now only two weeks away, Melbourne based party-starters Ausecuma Beats have just treated us to 'Cherie' - a joyous second serving of their unique blend of unifying, revitalising afro-groove that'll completely overcome you.
Built around a dynamic percussive base and the amalgamation of several astounding musical personalities, Ausecuma Beats have been entrancing audiences and asserting themselves as one of Melbourne's premier dance acts for the last few years. Although it's been a while since we've been able to experience their almighty live show, the infectious energy and spellbinding musicality that drives Ausecuma Beats has been well and truly captured within 'Cherie', the band's second shimmering single off of their debut self-titled album.

Much like an Ausecuma Beats show, 'Cherie' wastes no time drawing you in, immediately hitting us with a wave of frantic Kora twang which soon makes way for a hook that firmly lodges itself in your head. As the band's idiosyncratic rhythm section ease in and simmer around Yusupha Ngum's soaring vocal style, 'Cherie' gradually gains momentum and avalanches into a hypnotic wash of percussion, group vocals and pure joy, that'll lift you way up and keep you there a while.

With the album release now quickly approaching, we got in touch with the group's sensational bandleader and djembe player, Boubacar Gaye, to get inside the Ausecuma Beats experience and discover how they found such spirited musical harmony together.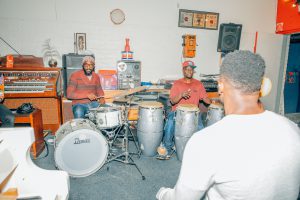 TJ: For those who have yet to hear what you do, how would you describe Ausecuma Beats?

AB: Ausecuma Beats is a united band, an all-colour project! In Ausecuma Beats, different musicians come together from different nationalities, each bringing their flavour to create a new style of music.

Ausecuma Beats is made of up a number of very different people. Could you take us through your members, how you came together and how that sense of unity has influenced your sound?

The members of Ausecuma Beats are Yusupha from Gambia, Mohamad from Guinea, Bassidy from Mali, Sonu from India, Panga from Cuba, and myself, Bouba from Senegal.

Three brothers from Africa came together playing percussion and we decided to make it more formal and to start playing gigs. We wanted to take our flavour live so we started playing live shows at Bar Oussou. The bar gave us a platform to perform and as the band started to get popular, we wanted to make something a bit bigger. The band started cooking up new flavours and a new recipe! We expanded with drum kit and guitar for more melody and power - stronger flavours! We could hear something and feel something start moving, like a big wave coming to town! Ausecuma Beats for me feels like a big wave coming!

We love the new single 'Cherie'. Could you tell us a little about the story behind it?

You can call anyone you are in a relationship Cherie. It is actually a French word and normally it is a man saying it to his wife or girlfriend, "oh my Cherie, how much you mean to me!" It is something to say to hold on to the relationship, not to be falling apart. In English it could be like saying 'my darling' but in French you say 'my Cherie'. 

Releasing an album in 2020 comes with a number of challenges, particularly for a band like Ausecuma Beats who place such an importance on community. How have you found that process?

I think we have to just use whatever we have at the moment so that people can reach our music at this time. We have to use our network and for our community! It is not easy to release music at the moment but we try to make sure our fans are not hanging waiting for us to have a gig until they can next listen to our music, because we don't know when that will be! I think the best way is to release the album now so that our audience can understand that we we haven't forgotten about them and they can finally get something and listen at home and continue the party with our music! 

The album is out on November 20, and we've been lucky to get a sneak peak. It's such a joyous experience and really lovely to listen to with everything else going on in the world. Tell us a little about how the album came together and what it means for you?

I think the album is a challenge because it takes a lot of time for us to get together and be at the studio, but we do have fun! The guys really enjoy the recording and it's something that we remember all the time, even telling our children how we did it and how we enjoyed it. We are working for our children in the future to show them that we didn't just sit and do nothing during this time, we worked on something. And we have vinyl as proof of that!  

Ausecuma Beats is a family, we have family, we have kids. We are also part of a community! Basically Auseucma Beats is everywhere, we are different, we represent Melbourne! 

Post lockdown and restrictions, where do you see Ausecuma Beats going forward?

There is a lot of ideas we have been working on! We are trying to bring the community together again. I am organising a drumming picnic to entertain kids and parents. This is going to be without fee or pay as it is our time to help to lift energy! Melbourne is music and energy! Ausecuma would love to be there again, playing live to entertain our community. Ausecuma feels that we have an important role in the community, we miss the connection between drumming and dancing! We hope to lift again, and hope to get support from anyone who wants to join.
Ausecuma Beats' self-titled debut album is out on Friday November 20th through
Music In Exile
- head to
here
to stream 'Cherie' and pre-order the album on 12" vinyl.