Music / Features
No Sovietski -
inside the new wave of Russian and Ukrainian underground music
In this ongoing series, Melbourne-based musician and artist Veeka Nazarova is inviting Trouble Juice readers into the mysterious world of the Motherland, as she introduces us to five acts from across Russia and Ukraine. Next up is Del Cano, the bedroom project of Odessa-based artist Sergi Vovk, that blends ambient electronica with disorientating post-punk.
Veeka Nazarova: What do we know about Post-Soviet music? Not much, only a handful of musicians from Russia/Ukraine/Belarus that we accidentally stumble upon on Spotify or YouTube, that's probably it. I tried looking up 'best Russian bands' or 'best Ukrainian bands' on Google, and it's just not coming up with anything interesting. I felt like the only way to find out was to switch to my Russian Fb (called VK-Vkontakte) and try finding something on there.

However, it was definitely not an easy task! My investigation continued by going on Instagram and flicking through some of my musician friends' profiles, searching for some interesting acts from the Motherland that they follow. I felt like I was being a special agent from KGB trying to gather all the precious information about these mysterious musicians and bands that I found. 

Being of a Russian descent, I always wanted to re-connect with my country and discover the Post-Soviet music scene. So in this article I would like to introduce that mysterious European world to Australia or whoever is reading this in English. Being musician myself got me very excited talking to other musicians from the Motherland, so in this series I've gathered five musical projects of my taste from Russia and Ukraine and asked them a few questions about their music, as simple as that!

It was an absolute pleasure interviewing all these talented people and hopefully they will find their fans here, amongst Trouble Juice followers!


Introducing Del Cano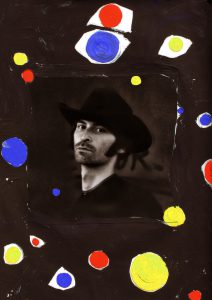 Del Cano is a fantastic electronic bedroom project from Sergi Vovk, who lives in Odessa, Ukraine. His latest record Trans Port is a stunning masterpiece which focuses on the hypnotic synths and melancholic guitars, along with the captivating bass riffs. In other words, Trans Port is translating Sergi's reality, but just via music. No words, no text, just the sounds of his motherland. Despite releasing music before, Del Cano just officially got signed to a Ukrainian label Kysla Records, who helped him to release Trans Port and it's only the beginning! Looking forward to hearing more of Del Cano in the future!
VN: Tell us about yourself, from what I learnt, you are the only person who is behind the name Del Cano! How did you start your music adventure and what are your plans for the future?

DC: My name is Sergi Vovk, I was born and grew up in Odessa. I started playing music in 2014 , it was mainly post-punk and I never parted with my guitar because I had to learn so much from scratch. Before making music I was making short movies. 

How would you describe your music and do you have any specific concepts/ideas that you put into Del Cano?


Del Cano is my studio project, I really wanted it to be more like a soundtrack vibe project, and to use this opportunity to create music for my films.

Could you take us though the modern Ukrainian music scene and how often do you play shows?

I find modern Ukrainian music very progressive and vast. It's been really fascinating watching it change after the revolution of 2014. Breaking events in society lead to an absolute cultural explosion.

So you just released your debut album Trans Port. What was it like recording this masterpiece and which mood were you in when you were composing it? Also what were the main points of inspiration for this album?

Trans Port isn't my debut album, it is rather a first album that was properly released on a proper label. The inspirations for the album were travelling through Ukraine, the fascinating transport 'artery' of my beloved country. On the album you can hear the sounds of Kiev subway, Odessa's trolleybus and Lviv's railway. I recorded everything in my house, which is located in the countryside. It's a very beautiful place in between the desert and seashore. This is my approach to making music - self isolate and be very minimal.

I have another question for you - so you decided not to put any vocals on any of the songs on Trans Port. What influenced this decision?

To me music comes first and I like to focus on the atmosphere of the music, rather than vocals. Words and language I think are the instruments for translating a specific message. Text is often leading you away from the emotions you're experiencing when listening to music. It's leading you away from the main idea of the song, in my opinion.

You live in a beautiful city by the sea, Odessa. It's located by the Black Sea and known for its stunning architecture and being a very artsy city. Do you think this city has a lot of influence on your music? What are your favourite spots in Odessa?


To be honest, I can't tell you that I get all of my inspirations from Odessa. Sometimes I don't really feel the city at all. I think I'm mainly connected to the actual land, and the countryside of the city. That's what I'm very drawn to. 

Would you be happy to see your album on vinyl? What do you think Ukrainians think about vinyl revival these days? Do you think people like collecting it and even play it live at bars?

I would be so stoked to see my album released on wax. Unfortunately I don't have enough resources to put it on vinyl. I think if somebody pressed Trans Port on vinyl and gave it to me it would be the best present ever in my life. I don't really know what people in Ukraine think about vinyl, I honestly think people don't really want to pay for music here. I think we get so much of the free content these days , a lot of consumerism moves people away from the authentic things like vinyl. It's very sad.

The internet told me you are currently being on a Ukrainian music label called Kysla records. Could you please tell us a bit more about it? 

Yeah, the label was founded by my friend Alexander Fedorov together with Alex Kelman. It just happened very suddenly, they called me and we decided I should put my album out through them.

And last question, what tunes do you have in your music player at the moment? would you mind sharing with us? 🙂

Oh, I listen to A LOT of music! 🙂 I can not live without music. At the moment I'm very curious about Marilyn Manson's album haha! But currently I'm listening to Soft Cell, A-ha, LCD Soundsystem, Die Selection, Killing Joke, The Cure and many many more! 🙂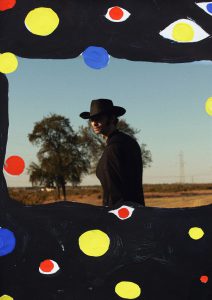 Trans Port
is out now through
Kysla Records
- listen to the album
here
and follow Del Cano below.