Music / Features
Musical Independence, Memories and the Method of Places -
A chat with Lewis Coleman
Years into honing his craft, Lewis Coleman has finally arrived at the right place to drop his debut solo record, out this Friday through Ivy League Records. Fully established in sound, art direction and confidence, on Method of Places, Lewis proves the value of patience and an independent pursuit to give birth to the sounds in his head. We had a chat to Lewis about the multifaceted record and its creation.
Lewis Coleman's debut album comes off the back of years of work. From growing up to the sounds of his parent's good taste - from The Beatles to The Beach Boys to Joni Mitchell - into angsty teenage years dreaming of being in The Strokes, through to an apprenticeship as founding guitarist of Melbourne jazz-funk outfit The Cactus Channel and years of unhinged experimentation as a student at the Victorian College of the Arts.

Of course, all of these experiences and influences have been shared, whether it be with a family, a band or a cohort. But now he's hitting the road alone. Crafted almost solely by Lewis, his debut album was developed over five years in five bedrooms, culminating in a memory palace of a record - a metaphorical home in which each room represents another track, another moment in his life. After tirelessly working within a vacuum as his own boss and only critic, it's nearly time for the rest of the world to hear.

We had the pleasure of having a chat with Lewis, stationed appropriately in his bedroom surrounded by guitars and other methods of creating sound. We discussed the origins of his psychedelic synth-pop style, his songwriting process, the work of Gregory Crewdson, the burden of creative control and more.

As already established, the record was recorded over five years in five different bedrooms, but in questioning Lewis quickly downplayed the grand romantic nature of all that travelling. "It's really an amalgamation of the first four or five years making music for myself. The first house was my parents that we rented. Then I moved out and it's been a series of one year leases for a few years. So really all within the same five kilometre radius to be honest. It sounds more grand than it is. Or more chaotic."

Though over the course of those five years, it's clear that the album and Lewis' musical journey covered serious ground, further than a 5k radius would imply. Initially the project was planned as an EP and prepared to be self-released around two years ago. He says he was never bold enough to want to show his work to people initially, so it remained deeply independent and without external help for a long time. "I had it mastered and I was about to self-release it. I was lucky enough to be able to sit down with people from Ivy League at the Changes music conference in Melbourne a couple of years ago. I got to play a song and they really liked it, and then from there they were really interested in putting it out. Which was very sudden and kind of set it off on this new path."

When I ask about the experience of releasing music in lockdown, he explains that while he has been working on music, it's not the stuff on this record. In fact, the newest tracks on it are already a year and a half old. With every song made in very different contexts and locations, this year has been more about tying it all together.

On the title he explains: "It just kind of came about trying to tie in multiple years of work from lots of different places. Not all written and conceived with the same mindset or state of mind. The record holds a lot of memories over the five years. Lots of sounds I remember recording in a certain house. Little moments where I can place myself in each song in different rooms. I was thinking about it acting as a memory palace. Like how people remember lists of objects in a place as a method of being able to walk through that room in their mind. I liked to think about the songs all existing within this house."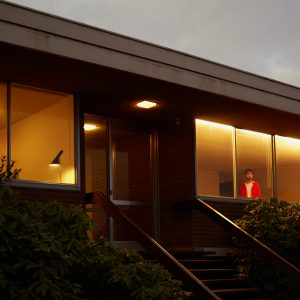 Lewis explains that he feels grateful for the timing of this release and the patience that led to his current circumstances. "Maybe I wouldn't be here with this album about to be released with a label that cares about it. Who knows?"

On top of the label support presented by a chance meeting, this year another happy coincidence seemed to perfectly complete the album's direction. As with the other aspects of his work, Lewis has his hands all over the project's visual accompaniments. He explained to friend and photographer Izzie Austin that he visualised the idea of a musical house, with each song being represented by different rooms. Izzie replied saying, "Oh I've got this house!" A huge old empty house in Ballarat that she was left with for a couple months.

Laughing about how ridiculously perfect this was, we unpack the number of influences that seemed to have inspired the art direction - noting similarity between the album cover and Frank Sinatra's In the Wee Small Hours, also referencing Edward Hopper's iconic painting Nighthawks and the hyper directed still shots of Gregory Crewdson - all of which ooze into the melancholic, nocturnal nature of his imagery. 

Mid-COVID and as such unable to utilise any sort of crew, a small team set out in a fittingly DIY manner to shoot the Ballarat house. "I explained that I wasn't going to have time to shoot four completely separate videos with completely different plots. So they're all kind of like one video divided into four, leading into each other with one starting where the other finished off. So it was Jack Ralph who did the video, he brought his Super 8 and Izzy was shooting on film and they were helping each other out. Whilst one was taking photos, the other was being their crew member. It was great, it was sort of exactly what I'd pictured it'd be. Setup different scenes in different rooms and have it all housed under the one roof."


In Year 10, when many were practicing for Battle of the Bands, Lewis and his friends formed the legitimately fantastic jazz-funk outfit The Cactus Channel. In contrast to the largely instrumental grooves associated with that group, the music he's putting out independently leans more into the sounds of The Beach Boys or Ariel Pink, producing hazy indie pop with a focus on introspective lyricism. That being said, even within a nocturnal dreamy track like 'Good Side', there is an ever present funk that seeps through. "My entire kind of musical life from the start of playing in bands has that schooling of writing parts within a context of instrumental funk and soul sensibility. So that's where I go naturally when I go to write stuff." 

Leaving a band and taking on a full workload individually runs the risk of thinning out the sound, but you'd be hard pressed to find anyone who listens to a track on Method of Places that would accuse it of not sounding fully fleshed out. Lewis credits his ability to craft and form the sounds he envisions to a history of DIY methodology, again linked back to the early Cactus Channel days. "Me and Henry (The Cactus Channel's bass player) got into recording bands pretty early on in our high school lives. We got really interested in sounds and how to make them. Also we got into the ethos that "Shitty is Pretty", which is an article written by Gabriel Roth who runs Daptone records in New York. It was kind of like a document outlining all the things you don't need to do. All the rules you can and should break. Then you're like cool, we don't have the money to do that so let's just try this. Or let's just buy a spring reverb tank from a guitar amp and use that as the reverb and have a go. So I've had the confidence for quite a while that I can make something sound the way I want it to sound with stuff in my room."  

Looking around his room we discuss his current arsenal - an eclectic mix of guitars, an Arturia Mini Brute that laid the foundation for much of the initial EP, a Korg Poly 61 synth and a bunch of different plug-ins. Within an album focused on personal experiences, I ask if the lyrics and stories he tells were all planned out first or if a sound inspires the memories to flow out of his pen.

"I would say probably the latter, where a sonic element evokes some sort of feeling. I've gone through phases of trying to write a diary or a log, and sit down and do a stream of consciousness thing every day. Then I get about a week in and I just stop doing it. So some lyrics have come from a time where I've sat down and really tried to hone this writing muscle. But from the sounds and stuff I tend to write the lyrics. When I'm writing a song I'm demoing it and recording it at the same time, I need to get a sense of how the song feels with vocals but I won't have written lyrics yet. So I generally sing gibberish words and sentences to get a sense of it. Then there will be a couple of phrases in that where I'll be like 'cool, alright', I could relate these lines I said out of nowhere and use them as prompts to swap and replace out the gibberish until it's more meaningful to me."

As a specific example, 'Going Your Way' is a downtempo pop number about processing a disconnect from someone and moving on, written at a time when Lewis was feeling very sorry for himself during his first real breakup. Although there's a persistent positive outlook that emanates through the woozy grooves, there's a focused moodiness to the track as it pushes onwards. Very personal and seemingly planned out - or so you would think. But initially the song was demoed as "Have You Gone To Norway", a country Lewis has never been to and has no connection to whatsoever.


As history suggests through the stories of influences like Brian Wilson, Lewis' totally independent pursuit to create and release the music in his head leaves him in a vulnerable position. One that can go either way, to the side of obsessive perfectionism or hyper motivated productivity. He quickly explains that he falls very much within both camps. "The album has taken so many years. It probably shouldn't have taken so long for the EP to have been finished and me to start sending it to labels. If I wasn't so obsessed with trying to mix on my own and do everything myself I probably would've released something earlier. It was definitely a hindrance for a while."

"So getting with Ivy League and there being some deadlines on that stuff, and giving me the confidence that it sounded good and was ready to release made me more at peace with finishing things off. Also, I forced myself to work with my dear friend and co-producer Yelderbert, who helped finish the record in the last six months - I just said here's all the songs, I just need you to comb them with me and turn them into something. Take them out of my ears a little bit and give me some guidance. So I'm getting there. I'm definitely more into asking for help now."

Whilst the old adage of getting by with a little help from our friends does reign true, it's clear that Lewis was getting by just fine with no help at all. Whilst the process may have dragged on, the album is free of external pressures. It is a time capsule, a house tour through one man's mind. Poetically personified through guerrilla filmmaking in a literal Ballarat home. Five years, Five bedrooms, an embrace of 'shitty is pretty' has resulted ironically in an immaculately produced, legitimately pretty record that is more than ready for the world to hear.