Music / Premieres
Video Premiere:
Heather Fiona - Trouble
Back with her first new music since the release of her debut album in late 2018, today we have the pleasure of premiering 'Trouble' from local soul-pop powerhouse Heather Fiona - an enthralling rumination on vulnerability set to some of Heather's most intoxicating sounds yet.
Following on from the release of Every Beginning Has an End, an album we described as "oozing with sass, vulnerability and an addictive singer-songwriter charm", Heather Fiona has returned today with 'Trouble', another dose of her evocative blend of rich Motown-styled R&B that suggests thrilling things are to come from the burgeoning singer-songwriter.

Captivating from beginning to end, 'Trouble' opens with a gooey guitar lead before blossoming into a tangle of warm guitar chimes and beaming horns, while an unhurried backbeat lilts lazily underneath. If you're familiar with her previous release, you'll recognise Heather's compelling delivery as soon as her honeyed vocals emerge, and despite the track's themes of uncertainty, her performance emanates with composure and self-assurance.

Exploring the double-edged emotion of "becoming enamoured without an exit plan", 'Trouble' is passionate without force, the balmy instrumentation leaving plenty of space for Heather's starry-eyed lyricism to unravel giddily. There's a clearly joyous undercurrent bubbling within the track, and when we reach the chorus - with its supposedly cautionary refrain of "I'm in trouble" - it's difficult to feel anything but joy, as the potent emotion amounts and we're lulled into a glorious haze while Heather and her band sound as radiant as ever.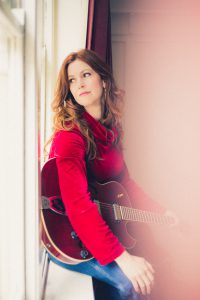 'Trouble' is out now in all the usual places.