Music / Features
Track by Track:
Zombeaches - Cheers to the Future
Recorded in a rickety old shed along the Point Leo foreshore, Cheers to the Future is the brutish debut album from Mornington Peninsula post-punkers Zombeaches. Panoramic in both sound and setting, Cheers to the Future champions hope in recovery and strength - an album grounded by its thematic resonance and chaotic vigour.  
Amidst the cold and harsh winter of 2019, plotted between the houses that the band's members grew up in, the long-awaited debut album from Zombeaches took shape. Produced and mixed by the almighty Mikey Young, Cheers to the Future mirrors the live prowess of Zombeaches' extensive gigging - ten tracks spanning the chaotic and heartwrenching corners of post-punk and garage-rock. 

Addressing themes of masculinity and purpose, singer/guitarist James Young touts expressive stories across Cheers to the Future - each told through a familiar Australian howl, Young's lyrics stretch between fear and recovery, always finding strength and variable comfort before concluding. Backed by the controlled chaos of guitarist Jay Gargaro and supported by Nick Krstic's frantic drumming, Cheers to the Future builds clarity amidst an impenetrably noisy exterior. Fittingly captured in the same area where the band originally took shape, Cheers to the Future is a raw and turbulent journey of an album - not just through the record's ten blitzes, but just as much through Zombeaches' shared history, amounting in a listen that's as endearing as it is thrillingly confronting.

Talking us through the album track by track, we had James delve deeper into the themes and recording process behind Cheers to the Future below. 
Headlong

The inspiration for this comes from my experience thumbing around hitchhiking. It's an interesting situation to put yourself in, you need to let go of any real plans or expectations and put your trust completely in the choices of strangers. You meet lots of different people and can never be sure of what could happen, but it's the excitement of the unknown draws me back in. You can stand there for hours and hours watching people move past you over and over again, I think there's a lot of comparisons that can be made to other experiences and feelings of life. One trip lead me to carrying a young boy out of a river after he had split his head wide open jumping off a rock, there was a language barrier between myself and residents but we eventually got him in a taxi to go to the hospital. I never found out about him. Other trips ended up much more positive.

Cheers to the Future

We recorded both 'Headlong' and 'Cheers' in one performance, all live including vocals with no break between tracks. We open most shows with these two back to back and wanted the album to start with a similar live feel. It's a centre anchor for the album. I feel this song really formed the direction and themes that we wanted the album to head towards. It deals with illness but also recovery and strength.


Mutual Colour

This was the last song written for the album. It was my attempt at writing something that could be catchy and almost popular. For me it sums up and recaps the major themes of the album; hope, looking forward and believing in what you are doing and your decisions. I originally saw this as the last song and summary of the record but Mix Master Mikey convinced us to move it forward on the track listing. Raven also added some saxophone on both this and 'Cheers'.

Towards Elsewhere

This song developed really fast, both the music and lyrics were written really quickly which is very rare for us. It's about focusing on nothing else but time and what's right in front of you in that moment, holding on to a small moment of hope and not moving too fast in fear of dropping or destroying what's holding you up.

Distractions Kill, Stay Focused

Wrote these lyrics on my short drive to work, had to pull over in Red Hill somewhere to jot down some ideas on the back of receipts found in the trash between my feet in my car. Everyone was really on point recording this track. Tony's bass playing is exceptional here and we came up with Dom's vocals on the fly while recording.

Kosovo

I got lost hiking in the mountains of Kosovo. I made some big mistakes where I knew better but my stubbornness and panic got the better of me. It could have gone really bad. But that's not what the song's about, it's for the people who don't get to come home who are taken for no choice or actions of their own.


Goldmine

This song had been floating around in different forms for a long time. We even played a rock version of this live at one stage, it never really worked and was looking at getting scrapped. I was determined to rearrange and make this idea work as I was proud with the lyrics and it was important to me to get it on the album. Pretty much everything but the lyrics were scrapped and we re-wrote it from there. This one wasn't recorded live but the drums are samples of the drum kit in the live room and the guitars are also recorded in the same room.

Glamour Muscles

This was the first song we recorded during the album sessions, you can hear we are excited and maybe a little nervous or what not. But it came out great. It's raw, simple and it set up a great mood for the rest of the weekend recording. Lyrically the track is addressing some masculinity norms and expectations.

HereNowPresent

We weren't sure if this would work out, we had the idea for a long time but were never sure what to do with it. Drums and bass were recorded live and then looped in on themselves, I think at one stage I'm even playing some terrible drum overdubs. Raven Mahone added a few layers of saxophone, we built it up and then stripped it back down in the mixing stage. These were the last lyrics I wrote a day before recording, I took a sicky from work and walked around the empty house drinking tea from 7 in the morning till about 8:30 at night when something finally clicked, I think there's only about six words in the whole song haha. But for me it sums up the major themes of the record, focusing on the present time and while looking towards the future in hope and positivity.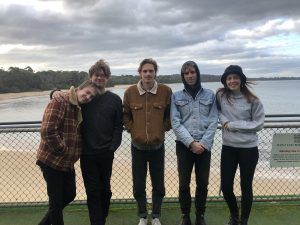 Cheers to the Future
is out now - head to
zombeaches.bandcamp.com
to grab the album on limited 'Bali Belly Brown' vinyl.