Music / Features
Welcome to the Prom -
A chat with Wilson's Prom
Both indie-rock powerhouses in their own rights, the whimsical concoction of Feelds and Merpire on their debut EP as Wilson's Prom finds the pair amalgamating their expertise in crafting evocative and charismatic alternative-pop. Anchored thematically by the going-ons of a 1950's high school prom, the six track EP was one born of earnest nostalgia, but overflows with a resonance that transcends the multi-decadal genre-defying narrative that they've woven through the entire release.
Looking back on our high school years can often be a polarising experience; with some looking back fondly on the 'best years of their lives' while others shrinking inward with self-doubt, heart ache and of course, the solitude of not being understood by anyone in a way only a 17 can be. On Wilson's Prom's self-titled EP, the group - a collaboration between Rhiannon Atkinson-Howatt and James Seymour better known by their respective stage names of Merpire and Feelds - tap into this fervent emotion, in which one feeling can become a person's entire world for a moment. Although telling a story from the perspective of multiple characters attending their high school prom, the EP manages to leap between genres, moods and time-periods effortlessly, resulting in a timeless record worthy of any coming of age story.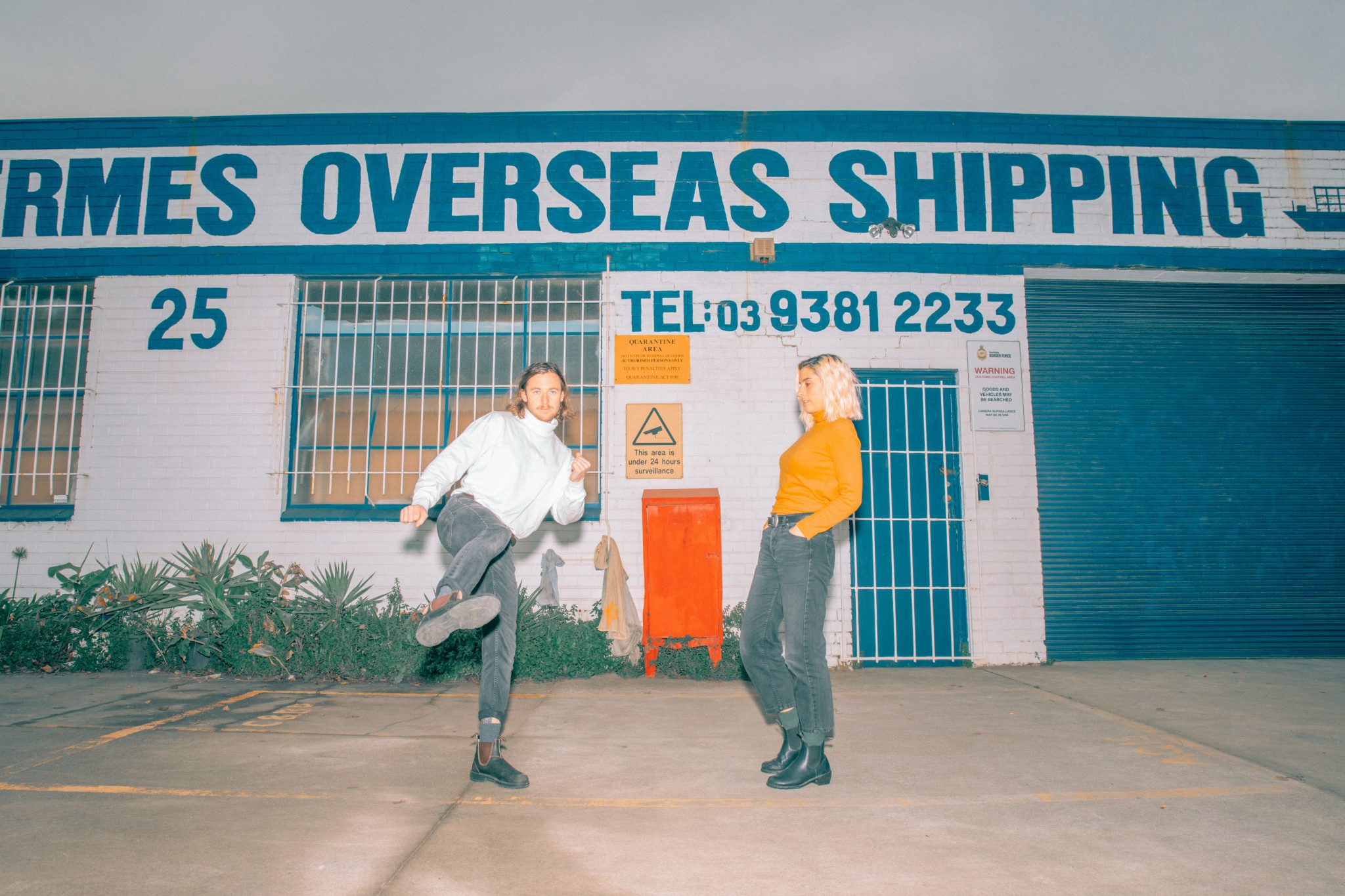 Already frequent collaborators, the emergence of Wilson's Prom feels like it could've been a long time coming, with James producing the last several Merpire releases and Rhiannon appearing on the last Feelds records. However, when the Victorian lockdown came about, the project become a natural progression for the pair to dive into shared music-making without the pressure of the pre-established expectations of their other acts.

As James explains, "it was a blessing, in that we both felt like we could put the brakes on Feelds and Merpire, mainly because I was working on a new studio in Brunswick and it was the perfect time to do something new. It started in lockdown and was just going to be this Feelds and Merpire co-write thing and then we wrote more than one [song], and then we wrote more than two and then decided to make it its own thing. Though we did write one a year before Covid with this band called Smoke Rings who we're great friends with, and just had this night where we got together with them and wrote what would come to be the track 'Small Disaster'."

With its 50's doo-wop swing and wistful duet vocals, this initial track lay the foundation for the rest of the EP's narrative. Rhiannon explains, "the story within that track shapes the story within the whole EP, which is also where the prom theme came from. In 'Small Disaster', we have the girl which we called 'The Girl' who is in love with Bobby, but Bobby is in love with the jock, 'The Prom King', and being in the 1950s and it being very taboo to be interested in the opposite sex it was all very secretive. But we wanted to explore that high school feeling where every single thought that they have is their entire world and there is nothing else that could matter outside of that… What Wilson's Prom has taught me is how to write songs where the detail is fictional, but the feelings are very much something you can relate to. Which has helped me with my writing now."
Our conversation moves to the unique, time-shifting concept of the prom band theme and how the idea came together. As Rhiannon shares, "we wanted to serve each song as it naturally came together, but we had this idea that each character and their perspective could be a decade within their imagination… so we spent a lot of time exploring different sounds, effects on our voices and on the synths and different drummers".

There are not one but five different drummers performing on the EP, spanning across the course of the listen and giving individual characteristics to each track that makes them feel like their own little pocket dimension within the prom.

Speaking about this decision, James explains, "each drummer had their own timing, and makes their own different stylistic choices. I think it is something that happened quite naturally just like the EP did. The first song we did was 'Love Fool' and we got Jarred [Young], the drummer from Feelds. Then we thought 'oh, we should get Jess [Elwood] from Merpire to play on one' ('Shapeshifter'). And for the song we wrote with Smoke Rings, Liam [Gough] from The Teskey Brothers plays drums for them, so it kinda makes sense for him to play on that one ('Small Disaster'). So we thought why don't we just go all out and get someone else for the last one… I saw that Zach [Levine] from Pinegrove had a little set up at home and was looking for things to drum on, and reached out and he loved it and we loved what he did with it. All their sounds were slightly different as well, they had their own rooms, own microphones and recording skills, so that was really fun for me personally to delve into when mixing it."

Wilson's Prom's self-titled EP is a true conceptual marvel, a pleasure to listen to and an example of the capabilities of collaboration even without direct contact. With any luck we'll be seeing the group playing their first show soon, but until then, there's a whole universe to explore by diving into the world of Wilson's Prom head first.
Wilson's Prom is out now in all the usual places.