Music / Features
TJ's Top 50 Tracks of 2020
#50 - #41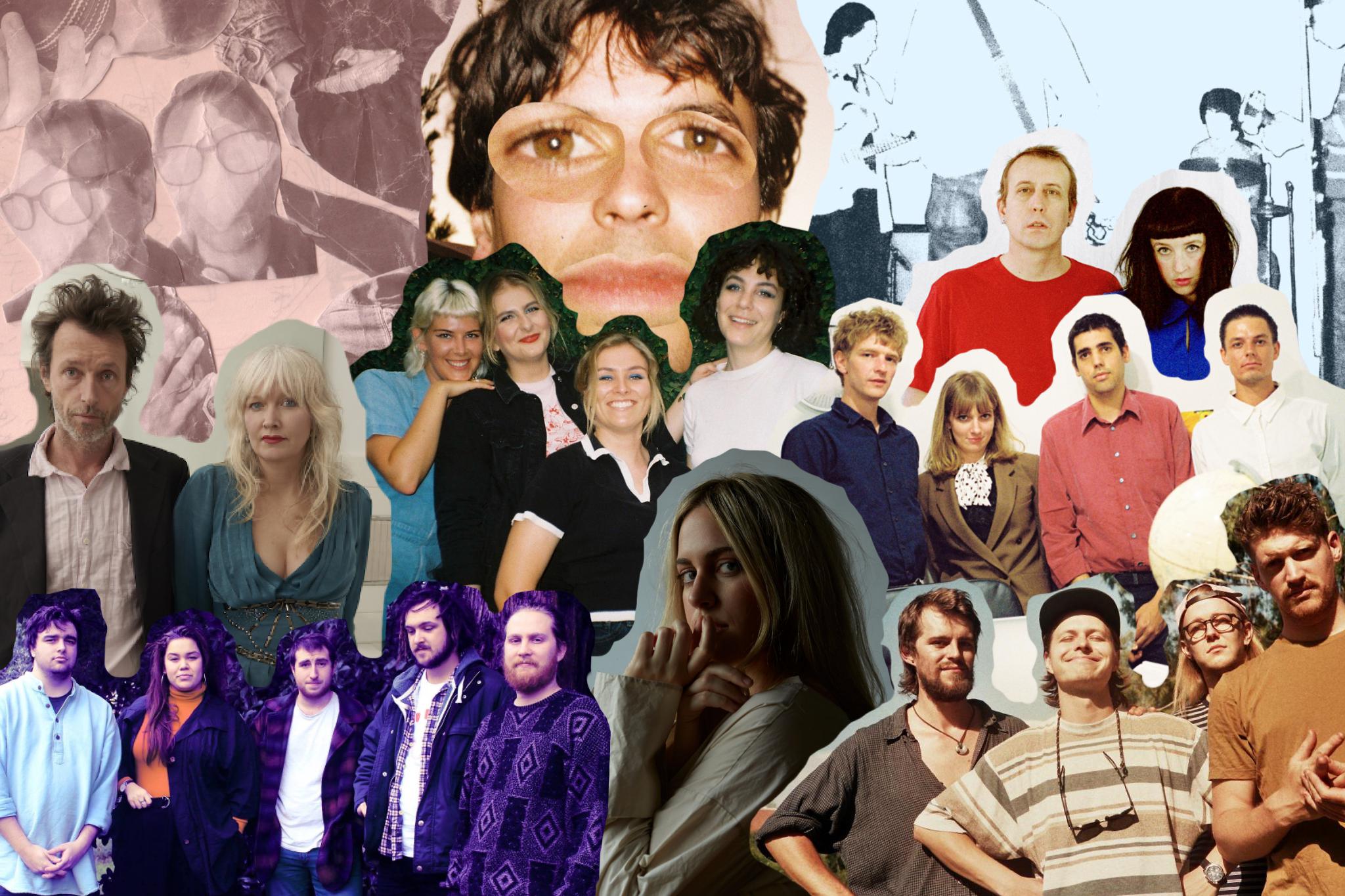 Although we'd usually be pretty averse to ranking your music, after such an unprecendented year, we thought it'd be nice to have a chance to celebrate some of the songs that made things a little more bearable. Over the next week, we'll be counting down our favourite songs of the year, ten tracks at a time.

Here goes nothing.
Although technically their debut album, Pop Filter's
Banksia
was joyously familiar, loaded with jangling guitars, giddy hooks and unfiltered sincerity. The album's standout track 'Big Yellow Van' managed to simultaneously celebrate the group's shared history while allowing them to open this new chapter, to the sound of beaming keys and instantly charming pop smarts.
James Lynch
49. Gutter Girls - 'Skin 2 Sin'
Despite being recorded completely separately by the band during the peak of Melbourne's second lockdown, there's not much about 'Skin 2 Sin' that revealed we're not hearing Gutter Girls at full capacity. Charged from the get-go and anchored by its restless, contagious energy, the girls' second single of the year caught them at their most volatile yet.
James Lynch
48. Time For Dreams - 'New Conflict Dream'
After a couple of years of quiet, Time for Dreams' first single from their forthcoming sophomore album was an enigmatic return, sounding simultaneously transportive but just as grounded in the grime of real life. At the highest points of 'New Conflict Dream', the track plays as blissed-out dance music, with its glowing synths and buoyant grooves, but moments later, the soundscape shifts to reveal the unnerving anxiety that constantly bubbles underneath.
James Lynch
47. El Tee - 'Space'
Taken from El Tee's triumph of a debut album, 'Space' is a shimmering, introspective standout about "giving so much to others, but forgetting to look out for yourself", that masterfully encapsulates the charming, unstated songwriting that
Everything Is Fine
is full to the brim of. As the track builds and slowly unravels, Lauren Tarver's mesmerising vocal develops and steers us through the haze - from the track's delicate beginnings through to its all-consuming final chorus.
Francis Tait
46. Zac E Tea - 'Magic Man'
On his breezy as hell debut single 'Magic Man', Zac E Tea took us on a simmering journey into his idiosyncratic pop world, which accompanied the third and unintentionally final round of his 2020 residency series, right before the world took a sharp right-hand turn. Combining jazz and psychedelia with Zac's trademark wit and unpredictable decision-making, 'Magic Man' is a masterclass in ambitiously surreal songwriting that is unlike anything else released this year. An essential accompaniment to those last couple of unwinding hours of the day, as you slip into your comfortable gown.
Francis Tait
45. Smarts - 'Cling Wrap'
Considering the group is made up of some of the most prominent names from Melbourne's punk scene, it shouldn't have come as a surprise that Smarts' debut album was going to hit hard and fast. On 'Cling Wrap', the four-piece combined their powers into one frantic and definitive blitz - a riotous tangle of agitated guitar, machine-gun drums and glorious saxophone squawks.
James Lynch
44. Hearts and Rockets - 'Dead As Disco'
On 'Dead As Disco', Hearts and Rockets' fourth single of the year, the duo encapsulated everything there is to love about their take on minimalist post-punk. Although this time relentless synths took the place of their usual guitar snipes, the track was packed with their signature mish-mash of propulsive drum-machine grooves, grimy bass and snappy vocals, all tied together by its bratty charisma and unstoppable energy.
James Lynch
43. Squid Nebula – 'Electricity'
If the release of Squid Nebula's sophomore EP
Connectivity
felt like a long time coming, highlight track 'Electricity' more than made up for lost time. After its dreamy intro finishes expanding, the track hits like a shock to the system, first with its soulful vocals and bubbling grooves, before finally exploding into one of the most addictive breakdowns of the year.
James Lynch
42. Surprise Chef – 'New Ferrari'
The last couple of years have been big ones for Melbourne's fascinating weirdo-funk scene and now firmly at the centre of that universe is College Of Knowledge Records, who have churned out four superb servings of exactly that this year. Two of those have been from quartet Surprise Chef and 'New Ferrari', the first single off their second album
Daylight Savings
, absolutely hypnotised us with its warbling synths, wirey guitar loops and buttery bass lines, making my a-few-months-off-death Toyota Camry feel much more like the song's namesake as it oozed out off three of its remaining four speakers.
Francis Tait
41. Permits – 'World In Numbers'
They've referred to themselves as a "Melbourne superb-group", and on 'World In Numbers', Permits more than live up to this descriptor. Snappy, sardonically clever and flowing with a radiant rough-around-the-edges charm, it's easy to understand why this group of Melbourne jangle-pop champions are as loved as they are.
James Lynch

Stay tuned for the rest of our Top 50 over the coming week.