Music / Features
TJ's Top 50 Tracks of 2020
#10 - #1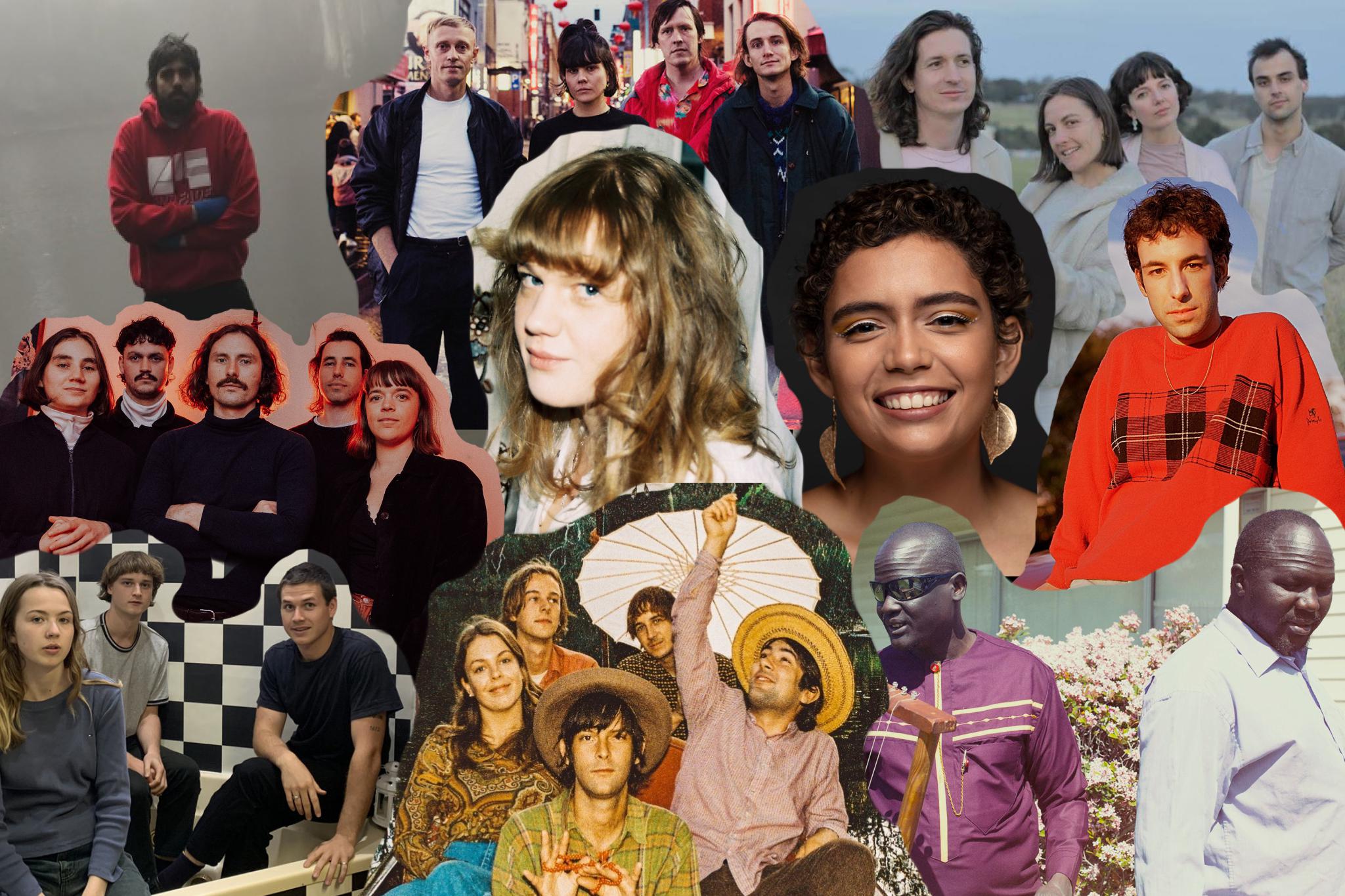 Okay, here we go, but before we dive in... a fun fact for you: these countdown pieces we've released this week saw us pass 365 published articles for the year. That's more than one a day, so give us a break if you think this final list is a bit of a flop.

While we're here, thanks for everyone who's tuned in to TJ over the year, whether that's swinging by to read the occasional article, submitting your songs to us or even just liking our posts. Was a pretty weird one, but hopefully we helped make the time at home a little more bearable. I know 2020 was a bit shit, but it's turned out to be a pretty good one for music, so we've got that at least.

Anyway, without further ado, let's finish this thing off.
10. Gordon Koang -
'Tiel e Nei Nywal Ke Ran (We Don't Have a Problem With Anyone)'
When Gordon Koang's eleventh record arrived on my doorstop in the middle of August this year, it was like a beacon of light.
Unity
, Gordon's first album since seeking asylum in Australia over six years ago is a joyful, uplifting listening experience and a reminder of the power of positivity, which is encapsulated especially so in 'Tiel e Nei Nywal Ke Ran (We Don't Have a Problem With Anyone)'. Built around Gordon's unique, blistering thom playing with its overarching message of hope, plus one of the most contagious, propulsive drum grooves you'll have heard this year thrown in for good measure, 'Tiel e Nei Nywal Ke Ran' is bound to lift your mood sky high every time.
Francis Tait
9. Eggy - 'Round Table'
Eggy's first full-length album is decidedly upfront in its eccentricity. Aptly titled 'Bravo', across the eleven tracks the five-piece are unwilling to let their quizzical tendencies go unhumoured, and instead, they revel in painting a technicolour picture of their delightfully warped world. Our highlight was 'Round Table', a track that twists a sort of George-of-the-jungle drum groove with lopsided guitar stabs, before swinging into a woozier synth driven section, to then pendulum between both sides until it finally spirals out from underneath itself. Eggy's brand of almost avant-garde pop finds the perfect blend between control and chaos, packed with uncanny hooks and creative instrumentation that feels both considered and improvisational at the same time.
Sam Harding
8. CLAMM - 'Keystone Pols'
Simple yet explicit, 'Keystone Pols' unravels the disgruntled beauty of CLAMM's enthralling debut
Beseech Me
- ten tracks of hard-nosed, snarky punk that command listeners with impassioned messaging. Tackling oppressive power structures through touted mantras, 'Keystone Pols' finds vocalist/guitarist Jack Summers at his grittiest, building resonance over collective anxieties felt through his potent frustration. Emerging early in the year and expanding acclaim throughout, CLAMM made an essential mark in 2020 that feels unmatched - 'Keystone Pols' being the strongest summation of their commanding ethos.
Daniel Devlin
7. Alien Nosejob - 'Weight Of The World'
Despite having more than enough bands to put his name to already, Australian garage-punk master Jake Robertson has spent the last couple of years churning out music as Alien Nosejob, a project that enables the workhorse to try his hand at whatever musical style he damn well pleases. While his latest album was the blistering
Once Again The Present Becomes The Past
, the release that really caught our eye was January's
Suddenly Everything Is Twice As Loud
, a collection of sprawling guitar-pop that wrestled against Jake's usual tendency to bury his undeniable pop smarts beneath frantic performances or unconventional moves. 'Weight of the World' shines in this regard - still anchored by his penchant for turbo-charged grooves, the track unravels with flowing guitar leads, scrappy hooks and heaps of Jake's reliable charm.
James Lynch
6. Gregor - 'Senseless'
Psychedelic prog-pop slow-burner 'Senseless' is an almost six minute journey into the seemingly boundless mind of Chapter Music's Gregor and serves as a gorgeous centrepiece to his stunningly unpredictable, too-hard-to-describe-in-only-a-few-words new album
Destiny
. Beginning cacophonously, before moments of fuzzed-out guitar and hypnotic bass synth set the scene, 'Senseless' builds and develops around a repetitive, introspective stanza that ties the track's many pivots together. With touches of classical guitar, a string arrangement and one hell of an electric guitar solo to come, just strap yourself in and enjoy the ride.
Francis Tait
5. Kee'ahn - 'Better Things'
Gugu Yalanji, Jirrbal, Zenadth Kes singer-songwriter Kee'ahn blew us away this year with 'Better Things', her introspective soul-pop triumph of a debut single. Built around Kee'ahn's mesmerising, effortless vocal performance, 'Better Things' cruises along with no urgency at all, supported by a groove so laid back it's almost lying down, which compliments the tracks message of healing and self-love seamlessly. As waves of buttery backing vocals and splashes of a gorgeously arranged horn section swirl and build across the track's three and a half minutes, you'll find yourself completely engulfed in 'Better Things' - a gorgeous accompaniment to 2020 that gets better with every listen.
Francis Tait
4. Bananagun - 'Out Of Reach'
With the release of
The True Story of Bananagun
this year, Bananagun brought eleven delightfully colourful servings of genre-blurring kaleidoscopic pop to life. Defined by its tangles of sunny harmonies, swarms of exuberant percussion and an overwhelming amount of relentless, undeniable grooves, their debut full-length shone in its ability to continually venture off-road at any given opportunity to take us for a joyride. Our highlight was the soul-tinged 'Out of Reach', a track which saw Nick Van Bakel's sandy croak fully open to beam with wide-eyed earnestness over a joyous blend of retro pop and vibrant exotica.
James Lynch
3. Sweet Whirl – 'Patterns Of Nature'
Led by an unparalleled intimacy,
How Much Works
, the debut full-length from nostalgic-pop songstress Sweet Whirl, distils experience of the love-addled into universal and incredibly resonant poetry. Esther Edquist has always had a unique ability to blur the space between heartwarming and melancholic, and album standout 'Patterns Of Nature' does so enigmatically. With its blooming piano chords and lilting groove, the track's potent emotion continually unravels before eventually engulfing us completely with its devastatingly delicate power.
James Lynch
2. Snowy Band – 'Never Change'
Snowy Band's debut offering
Audio Commentary
was met with acclaim and adoration from anyone lucky enough to hear it, and rightly so. The record masterfully weaves elements of folk, jazz and pop in a decidedly spacious manner, providing an intimate encounter with the well-honed songwriting of Melbourne music stalwart Liam 'Snowy' Halliwell. A collaboration with three of his closest companions (each with their own impressive musical resume), Halliwell's newest outlet surprised and delighted many with their meditative and often delicate sound – however, the quality of the record came as no surprise to anyone familiar with the incredible body of work these four musicians have amassed in the last decade. The anthemic pop of 'Never Change' was just one standout moment in an album full of highlights, but this thoughtful tribute to long-time friendships was an uplifting and welcome listen for many during this strange, strange year.
Seamus Fillmore
1. Scott and Charlene's Wedding –
'Live It Up (Live at The Tote)'
Is it wrong to end a countdown of the year's best songs with a live cover of a track released in 1985? Probably, but ranking songs is already pretty stupid, and if anyone was putting any real weight on this list, they probably need to reassess some priorities anyway.
That said, if any release from this year was to remind us just how good we really had it, it was the 45 minutes of sloppy, sweaty and completely chaotic rock 'n' roll captured on Scott and Charlene's Wedding's
Live at The Tote
album. They're one of Melbourne's most loved bands for good reason, and their crack at this Mental As Anything belter plays like a much needed hug from an old friend.
James Lynch