Music / Premieres
Premiere:
Old El Parso - Hugs
Melbourne has new competition for the finest irreverent band name in the city: by interspersing his surname with that most famous of Tex-Mex dinner brands, Jack Parsons has become Old El Parso on his first solo endeavour.
You'll surely know Parsons by now from his work as the frontman and songwriter for The Pretty Littles. After six releases since 2013, their most recent record was the ironically-titled Weekend Away, released last April just after the onset of the COVID-19 pandemic. Faced with music's new normal - reduced opportunities for rehearsals, shows, and band meetings - Parsons, like many others, decided to go it alone under his new moniker.

The mountain of voice memos stored on his phone certainly helped move things forward and soon Old El Parso was crafting his first songs over two days spent at Melbourne's Aviary Studio between lockdowns in the middle of 2020. It has some strong supporting talent behind it too: Alex Markwell (Delta Riggs) both engineered and played drums on the record, Alice Gaynor played violin, and Steph Hughes from the wonderful Dick Diver and Boomgates provided backing vocals.

All feature prominently on 'Hugs', the first offering from Old El Parso's upcoming debut album. The song was written by Parsons' friend Will McMahon after being conceptualised at the end of a very long night. "I wanted to record a set of songs in the opposite way to what the band had been doing over the last few years, which was heavily considering each part of each song, which is a fine way to get a good result but can be exhausting and also put expectation on the release which is never a good thing," Parsons explains. "I wanted to write and record fast and that's how the album came about. My friend Will McMahon showed me these words he had written and I loved the chorus straight away."

He continues: "We had a bit of a jam at the end of a long night just as lockdown was kicking in. After that I just worked away at finding a melody and composition that felt right. I felt a real freedom singing lyrics that weren't my own too. Steph's vocals came a little later and added heaps and Alice's violin is a dream. Alex Markwell who engineered the recordings played drums."

Anyone worrying that something of the keen viscerality of The Pretty Littles would be lost won't be dissuaded upon listening to 'Hugs'. The track starts burning with intention, the rhythm thick and chugging with momentum, Gaynor's violin increasing the emotiveness. On top of the guttural guitar noise sits the sublime dovetailing of Hughes and Parsons: their harmonies start delicately, their voices wobbly and raw, feeling their way into the song, before steadily rising in timbre and excitement and volatility. Hughes even recorded her vocals at home, learning how to do it for the very first time; their work together will also be a nice, small reminder for anyone who's been missing Dick Diver over the years.

While you wait for the full album to arrive - and, worldwide-pandemic-permitting, The Pretty Littles to come back - check out 'Hugs' above.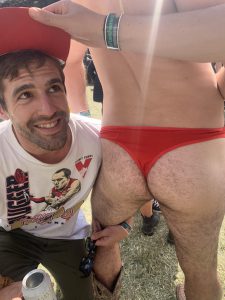 'Hugs' is out officially tomorrow in all the usual places.