Music / Features
Romantic Notions -
A chat with Mere Women
We caught up with Sydney's post-punk four-piece Mere Women as they come back with their first album in four years, Romantic Notions, released tomorrow via Poison City Records.
We haven't heard from Mere Women since 2017's acclaimed Big Skies, but on their fourth album their sonic horizon has been expanded: the fervent spirit of their playing remains but it's now layered with thicker textures. Romantic Notions is possessed of a theatricality that equally enthrals and unnerves, full of crunching guitars and smashing percussion.

They frequently recall one of the finest post-punk bands of this century, Savages, in the menacing darkness of the rhythm, lead singer Amy Wilson also mirroring the storming intent of Jehnny Beth. And in Wilson, Mere Women has the vocalist to set and enhance the intended atmosphere of the record: her voice is ominous and sonorous, operatic and melodramatic; the lyrics are piercing already anyway, but Wilson spikes them into your mind with the force of her delivery. All the unnerving tension on Romantic Notions is harnessed by her focused fury.

It's a record that marks a time of change for the band, both incremental and not. They removed themselves from the speed of the city to write it in a cottage beside the Hawkesbury River, finding a spaciousness and intimacy that they had never had before. They indulged in this DIY spirit to shoot the video for the title single, doing what they could under the constraints of COVID-19. When the time then came to record the album in the studio last March, anticipatory anxiety for impending lockdown informed the process, lending a sense of nervous tension to a band not necessarily in need of it.


Belying the fanciful name, Mere Women as usual have serious matters at hand. Romantic Notions is concerned with the idea of love as a tool that can be used to control someone. The band highlight the difficulties of breaking free of coercion and manipulation - particularly as a woman - and rediscovering autonomy. They looked back at the changing experiences of women over generations, noting the differences in the quality of life their great grandmothers had as opposed to them.

(Content warning: sexual assault). Just after our interview with Wilson, the Australian government was rocked by rape allegations put forward by former staffer Brittany Higgins, against a male colleague in a minister's office in parliament in 2019. Higgins said she felt pressured at the time to choose between her career and revealing the allegation to police. When its details did finally emerge, public reaction was unsurprising and dismaying: Prime Minister Scott Morrison could only understand the news by solipsistically imagining it was his own daughter; attempts to downplay it and cover it up were widespread.

Listening to Mere Women's music as this all unfolds is both poignant and cathartic. "What you've done / I'm talking about / your control / I'm letting it out," Wilson cries on 'Spell', and it's a call to attempt to relinquish oneself from outside pressures and pursue personal freedom. Brittany Higgins chose to do so; in the aftermath of her courage, several other women came forward with historical allegations in parliament stretching back to the 1980's. It's why what Mere Women have to say is also needed, and it's why the blistering form they exhibit on their fourth release shows no signs of slowing down.

Chatting with Amy Wilson below, we discussed the new direction on Romantic Notions, the band's experiences with COVID-19, and the themes of family and power dynamics that colour the record.


TJ: Where did the title come from?

MW: The title came from the name of this little store in this town in Sydney that I worked. It was this old fashioned store and I was always fascinated by it. It actually closed down a couple of years ago, which is really sad. Also just the idea of romantic notions, it's such a thing in my family and the women in my family, to be dreamy and romantic.

It was recorded with the threat of lockdown just coming on, is that right? Do you think that influenced the sound of the record? Did it make it more anxious or unsettling?

Yeah. I think our music is always anxious and unsettled anyway! We were very anxious though, we were very unsure about what was happening with our day jobs, and we didn't know if we'd be able to keep going in the studio. It was kind of on a day-to-day basis. We were really uncertain about what was going to happen. So I think that the mood we were all in, I think that did translate onto the record and I think that tenseness does come across.

You rehearsed it at a riverside cottage in Sydney. Was there an intimacy to recording there?

Yeah, because we were so used to recording in a studio, in the city. We'd be working all day and then we'd all meet at the studio after and we'd all be tired and kind of didn't want to be there. I mean, we'd do it and it was great once we were there but it was a really different thing. At the cottage though, we were all meeting here, all four of us, and rehearsing in the living room right on the water and spending the weekend taking the time to really get into it. It was just more enjoyable and just more relaxed.

Between Big Skies and Romantic Notions, how do you think your sound has changed?

I think it's more textured. We started to do this on Big Skies but we tried to take an idea and run with it, rather than jumping around and trying to be too frenetic. On this album we've really tried to take something, develop it, and let it grow. We wanted to create music that was more textured and more dynamic.

So what would you say is the main undercurrent theme of this album then?

It's all about family and power dynamics. It's about complex relationships and the changes from, say my great grandmother's time until now. You know, all the privilege that I have compared to what she had to put up with. It's kind of an ode to women and I feel really lucky to have learned from them.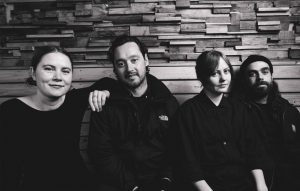 I've read before that you get compared to Siouxsie and the Banshees a lot, so I'm not going to do that! I could hear a little of Savages in the album though. What were you listening to during the recording that inspired the album?

You know, I think Siouxsie and the Banshees is great! They're not huge influences of mine, I think it might just be something similar in the timbre of my voice. I was obsessed with the FKA Twigs album (Magdalene) and I think that influenced me a lot. It's so dramatic and that's what I tried to create on the album, this sense of drama. It's just the way that she uses her voice in so many different ways, it really inspired me.

I thought that too when I was listening to the record, it's almost theatrical in style.

Yeah! That's so great that you say that because that's definitely something we were going for.

I wanted to ask about some of your songs in particular. The video for 'Romantic Notions', you made and produced that all on your own?

Yeah. We borrowed a camera from a friend of ours who works at a studio. Mac, our drummer, is really great at doing all the editing. We just went for it ourselves. We just hung out where we live and shot it here. A friend of ours called Kim did the makeup and she's incredible. We just sort of made it happen and it was just really fun.

Do you want to do more of that in the future?

It depends! We used to do it and now it's just a time thing I guess. I hope so, I'd like to do it again. And it's a money thing as well, without shows we have to do things on a shoestring. So if this continues, perhaps we will be doing it again!


So 'Spell' is about power dynamics and breaking away from constraints?

Yeah, exactly. It's about being controlled by someone, almost in a subliminal way. It's about realising someone has a hold on you and finding the strength to break away from it because it can take a lot of time to do a thing like that.

Do you think your songs are a cathartic release for listeners, in a way?

I hope so. I put a lot of myself into this record in particular. I really respond well when an artist I love does that. I really hope so.

As a Sydney band, how do you think the city's music community has been coping with the COVID-19 shutdown?

It's died a lot, as it has everywhere. We've been really lucky in Sydney, because we've had less lockdown than other places! But we haven't played ourselves. Those medium-sized venues that we'd usually play, it's been a bit tricky. I think the whole music industry, the way that the COVID-19 regulations have been set in place, I don't think it covers what a Mere Women show would be like. It would be people crammed together, breathing on each other and yelling. We're looking to get back to it though and hopefully really soon.

When was your last gig?

December of 2019.

That's a long time! Did you always consider Mere Women to be a live band more than a recording band anyway?

A live band, absolutely. That's what we do. We love recording too but we all love playing live so much.

What were your creativity levels like during lockdown?

There was a period when we weren't. When COVID-19 happened, we all thought 'great, we can spend time being creative', but we just didn't, for quite a while (laughs). We eventually did and I think we're feeling a bit more refreshed and inspired. We've been writing lots of new stuff and we're excited to move forward now. We're in a bit better space.

Your debut LP Old Life was released in 2012, so that's been almost a decade in music now. Did you ever consider you would have such longevity?

I would never have thought it (laughs). We're still having fun and we're always growing and evolving and changing what we're doing. I think that's why we've been able to keep going so long.

Speaking of going forward, after this album comes out, what's the plan for the rest of 2021?

We don't have dates for a tour yet but we're hoping to get down to Melbourne in late May, early June. Hopefully to other places as well. We're thinking around the middle of the year. And then we're just going to keep writing and hopefully we'll get back in the studio when we can!