Music / Premieres
Premiere:
98 Camry - April Wind
Back with their third single in four months, 98 Camry have returned today with 'April Wind', a stirring alt-folk track that puts the project's usual jangle-pop charm on hold for something a little more uneasy.
Formed at the beginning of 2020, 98 Camry is an emerging project led by Edward Lloyd (who you may recognise from local groups Emma Shields, Focus Group and French Cut), which finds the versatile musician trying his hand at a kind of electric folk-rock, mixed with alt-country tenderness and garage-pop smarts. Their third official release, 'April Wind' both picks up from where earlier tracks 'D16' and 'Spice of Life' left off while slightly shifting course, awash with lush yet understated instrumentation and unassuming hooks.

After opening with a beam of radiant organ, 'April Wind' quickly expands around a rolling groove, backed by a steady rhythm section as acoustic guitars weave and jangle leisurely. Where guitar-pop of this kind often leans into sunny atmospheres or playful charm, 'April Wind' is instead anchored by a sense of apprehension; particularly so as Ed begins to unpack his experiences of "fretting all the time about a demon inside", his stacked vocals heightening this nervous energy as they chime along in unison. That's not to say the track lacks charisma though - with its swirls of rich organ work and tangles of excitable guitar that counter Ed's weary delivery, there's an undeniable earnestness that radiates through the track from beginning to end.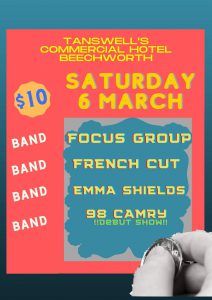 'April Wind' is out now in all the usual places. 98 Camry are playing their debut show tomorrow in Beechworth at the Tanswells Commercial Hotel, alongside Focus Group, Emma Shields and French Cut.