Music / Features
Broke & Enter -
The New Fundraiser Mini-Festival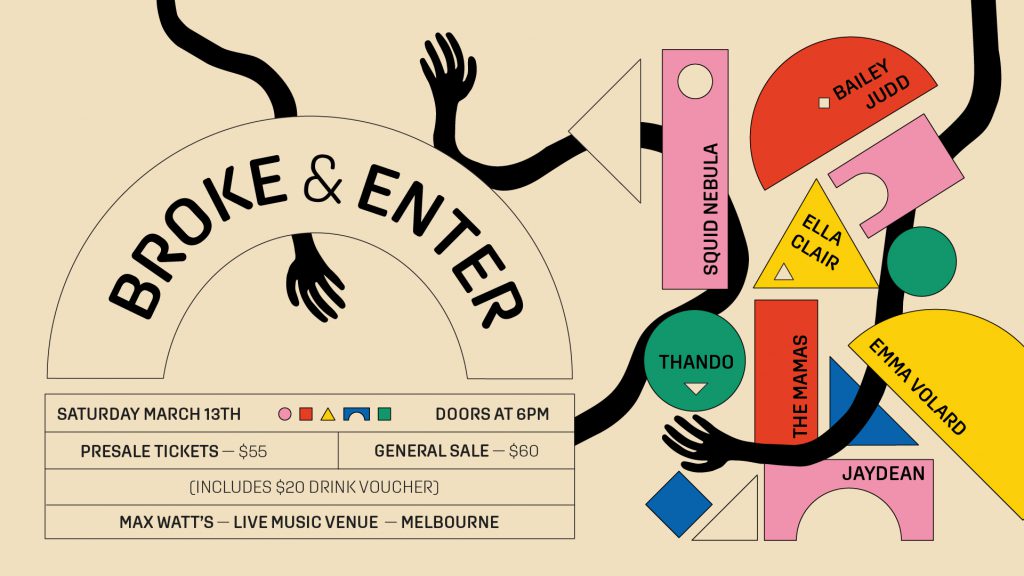 After losing gear, income and irreplaceable recordings during a home invasion and car theft, Melbourne artists Ella Clair and Bailey Judd have created new hope amidst the tribulation, in the form of the mini-festival fundraiser Broke & Enter, featuring a huge line-up of local talent united in the common support of their fellow artists.
| | |
| --- | --- |
Back in January, just as the long quiet Melbourne live music scene started to bud with new signs of life and the excitement of new prospects was at the forefront of every young artists mind, a gut-retching event left Ella Clair and Bailey Judd heartbroken and without work. After a show, a home invasion lead to the theft of Clair's car, which contained thousands of dollars of musical equipment as well as Judd's laptop and hard drive containing months of irreplaceable recordings the two had worked on together. Though the culprits were eventually found, the equipment was unable to be recovered.

However, Judd and Clair took it in their stride and moved forward, as Judd shares "it sucks the life out of your creativity after an incident like this. But, we musicians, are resilient." From the tragedy Broke and Enter was born, a one day mini-festival with a fantastic line-up of local artists who have aligned to support the pair.

Speaking about the idea, Clair explains "Broke & Enter really came from the last bit of light I had left inside after the robbery. I remember mentioning the idea of fundraiser gig to Bailey because I felt so awful about how much he'd lost out. It's like moth to a flame; musician to fundraiser. It's what we do. I knew the community would come together and I'm so excited to close this chapter in the most brightest most joyous way, in order to restore some of that light."

The line-up includes some exceptional names, such as R&B and soul powerhouse Thando, neo-soul legends Squid Nebula, eight-piece funky fem group The Mamas, the commanding Emma Volard, rising r&b superstar Jaydean, and of course Ella Clair and Bailey Judd.

Although rising out of an awful situation, with the show one week away the pair seem to be having their faith restored. As Judd shares "I'm so grateful to all these artists coming together to help independent musicians like Ella and I. They know what it's like to hustle, to have to push to get anywhere in this scene without having your tools taken from you. This gig is bringing my hope and light to music after a dark month."
Broke & Enter
is happening on Saturday March 13th at Max Watt's - tickets are available
here
.