Music / Premiere
Video Premiere:
The Hunter Express - I Want You
A next taste of their forthcoming album, today we've been treated to a first look and listen to 'I Want You', a nostalgic love song from folk-pop dreamers The Hunter Express. Coupled with this is a chat with Brad Ellis, principle songwriter from The Hunter Express, to delve deeper into the project.
If I were putting together a mixtape for a crush, and I wanted to tell them how I really felt about them, I would slide this song somewhere in that mixtape. A dreamy ode to letting someone know your true feelings, the refrain of "I want you", backed by the gentle and meditative rhythmic strum of guitar creates a sense of intimacy in which the only people that matter are you and your crush. The verses act as vignettes of the love that is playing out, a little more lyrically abstract than the chorus. They create an extra layer of intrigue, clearly written with someone in mind. The soundscape created in this song is indebted to the likes of Aldous Harding and Julia Jacklin. Although there are contemporary influences, there is a warm nostalgia in the song as Brad Ellis puts it, "the song is about desire. It is a reflection of my youth."

The video, filmed on VHS-C, is a grainy mishmash of footage that adds to that feeling of intimacy.
 Creating an ethereal feel, as snippets of scenes jump into one another. It enhances the message of the song. A nostalgic feeling is created through the use of the VHS-C filming coupled with the grainy footage of a couple making their way though nature, almost as though they are in their own dream world. The motif of a mixtape is used towards the end of the video, which brings the whole idea of the song together.

We caught up with Brad Ellis, principle songwriter of The Hunter Express to get an insight into the origins of the project as well as what to expect in the future from the project.
TJ: Hey Brad, how are you? For the uninitiated could you please introduce yourself and the band?

BE: Hey Will! I'm great thanks. My name is Brad Ellis, I'm the principle songwriter for the folk pop band, The Hunter Express. The Hunter Express is made up of some amazing musicians and friends, although friends have come and gone, its current members are Matt Dixon, Jarrad Brown, Olaf Scott and Tyler Campbell.

The Hunter Express is your project but it also seems to be a space for collaboration. What do you like about making music with friends?

Collaboration is at the very heart of the project. Making music with friends is fun. I like when we come across some really cool sound and the creative energy that then brings to the recordings.

Would you say there has been a progression of sound in new The Hunter Express songs compared to older ones, how has that process been?

There has. And I'm really excited about it! There's been a few reasons for this. 1. I've got the right people involved, each are really passionate about making the Hunter Express music the best it can be. One person in particular is our producer Robert Muinos, he has helped create a consistent overall sound and feel to the songs we are releasing. 2. Personally, I'm in a really good place with my writing and how I want to express myself.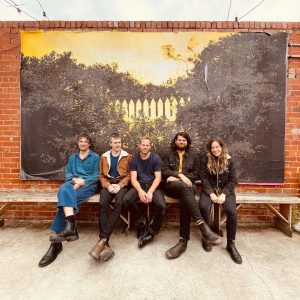 Thats awesome! What role does songwriting play as an outlet for you? Has it always played this role?

It allows me to be creative, it makes me feel alive. The whole project has become an outlet of feelings, dreams and life. I've become aware, most recently that writing and recording is not just a thing I'm going to do for a few years on the side. It's an investment I'm making for a long time to come and I'm so excited to see where it all ends up.

Do you feel like this shift has been a long time coming? You used to work as a youth worker, what was that like for you?

It does sometimes feel like that. But the time has allowed me to work with the people that I really like, those I think will make the Hunter Express great. I did, I worked with homeless youth for many years and loved it. It's the kind of job you need to be 100% in. And when I began to feel the need to pursue music and decided it was time to finish up that chapter of my life. That time did define my thoughts about life and gave me great purpose.

That makes a lot of sense. From those experiences as well as your expression through being a musician, what would you say your purpose is?

Wow! Huge question. I guess I'm still working it out tbh. I'm starting to think it's about trying to live the life that I love most.

Would you say that music has always played a huge part in this? Would you consider yourself a musician or music fan first?

It plays the greatest part. It's intertwined with my life. Music fan first! Growing up listening to The Beatles, Dylan and Cash. My childhood was filled of great music, that's what came first. Then my Dad bought me my first guitar for my 12th birthday.

I have read elsewhere that part of the shift in focus from youth worker to musician was fatherhood. Having just mentioned growing up listening to The Beatles, Johnny Cash and Bob Dylan. If you're kids as adults were asked what they listen to around the house as kids, what artists do you think they'd list?

Love this question! They would list Kurt Vile, Middle Kids, Gordi and The Weather Station.


'God Damn Plan' video was filmed at Small Time Group in Brunswick, how important are places and venues like this to yourself and also the music community at large?

We were so lucky to have been able to film there. Being a part of the music community is so crucial to my craft and my well-being. It's been rough for musicians and the industry over this year. I hope it can recover and become strong again.

Absolutely. 'I Want You' sounds like it belongs on a mixtape for a crush, if you were putting together a mixtape for a crush, what five songs would you put on it?

The Everly Brothers. 'All I Have to Do is Dream'
Jess Ribeiro. 'Young Love'
The Beach boys. 'God Only Knows'
Bec Sykes. 'Edithvale'
Amy Shark. 'Adore'

How was the songwriting process for 'I Want You'?

I wanted to write a song that told a story. At the time I was listening to an album by Bob Dylan called Oh Mercy. I would often reflect on the stories and sounds created in that record. I penned out the lyrics in about a night and started arranging it with the band to record.

How did the video for 'I Want You' come about?

The video was fully constructed by friend and filmmaker, Jess Walters. I basically sent her the song and gave her full control over the video. I like the fact it's filmed on VHS, it compliments the song. Jess has made previous Hunter Express videos so there was no worries in having her come up with the whole idea herself.

Having released two singles this year both quite thematically different, what are the themes of the upcoming album?

The upcoming album is called A State Of Longing. It was written during the first half of 2019. It's a small six month window of my thoughts and experiences during that time. Many of the themes are mainly state of mind. There is a yearning for something more, what ever that is. For me it's a freedom from grief, having lost my Dad in 2017. For others I'll leave it up to them.

Thanks heaps for the chat Brad. What are the plans for the Hunter express for the rest of the year?

We've just announced a show with Hayden Calnin, Chitra and Nkechi Anele on Aug 14. We've also just received help from Ditto Music Australia in servicing and distributing each song from the album which is officially out November 12. It's my hope that more people will hear the Hunter Express through these upcoming releases.
'I Want You' is out officially tomorrow, and The Hunter Express' forthcoming third album A State Of Longing is set to be released in November.