Music / Features
Premiere:
The Vovos - Jana
Today we have the pleasure of premiering the debut album from rising garage-pop upstarts The Vovos - across eight tracks, Jana wrangles everything there is to love about the local five-piece, with its radiant hooks, contagious energy and irreverent indie-rock charisma.
Although only forming a couple of years ago, The Vovos have quickly amassed a track record that's almost impossible to shirk at. They've performed alongside a heap of Melbourne heavy-hitters, scored a spot at this year's Boogie Festival and have even played the Sidney Myer Music Bowl, all while barely being out of school. And now with the release of their debut album Jana today through Roolette Records, the band have captured to tape everything that makes them so easily loveable.

Instantly charming, Jana opens with 'Lost In Ikea', a track that meanders open after 30 seconds of chit-chat and laughter, immediately setting the playful tone of the record before a spirited tune emerges, powered by a tangle of colourful guitar and keys. Although the lyrics are somewhat dejected, it's hard not to get caught up in the fun of it all, especially as vocalist Ada Duffy's moans turn to yelps as the track ramps up.

It's a strong introduction and the mood doesn't let up. 'Spring Cleaning' and 'Temporary Solution' are two blasts of glorious garage-pop, the former sucking us in with its buoyant groove, before the band turn the heat up as the grapple with climate change inaction over a searing instrumental.

As the album continues on, the band's self-described 'punk bitch' attitude grows more and more apparent. 'Keep Up' unravels around a frenetic pulse before the band switch into a stomping chorus as they demand listeners to "keep up" with them, and 'Compromise' is a hilarious diss-track to Australia's capital to the tune of distorted guitars and chugging grooves. Rounded out with a live rendition of fan-favourite 'Venus', it's easy to hear why The Vovos have been winning the hearts of audiences around the place, and it's clear that off the back of Jana there's only going to be a lot more of that going on.

To celebrate the release today, The Vovos were kind enough to walk us through Jana and share the experiences that inspired each track.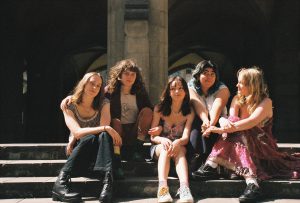 Lost in IKEA

'Lost In IKEA' details the desperate plight of an anxious group of gals trying to find a chair in the maze that is IKEA. Failing to escape, they pen this fast-paced, intense indie-punk banger about their predicament. It is an ironic and humorous song that deals with the serious issue of mental illness as well as the all too relatable situation of being truly lost in the never-ending sample homes of IKEA.

Keep an eye out for the music video, during the filming of which we genuinely did get lost in IKEA.

Honey

'Honey' is an ode to schoolyard crushes, first loves and those butterflies in your tummies. It was written in 2019 and encompasses a depiction of less-than-perfect dates and stupid-yet-lovable boyfriends. We wrote this song together daydreaming about our early crushes so let it take you back to that first time you like-liked someone and those semi-awkward first walks in the park.

Spring Cleaning

'Spring Cleaning' was written through a shared experience of all the drama and gossip associated with being a teenage girl. Focused around bass riffs and relatable lyrics, it has a comically frustrated, "why can't we all just be nice to each other?" attitude. The message of the song is that while we recognise that this is all a product of the evil patriarchy turning girls against each other, sometimes it's okay to say you've had enough and bid goodbye to a toxic friendship.

This song was finished close to 2 a.m. during a late-night songwriting session with manic bassist Lu and tired & unhinged guitarist Beth (who just wanted to go to sleep). This resulted in the chorus containing the most swearing a Vovos song has ever had, but did bring an end to the years-long process of finishing the track.

Temporary Solution

'Temporary Solution' is a punchy song that addresses living through climate change and our collective exasperation at the lack of action, through the allegory of iced tea during a heatwave. It was primarily written during the black summer where Melbourne was clogged with smoke from the nearby fires and is, therefore, a desperate yet comedic cry for meaningful change and not just short term solutions. Taking a stark turn from its light-hearted origins dancing in the backyard on a hot day, we used the light subject matter of iced tea to address a theme we're very passionate about.

If you scroll back far enough on our Instagram account, you can find a clip of that first heat-crazed writing session, which has been described as having 'wine mum energy'.

Eat Your Greens

'Eat Your Greens' has its origins in a desire to "write a happy song", since all our songs up to that point had been moody and political. However, inspired by the climate protests of 2018 and 2019, it pivoted back towards the political almost unintentionally, and ended up as an impassioned call for attention to the climate disaster in the face of seemingly-apathetic leaders and the country at large.  

Keep Up

'Keep Up' is the song we wrote earliest on this album. It's a comment on celebrity and so-called 'influencer' culture. It is a rant directed at the uber-rich lifestyle which is so disconnected from the reality of our lives.  Our favourite thing about the recording of this song is that in the background of the intro, you can hear our sound engineer Adam Smith say 'so tight', which we found very funny because the random man speaking contrasts so dramatically with this petty song.

Compromise

'Compromise' is a tongue-in-cheek satirical banger that ridicules the entire "big-small town" that is Canberra. With an epic guitar solo, this song is a silly rant about how weird and tiny our capital city is. We admit not everything about the city is shit, but in that writing room we set our targets on cheap shots and we did not shoot to miss. This song is fuelled by our ever-growing distrust of the 'Canberra bubble' and memories of school trips that just seemed like wastes of time.

One of the earliest parts of this song was an acrostic poem-come song with inspiring lyrics such as "E - ennnoying", which sadly did not make it into the recording but was a work of previously unknown genius.

We extend our sincerest apologies to all the punks of Canberra reading this. 
Jana
is out today via
Roolette Records
- head to
rooletterecords.bandcamp.com
to grab the album on limited edition cassette. The Vovos are launching
Jana
tomorrow, July 10th, at The Retreat Hotel Brunswick, with a matinee and evening show - get tickets
here
.