Music / Features
Skating, Growing Up and Bittersweet Demons -
A chat with The Murlocs
The comparable rush of nailing a skate trick vs. nailing a track, the 'Hendrix of harmonica', family, friends and the road to Bittersweet Demons - we caught up with Ambrose Kenny-Smith, leader of cult garage crew The Murlocs, to dig into the band's introspective and romping fifth record.
Ambrose Kenny-Smith is such a calm and instantly relatable figure, that you'd struggle to believe quite how prolific a worker he is. He finds himself constantly at some stage in the album cycle, as a lead contributor to one of Melbourne's favourite and most relentless acts King Gizzard and the Lizard Wizard, as well as frontman of rhythm and blues/garage rock icons The Murlocs. 

The Murlocs' latest record, Bittersweet Demons, is as engaging an affair as ever, fuelled by exhilarating blues-influenced psychedelic rock with Ambrose's signature touch spread throughout. These come in the form of his distinct wailing-crooned delivery, soaring harmonica and personal, diary entry style lyricism. 

Just this year, Gizz have dropped two albums, two live albums and eight music videos, and The Murlocs have released an album, a live album and four videos. What could have been a daunting interview with a manic musician, began with him casually rolling a cigarette and sitting on the deck talking about 80s vampire flick The Lost Boys. We chatted about the making of the album, his childhood passions, skating and more, before wrapping it up when he had to answer the door to collect his Uber Eats delivery. All in all, just as humble and grounded as his lyrics imply.

The road to Bittersweet Demons took a number of detours. During the recording of the bands previous effort Manic Candid Episode the group wrote tracks 'Illuminate the Shade' and 'Skyrocket', which rocked a little harder than the tunes that ended up comprising that record. As such, Ambrose had planned to work on a heavier record the next time around, though this quickly shifted due to a change of heart - both musically and personally. Thanks to the success of 'Comfort Zone', a beautiful and unique highlight from Manic Candid Episode that was one of the first songs the band had composed on piano, a new style of writing opened itself up to Ambrose and the heavy rock idea fell to the wayside in favour of more intimate songwriting. 

Additionally, a close friend of Ambrose tragically passed around this time. This shook him greatly, dealing with the situation the way so many writers do: by writing about it. This took him down an unexpectedly raw and deep path which brought the record together. 

"I wanted to do a really heavy album after we finished Manic Candid Episode, so we saved 'Illuminate the Shade' and 'Skyrocket' from then, cause I felt like they were gonna be better on a more rocking album. But then I went the other way and started writing all these ballads on piano. Then my friend passed away and that rocked me real hard. I had the structure of 'Bittersweet Demons' on piano and everything, I just wasn't really sure what to write about at the time. Then after the funeral, I sat down and it just sort of came out. Then I figured, well, if I'm gonna get this deep and write about my friend who has just passed away, then I might as well go for the whole hog. So I started writing songs about my mum, one about my dad and there's another one about their relationship."


Over the years, Ambrose has developed a cult of personality and is affectionately nicknamed 'Uncle Murl'; the fun and wise relative, offering sage advice and warnings through lyrical cautionary tales. Since his lyrics offer so much solace to so many and he was in a tough situation himself, I wanted to know if his own words offer inspiration when he's in need.

"Yeah for sure. I guess that's why I write them in that way. When I'm singing them I'm constantly reminding myself not to slip up. I think that's sort of the idea, I hope people resonate with that. That's basically the aim of the game. I just wanted to push that as far as I could in that direction on this record, so I could sort of start again with a different one. Now I'm trying to write more conceptually."

Whilst he remains The Murlocs' principal songwriter and guided the album's lyrical journey, Ambrose is quick to praise the work of his bandmates and encourage contribution across the board. 

"The guys wrote songs for it as well. They always take it in their stride. They're all really strong, capable songwriters. It's nice to put the ball in their court more, encourage everyone to feel like it's not just one person's project."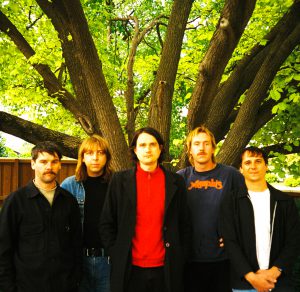 He primarily views himself as a singer and lyricist, happily allowing both of his bands to control most of the instrumental direction in order to contribute with his best foot forward. "I was always sort of just writing lyrics and that's why I've been able to juggle the two. So I've been able to put little bits into both projects."

This album however, was the most he'd put of himself as a writer into a record. Particularly since a large chunk was driven both by his own pen and piano, which whilst exhausting, developed his confidence as a writer even further. "I think I've been building myself, learning from both and having the creative outlet of The Murlocs to have free rein. So now I have the confidence to bring more ideas to Gizzard at the moment."

Bittersweet Demons was recorded in January 2020. As such, the sessions are already viewed through a nostalgic lens, both literally and metaphorically. "I'm glad I take footage with my handicam and photos and stuff sometimes to remember. It's funny to see. It's a year ago, but so much has changed and happened since then. So it's nice to look back to the good ol' days before shit hit the fan".

This footage he's referring to is partially included in an intimate behind the scenes video posted on Youtube. One in which the cast are visibly hungover, topless, sweaty and inspired. "It was bushfire season and real hot. We were up in Preston and it was a real steamy one, there wasn't any aircon or anything. So we were just sort of sweating it up. Just mould and BO constantly lingering. It was kinda good to just get in and make it a bit dirty. Always good to get to know each other a bit better." 


Given the record's reflective nature, when not sweating it out in Preston, Ambrose took the time to mentally and physically revisit the stomping grounds of his youth. "'Dangerous Nature's sort of about growing up in Geelong and different characters and ruffians you'd cross. It's sort of a personal journey through my own life. From growing up in West Preston till I was about eight, then I lived in Castlemaine for like two years, then I grew up in Ocean Grove throughout all of high school. So it's all these different elements of Victoria thrown in there. As well as close family members and friends."

One of these close friends from his Ocean Grove days is Guy Tyzack, who directed the music video for 'Bittersweet Demons'. Which is one of many creative visuals released for this record, in which they revisited their old home and viewed Ambrose strolling down the streets in an elaborate costume through a hazy, VHS lens.

"It was fun as! I was real into it. He made me walk down the main street in Barwon Heads with this big house costume on, while all these tradies were laughing at me and stuff". He goes on to say that there were "a few moments there where I was glad I came out on the other side", a line likely relevant to both the video's production and the unpredictable nature of his life. 


When chatting about Ambrose's childhood, there are two inescapable aspects: skating and music. But more specifically the harmonica, his musical weapon of choice. "Ever since I was a kid I was just obsessed. My dad plays harmonica and sings and stuff, so it's just that classic old thing of the son trying to follow in those footsteps. But yeah, I was drawn to it heaps because at the time my parents were breaking up. So as a young lad, I was like 'maybe I can make it all good again?'"

"So I used to listen religiously. I was just obsessed with blues music. I'd listen to it all night. Muddy Waters, Howling Wolf, Sonny Terry, the list would go on." Most instruments have one or two definitive legends; whether it be Davis on Trumpet, Coltrane on Sax or Hendrix on guitar. So I was intrigued as to who he'd consider the harmonicas pièce de résistance. "Little Walter I reckon. The Hendrix of harmonica for sure. He's the king! He was playing with Muddy Waters and stuff when he was 12. Chicago dude, he's definitely the king shit". 

At that age, Ambrose was also ripping it up, but far closer to home. Around that time he fell head over heels into the world of the iconic film The Blues Brothers. "I watched it on repeat. Westgarth Theatre used to have a Blues Brothers night, where everyone would dress up as the brothers, I used to hit that up!" Inspired by this he took to the streets busking at the Camberwell Markets every Sunday, which he credits as the origins of his musical journey. This saw the development of relationships with a whole host of new people, drawing him into his other passion: skating. 

Skating and music have long gone hand in hand as counter cultural figures and acts of rebellion and release for the youth. From the Bad Religion skate punk of the 90s, to the iconic pop-punk soundtracks of the Tony Hawk games of the 2000s, all the way up to the hip-hop/skate crossovers of contemporary crews like Illegal Civ. But beyond their complementary nature within entertainment, the comparisons go further. 

"Both offer similar feelings of adrenaline and excitement. You get thrills out of both. But ya know, these legs ain't what they used to be. Better to keep it steady. A few years ago I fractured my knee and had to do a Gizz tour around Australia. After that I was like, 'ahhh I gotta stop doing this'. So now my shit clicks. So I sit on my butt all the time now. Doing tunes and getting the same thrills that way".

Whilst he's been sidelined a little more these days, he remains in his words a "big skate nerd", passionate about the culture and community. "All my friends that I've made through skating are some of my best friends and always will be. Those communities are just so tight that it doesn't matter if you haven't seen a person in ten years, it's still like you saw them the day before. A lot of my strongest friendships are within the skate community."

As two of the most defining aspects of his young life, we discussed the differences between the gigging and skating scenes. "It's more tightly knit in the skating community. Cause it's easier to just be skating somewhere with someone than to be jamming with someone. Having this connection through something. Like you may not have even spoken much but because you've been at the same place rolling around, and doing it together, you get to know people enough. We've been playing shows in the middle of nowhere and someone'll come who's just travelling, someone I know through skating or someone's friend of a friend." The Murlocs' music has this similar feeling of connection, like whenever you check back in they will alway be there for you - with a signature sound that's bluesy origins and words of gentle wisdom always shine through. 


| | |
| --- | --- |
Following the release of
Bittersweet Demons
, a whole slew of inevitably joyous and raucous live shows have been scheduled, with a recent show seeming to come full circle considering the album's personal themes. "We had fun playing at the Brunswick Ballroom recently. It used to be the Spotted Mallard for ages, I used to go see my dad and his friends play there. So that was a fun show." The whole show is available to
stream online
and is a wonderful performance, as well as a beautiful retreading of the steps of his father, from whom he drew his initial inspiration
The band have further been flattered with the opportunity of revisiting the past, by providing a new soundtrack for one of their favourite films, grungy Aussie classic
Two Hands
. "It's got all these iconic Powderfinger tracks that I'm insanely terrified about trying to replace. Because we're having to write a whole new score. Everyone's like 'awww what are you gonna do for 'These Days' at the end?' which was written specifically for the film. But it's alright, we've got a cheesy ballad to replace it with."
Sticking to their guns as ever, I'm sure the cheesy ballad will fill the room and make the Powderfinger guys proud, just as I'm sure the performance at the Brunswick Ballroom made his dad. The Murlocs are performing live renditions of the soundtrack for Hear My Eyes at the Astor Theatre over the 7th and 8th of August (tickets
here
), and then they'll be on tour around the country throughout August and October (hopefully). But in the meantime,
Bittersweet Demons
is out in all the places, and with its radiant instrumentals and sage lyrics we can bet it'll be waiting for you like an old friend.