Music / Features
They Made Me Do It -
Talking Influences with SERF
Off the back of the release of The Dunes You Wander In last week, the second album from DIY coldwave artist SERF, we caught up with the Melbourne-based multi-instrumentalist to look into the influences that have inspired his brand of icy post-punk.
After arriving on the Melbourne pub scene in 2018, Rory Maxwell, operating under the moniker SERF, didn't have long to establish himself before COVID-19 came and changed everything. His debut album, All You Need In Life Is Someone To Love, came out just a few months into the pandemic and its follow-up, The Dunes You Wander In, arrived this month, as Melbourne finally awakened from a stifling slumber; after all the duress of the past 20 months, it must be a pleasant bookending moment for SERF.

His new album builds on the strengths of his debut, retaining a muscular mix of steely post-punk and shining synth-pop. It's still very much a solo endeavour, this unstoppable one-man band machine utilising vintage drum machines, booming bass lines, and crunching guitars as he pleases. SERF manages to retain his lo-fi charm but it's bolstered by polished cuts, from the sharp guitar line in the opener 'Silence Science' to the soaring hope of the closer 'Bolder Hands'. It's a cool and crisp collection of tracks, Maxwell effortlessly able to handle everything alone.

There are dips into darkwave on the ironically-titled 'Everything Is Great' and the threatening 'Unknown, Unknown'; 'Cyclops' dissolves into the sort of shoegaze spaciness that marked the sound of Slowdive or Ride in the early 90's; as on his first album, SERF continues to recall that great DIY musician Martin Newell of The Cleaners from Venus, with his impassioned care for his own sound and his innate knowledge of infectious lo-fi dynamics.

Most of all, though, The Dunes You Wander In is tinged by a keen sense of melancholic escapism. Tracks like '1260' and 'This Book' sound like whispers from video games of yesteryear; like purveyors of nostalgia from the US such as Current Joys or CASTLEBEAT, who cleverly involve themselves in 80's video game aesthetics, they're all just looking for an escape through music.

It's a difficult thing to pull off without appearing too mawkish or too solemn, but SERF finds the fine balance that's necessary. His album was made during Melbourne's lengthy lockdown: who wouldn't have wished they were a kid again, just playing their Nintendo or PlayStation 2 for entire weekends, without a care in the world?

To celebrate the release of The Dunes You Wander In, we caught up with SERF to find out what influenced the sound of his album, from a beloved 90's alternative rock song to a timely and classic science fiction novel.


Black Marble - 'Frisk'

Black Marble aka Chris Stewart is probably the primary inspiration behind SERF as a project. I discovered Stewart in 2017, around about the same time I got my bass guitar. His character arc and mine share some overarching similarities, we are/were both yuppies who've suspended our respective careers to pursue our passion for music. Also we both share an unhealthy affinity for chorus laden basslines and lo-fi drum machine sounds. Videos of his early club gigs showed me it was actually possible to play engaging shows as a solo act with a couple of samplers and a bass guitar.


The Cranberries - 'Dreams'

A synth-pop cover of 'Dreams' has been a staple of SERF live sets for the last three years. Beyond being a cheesy crowd-pleasing cover, The Cranberries hold a special place in my heart. One of my earliest music memories was being baby SERF, sitting in a booster seat in the back of my parents Magna, listening to a bootleg tape of The Cranberries' Greatest Hits. Dolores' ethereal voice has also inspired my approach to the vocals on the album - there are multiple tracks featuring three part harmonies and I am reluctant to say that I do attempt some Dolores-esque yodelling at one stage.



Nürnberg - 'Biessensoŭnasć'

I have spent a large portion of the last two years lost deep within a Spotify Algorithm Cave of Eastern European Post-Punk. The best of the bunch has definitely been Nürnberg, a Belarusian duo who've perfected the relationship between engulfing chorusy basslines and thoughtfully melodic guitar work - in particular their guitar melodies, alternating between punchy single note tunes and shiny arpeggios, have been a huge influence on constructing the album.


Lowlife - 'Coward's Way'

Not to be mistaken with the Sydney new-wavers (whom I also love), Lowlife (one word) are a Scottish post punk band from the 80's with loose ties to Cocteau Twins. This track is probably my favourite song I've discovered from the last year. Sifting through this band's back catalogue re-invigorated my shoegaze sensibilities - my love for gratuitous reverb and bleak indiscernible vocals. Lowlife's sound features in spirit throughout the whole album.


Tony Hawk Pro Skater 2

I got to relive a pivotal time in my childhood when the THPS 1+2 remaster came out on PS4 last year. Being Rodney Mullen skating around Venice Beach once again was so overwhelmingly nostalgic I had to write a song about it - the single '1260'. Not to mention its brilliant soundtrack - Papa Roach, Rage, Millencolin - the list goes on.


Frank Herbert - Dune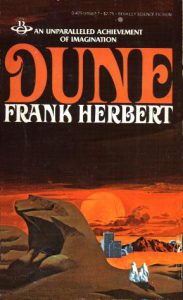 I would be lying if I said that the title of my new album doesn't directly reference this Space Opera. I was reading it during a tough lockdown period. It provided the perfect dose of escapism at the right time. The track 'Leave' from the album draws on the image of being lost amongst the dunes on the desert planet Arrakis, just with less Sandworms. And look at that, I've timed it perfectly with the release of the feature film starring Timothée Chalamet - in cinemas December 2nd.
The Dunes You Wander In
is out now - head to
musicbyserf.com
to grab the album on limited edition 12" vinyl.