Music / Features
They Made Me Do It -
Talking Influences with Louise Gaul
Following the release of her enchanting and poetic debut EP To Slow Down Time, Melbourne singer-songwriter Louise Gaul connects with us to share a glimpse into some of the key influences and inspirations behind her six-track wonder.
Spending the last couple of years crafting her inimitable sound, Louise Gaul's style blends her background in classical music and interest in the sounds of those such as Damien Rice, Bjork and Bon Iver together with her honey-like vocals and ethereal soft melodies. The result is her beautifully whimsical debut EP To Slow Down Time , a collection of tracks that reveal Gaul's stunning musicality, stretched across a multitude of genres and musical structures.

The EP begins with a familiar track 'These Palms', a cool sugary song that plays on angelic harmonies intertwining with Gaul's husky warm tone. As the song progresses, the sound of a bluesy guitar is heard bending and the beguiling piano riff plays like walking down a spiralling staircase. Towards the end, the strings and drums enter to create an orchestral dance of sound, which blur and bend - chills are felt.

We pick up the pace as the next track 'To Slow Down Time' commences. It's a steady groove that has a delightful drive from the drums and bass throughout. She twists the song when the chorus hits and the tempo relaxes, as to accompany the metaphor of "slowing down". Her use of strings in the chorus to elongate the "slowing down" motion is magical.

A powerful beginning to 'The Weight of Simple Things' sees Gaul now switch to a more musical palette, her poetic lyrics move like trees in the wind. It's an emotional and lingering song that features her piercing, beautifully strong vocals. 'You Don't Have Me' is a heavy-duty electrifying track that features a piano breakdown and looping of vocals; a perfect song to hear live, there's an overwhelming command and stance in her melody and stomping drums. Back into the bluesy rhythm in 'Paper Walls', Gaul gives us a bright, high, colourful song.

Last but not least, 'Butterfly' is a poignant soft rock track that contains beautifully elegiac lyrics. Listening throughout the whole track is like floating on the waves of an ocean. Her vocals are a carousel of sound as she navigates through the notes - a sweet ending to her magically, vivacious debut EP.

To help us dig into the EP further, Louise has kindly taken us through some of the influences and inspirations behind To Slow Down Time.


Damien Rice - My Favourite Faded Fantasy

When this album first came out I was listening to it from start to finish almost every day for months. It remained my most played album for about three years after that. I was a major Damien Rice fan long before My Favourite Faded Fantasy, and his earlier albums had a significant influence on my songwriting growing up, but My Favourite Faded Fantasy completely captivated me on a whole other level. The blend of furious gritty guitars, haunting folk progressions and boundless string arrangements, plus the hugely dynamic evolution of each song, all of which were produced by Rick Rubin, made it such a fulfilling and incredible record to listen to. It was everything my emotional angsty teenage self could have asked for.


Movie/Video Game Scores

Growing up, I was obsessed with movie and video game soundtracks. For years I wanted to compose for films - I used to read low-brow YA fantasy or sci-fi novels, then create orchestral scores for them as though they were being adapted into movies. I had begun playing piano and violin when I was five (although I really didn't enjoy the latter) and I think learning these instruments sparked the interest in cinematic/neo-classical composition. In my teens I became infatuated with the cello, so I picked that up for a few years too, just to learn my way around it and become familiar for the sake of composing. I wanted the EP to be a kind of chamber pop-rock project to blend orchestrations with contemporary songwriting, so when I met the producer of most of the tracks, Matty Sievers, and we learnt that we both shared a love for orchestrating, we were super keen to work together. We nearly killed each other in the process, but it was agreed that we wouldn't have had it any other way.


Pygmalion - George Bernard Shaw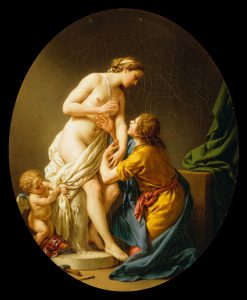 The story of Pygmalion is more commonly known by its musical adaptation - My Fair Lady. The original play is based on Greek mythology and retells the story of a man, Pygmalion, who fell in love with one of his sculptures, Galatea, which then came to life. The depiction of gender dynamics symbolised by the male "sculptor" and female object reflects an aspect of patriarchy that was a key theme in this EP. The idea that women are socialised, or "sculpted", to be whatever is desirable and appealing to men in order to give them value runs through tracks like 'To Slow Down Time', 'The Weight of Simple Things' and 'Butterfly'. Pygmalion ends with the sculpted Galatea-character abandoning the man who shaped her into her new form, which is basically what's happening in 'You Don't Have Me'. This is just my fancy way of saying fuck the patriarchy I guess, but I did get some songs out of it so there's that!


Apollo Bay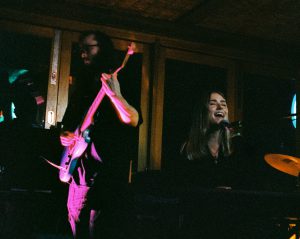 Apollo Bay is a town along the Great Ocean Road, just over two hours away from home, that I have visited at least once every year since I was a kid. It's where I went to write the final track on the EP 'Butterfly'. To write alone in a place that's so intrinsically linked to every stage of my youth was a really cool and full on experience for me, and to have had the chance to play some gigs down there in between and out of lockdowns this year as well was an absolute highlight for myself and the band (photo pictured is from one of our recent gigs at The Apollo Bay Hotel). The town now feels like it's become a really sentimental part of the EP.


My cat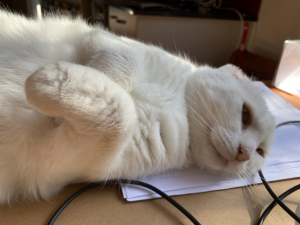 This feels in order. She likes to lie across my keyboard when I'm composing strings and howls along with me when I do vocal takes, so it's safe to say she's an integral part of the process. Thanks, earless cat.
To Slow Down Time is out now in all the usual places.