Music / Features
Track by Track:
Hobsons Bay Coast Guard - Tubular Swells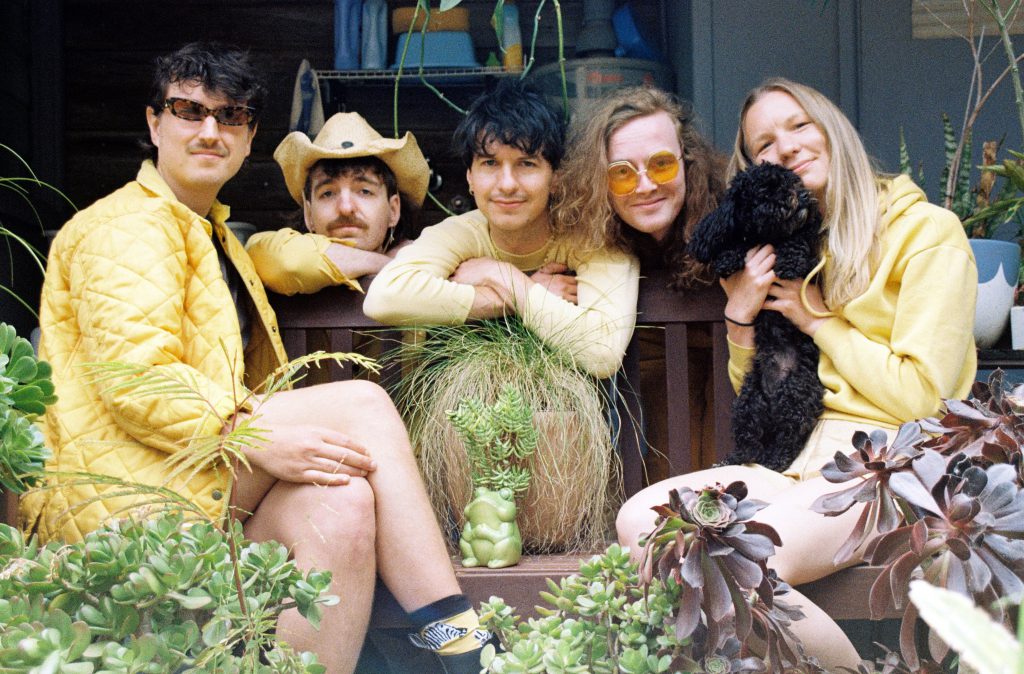 Following 2019's self-titled debut, the experimentally-charged and eclectic surf rock group Hobsons Bay Coast Guard offer up another playful and kaleidoscopic palette of hyperactive dream pop and ramshackle psychedelia on their sophomore effort Tubular Swells.
Earlier this month, Melbourne-based surf rock outfit Hobsons Bay Coast Guard returned with Tubular Swells, the band's second studio album that serves as a celebration of life and a rebirth of our communities after a lengthy lockdown. Expanding on their original four-piece lineup of Erik Scerba, Christopher Loftis, Jack Foy and Zac Terry with new members Henry Dempsey and Sarah Tibben, the LP was recorded, produced and mixed entirely at home by the band throughout the lockdowns of 2020.

Across the 11-track album of an "endless variety of aural flavours," the band's sugary melodies are muddled by their signature brand of jangly guitars, offbeat rhythms and mad-scientist sonics. Their shape-shifting grooves continue to evolve and expand, forever pushing forward into a unique sonic dimension that combines brain-warping art-punk and oozing psych-pop bliss that's soaked in memorable hooks, sharp melodic earworms and pure eccentricity. 

Within the first 30 seconds of the album, the band flashes their brightly layered maxed-out textures that carry a hyperactive momentum beneath their quirky, sun-drenched harmonies on opener 'Surf and Turf'. The heady 'Anonymous Zone' is a nervy dosage of carnival-esque psychedelia that explores darker territories with lyrics relating to pandemic fatigue. 'Ciggie Please' is amplified by its zany storytelling and reverberating surf pop while the cruising centerpiece 'Love Song' is built around a groovy backdrop with '60s-tinged jazzy infusions and waxy guitar tones. The album comes to a close on the seven-minute epic 'Coast to Coast / Tubular Swells, Pt. II', a swooping and mesmerising sonic detour that showcases the band's shimmering versatility at its best. 

To dig deeper into the new album and to give a preview to what audiences can expect at the upcoming launch show, we had the pleasure of catching up with the band, who reflected on the creation of each track and the stories behind them. 
Surf and Turf

When we write an album we like to think of it as a whole. 'Surf and Turf' was originally supposed to be the last song ('Coast to Coast' would have been first). We thought the ending of an album should be a kind of long meandering collection of themes and music compartments that flow together! We still believe that - but turns out that it's even better for the start of an album.

Tubular Swells, Pt I

Despite their later stadium-rock trajectory, we definitely inspired in our early years by Kings Of Leon. Especially their second album, Aha Shake Heartbreak. The ending of their opening track 'Slow Night, So Long' is probably the best part of the album – a cruisey, conga-laden refrain that frames the rest of the LP experience in an unforgettable way.

'Tubular Swells Pt I' was originally supposed to be much longer, with a full chorus and ending sequence. We cut it down because we think bulky frames make the picture look bad.

Anonymous Zone

This is one of our oldest tracks! We were surprised it ended up fitting in the album - it feels so much more rock n' roll then we traditionally care for. But we liked the way the recording turned out and how the themes and lyrics fit into our collective mental-state at the moment with all these lockdowns.


Ciggie Please

We told our mums we're trying to quit.

Pastor Please

Any kind of community or hobby that affirms you in a positive way can become a monkey on your back. Fitness culture, astrology, church, a music or arts scene - the stuff that makes you feel 'whole' can also be a source of fragmentation! Most of the band grew up in religious environments and then left, only to see those patterns infinitely repeating in everything else people engaged in. So 'Pastor Please' is how spirituality and wellness become so easily sexualised and commodified (Save my soul and Turn me on plz).

Go Outside

Erik goes for a lot of walks - he can't really have a proper conversation unless his legs are moving. The lyrics are about a relationship that went sour and the clarity to deal with that being found through a stroll in the park. But we'd like to think it's more of a love song to the great outdoors rather than a break-up song. Whatever the song is actually about we thought this was a good follow up from the last track (even though it was written first), mostly because it has the same drum beat but also because it's about finding that personal space or activity that makes you feel safe and not letting anyone take it away from you.

Love Song

This is another old song that was always a favourite in our live shows. It feels like performing on some kind of cheap cruise-ship cabaret. We wanted to make sure we captured that fun and kind of kitschy essence. This meant Erik ended up doing about two hundred vocal takes before everyone was happy. He lost his voice for a month but it was worth it!

Sunrise

This was supposed to be one of the main singles for the LP but the final product was so bloated and busy that we changed our minds. Reducing the length or parts wasn't an option however - 'Sunrise's main concept is "how far can we take a single pop-song idea?". The lyrics are from the perspective of a post-apocalyptic community of beach-cultists that worship the dying sun.

Heaven

This song is about the thirst for salvation, religious or not. This is maybe a precursor chronologically and conceptually to 'Pastor Please', however we thought the speed and tone fit the later half of the LP more. We wanted to explore the angular punk sound that is becoming ubiquitous in Melbourne and some parts of the UK while retaining a whacky approach that doesn't take itself too seriously. The aim was a feeling that is both desperate and fun. The whole song is in a ⅞ time signature which is fun to play but also to represent the unfulfilled cycle of spirituality.

Funny Sunny Girl

There is an alternate universe where the Beach Boys are evil. That means there is an alternate version of you listening to a happy version of 'Funny Sunny Girl'.

Coast to Coast / Tubular Swells, Pt II

This song was one of our babies that followed us everywhere like a sickly cat that wouldn't stop showing up and drooling on our doorstep. We've been playing this one since our first show and went through 100 different versions before we finally made it fit the LP. It's much healthier now and hopefully with its age has come wisdom.

The vocal fanfare at the end of the album would never have worked anywhere else. We are kind of embarrassed that we included it but also proud. Kind of like when you make the 'I'm having an amazing orgasm right now but please don't look at me' face. We also really legitimately want to wish anyone who listens to the album well! It's been a hard year.
Tubular Swell
is out now everywhere, head to
hobsonsbaycoastguard.bandcamo.com
to grab the album on freshly pressed vinyl.
Hobsons Bay Coast Guard are launching the album tomorrow night at the Northcote Social Club with ctrl + me and Winter McQuinn and the Garden Gnomes - tickets available
here
.