Music / Features
TJ's Top 50 Tracks of 2021
#40 - #31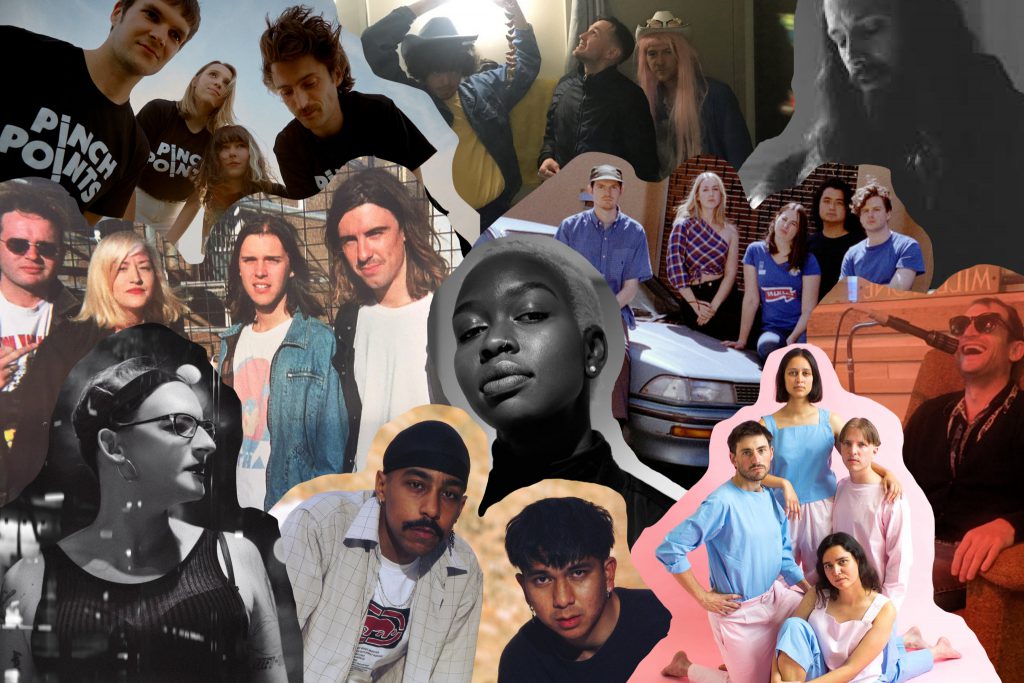 And the countdown continues! Here's round two of our favourite tracks of 2021, from #40 down to #31.
40. Dom and the Wizards -
'Classical Antiquity Sunsets'
A detour from his work in cult Adelaide group Wireheads, Dom Trimboli's second full-length endeavour as Dom and The Wizards,
The Australian Cyclone Intensity Scale
, continued on a meandering excursion that pushed his whimsical persona front and centre; and with the album's psychedelic-folk backdrop perfectly suited to underpin his rambling vocals, Dom's undeniable charisma and knack for clever word-play seemed all the more unstoppable this time around. Our highlight was early single 'Classical Antiquity Sunsets', which placed Dom's enigmatic delivery atop a tapestry of rich freak-folk, loaded top to bottom with rollicking piano, uncanny violin and an addictive rough-around-the-edges swagger.
James Lynch (Trouble Juice editor)
39. Sledgehammer - 'Nevermind'
Anything Sophia Lubczenko is involved in can do no wrong musically and the same can be said for her band Sledgehammer. 'Nevermind' effortlessly wraps everything Sledge do best into one moment of crafty garage-rock - waves of crunchy guitars, constantly forward-moving grooves and heaps of hooks served up in Soph's signature drawl. Plus this track (and the rest of the EP) also managed to show off a few more experimental sides to the band too. Hope they play some more live shows next year.
Winter McQuinn (Sunfruits)
38. Simona Castricum -
'Grateful For The Heartache'
A stunning tribute to her late friend and collaborator Daphne Camf, Simona Castricum's standalone release of 2021 truly reveals the Melbourne music icon's uncanny ability to blend contradictory feelings together with her imaginative and turbulent electronica. Taking shape around a vibrant, glitchy pulse, 'Grateful for the Heartache' is immediately underpinned by a restless sense of movement that tangles evocatively with the meditative swelling chords while Simona's voice pours through the middle. Sitting somewhere between a whisper and a croon, her vocals refuse to overwhelm the track yet remain loaded with emotion and power, allowing 'Grateful for the Heartache' to play like a celebration while feeling equally as devastating.
James Lynch (Trouble Juice editor)
37. Pinch Points - 'Reasons To Be Anxious'
Well loved for their agitated and nervy style of garage-punk, with 'Reasons To Be Anxious' Pinch Points gave us a first taste of their much anticipated second album
Process
. An all-too-relatable ode to anxiety, the track got right to the core of what many have been dealing with over the past two years, whether that was within the home during lockdown or even more so out in that big scary world. With its frantic rhythms and fiery vocals, it left me more than ready for another opportunity to catch Pinch Points in the flesh, for a chance to scream out our shared anxieties amongst a room full of people and let it all out there.
Will Brussen (Trouble Juice contributor)
36. Hooper Crescent - 'Best In Town'
A thrilling expansion on the sounds of their debut album, Hooper Crescent returned this November with 'Best In Town', a single that placed their acute songwriting smarts front and centre without shaking the frenetic backbone that anchors their brand of post-punk. Built around a forward-moving groove, the track unravelled with a tangle of crystalline guitars and restless bass while zooming synths traded places with imaginative saxophone lines, revealing Hooper Crescent at their most assertive and steely-eyed yet.
James Lynch (Trouble Juice editor)
35. Pookie - 'Flick'
Capturing all that is good about Naarm's blossoming jazz and soul underground, the release of Pookie's debut album
FLick
this year dominated the speakers of my portable radio in the couple of months since its late October release. Impossible to avoid and just as hard to resist, Pookie's conversational lyricism is perfectly paired with jazz undertones and angular grooves that never overextend themselves. In particular, the album's title track is a refreshing and inspiring take on a sound that has underpinned the Naarm scene for as long as I've known it and one I'm looking forward to hearing a whole lot more of.
Francis Tait (Quality Used Cars)
34. Alex Hamilton - 'Sweetest Wine'
This song has been on heavy repeat for me this past year and it's such a great track. The jangly Americana guitars and Alex's comforting, smooth-as-butter voice gives me huge 70s Burrito Brothers/Neil vibes with a new, 2021 spin.
Winter McQuinn (Sunfruits)
33. Partner Look – 'Partner Look'
I'm not exactly sure if this is meant to be a theme song of sorts, but the eponymous first single from Partner Look's forthcoming album seems to encompass everything that makes this local supergroup so good. The track begins with a meandering guitar that seems to be slowly waking up, before snapping to attention with the rest of the band to race into two minutes of pure pop goodness. I've seen this track played live twice now, and although it's a steady groover on the record, the live rendition can get a bit more turbo, and I can't helping chanting the chorus every time. Get the look.
Sam Harding (Mug, Tiny Town Records)
32. Dag – 'Point Of You'
An entirely underrated
Bedroom Suck Records
outfit, Dag's long-awaited second album
Pedestrian Life
didn't disappoint this year. Songs like 'Point of You' were filled with insightful songwriting and emotive existentialism; the opening track carries that quintessentially wistful Dag air that wonderfully captures the melancholic memory of almost-forgotten road trips to nowhere or hazy suburban days spent in thrall to nothing. The full double album gave us plenty to dig into, while also doubling as a powerful reminder that Dusty Anastassiou's songwriting deserves much more attention.
Conor Lochrie (Trouble Juice contributor)
31. Teether & Kuya Neil – 'Lung'
One of the more surprising drops via
Chapter Music
this year, Teether & Kuya Neil's second collaboration capitalises on both artists strengths as individuals and as a duo. Filled with dark, sleazy trap beats,
GLYPH
is a mixtape of epic proportions – modern, unique and addictive. 'Lung' is a standout, with lush, reverbed guitar, an R'n'B influence and a flute motif that truly hits the spot. It's reminiscent of sunsets, the end of a good night, driving in a car on a hot day with all the windows down – taking the time to stop, breathe, and listen.
Meaghan Weiley (House Deposit, Dragnet)