Music / Features
TJ's Top 50 Tracks of 2021
#10 - #1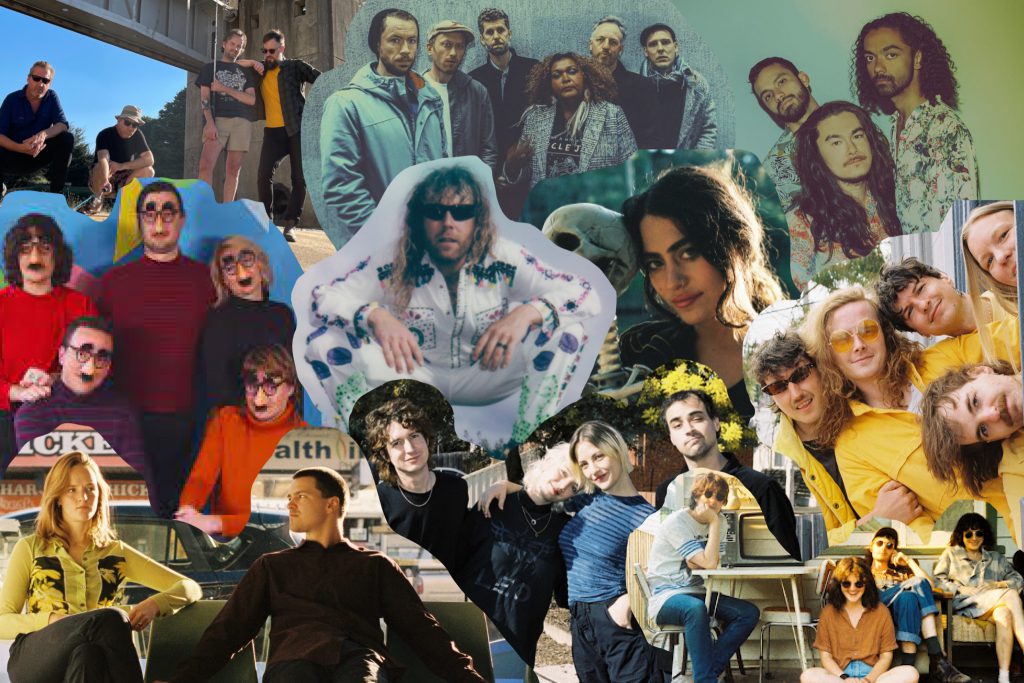 Wowee, another weird year done and dusted. It might not have been quite as cooked as last year, but that ain't really saying much, is it? Fortunately, it hasn't seemed to affect the quality of music coming out, and once again we've really been blessed to have so much incredible stuff to tune in on. So thanks a whole heap for coming along for the ride. Couldn't (and wouldn't've) done it with you.

Anyway, let's dig in.
10. Emma Donovan & The Putbacks -
'Out The Door'
Emma Donovan & the Putbacks are an absolute force to be reckoned with. 'Out the Door' was released at such a beautiful time while we were all emerging from a tough lockdown. This song and album has provided me much comfort and has been on a heavy rotation. The power and depth of sis Emma's vocal is like no other and with the rich, funky groove of the Putbacks - this whole collaboration is iconic.


9. Hobsons Bay Coast Guard - 'Love Song'
The halfway mark of Hobson Bay Coast Guard's sophomore album
Tubular Swells
, 'Love Song' is a perfect checkpoint for the Naarm outfit to switch it up a bit. A slightly cleaner, collected affair than their usual sound, baring instrumentation usually woven intricately into turbulent fuzz. Some of this clean-up makes way for new devices like the 1.5-minute horn-laden outro, some simply spotlighting HBCG staples. What's most enticing is the sweetness of some very singalong-able vocals with their harmonies (falsetto and all). Now, Hobsons Bay Coast Guard usually sit somewhere at the 'Beach Boys on crack' end of the surf-rock genre, and this selection ain't really there. Don't get me wrong, they don't sacrifice the pace or the HBCG signature sound. It's just something a touch sweeter, and that is perfectly fine by me.
Imogen Hanrahan (Trouble Juice contributor, Triple J Unearthed)
8. Zig Zag - 'I Care About You'
Zig Zag's 'I Care About You' is an honest and energetic post-punk party starter. It's a song to dance to, to strut down the sidewalk to, and to sing to all your mates. It's obviously one of my favourite tracks to come out this year with its driving baselines and joyous vocals. 'I Care About You' is almost impossible to get out of your head, but that's not a bad thing. 'I Care About You' is the anthem we all need for this year… and last year… and maybe next year too, but you know what? I CARE ABOUT YOU! (and I love Zig Zag).
Kalindy Williams (Hearts and Rockets, Psychic Hysteria)
7. Maple Glider - 'Mama It's Christmas'
After the monumental release of her debut LP
To Enjoy is the Only Thing
, Maple Glider cushions the turbulence of 2021 with a tender album closer, 'Mama It's Christmas'. Elegantly depicting the longing for a healed kinship, Maple Glider's hypnotic and heart-wrenching vocals pair with an understated acoustic guitar that devastates and soothes - both live and on record.
Jamie-Lee Fanning (Feign Jima)
6. Snowy Band - 'Call It A Day'
Released in August, Snowy Band delivers each stroke in 'Call It a Day' with intent and a sparkled caress. In its sweet runtime a little under five minutes, the Melbourne four-piece layer triumphant charm over a distant nostalgia - breezy guitar pop, but openly therapeutic. Sung in sombre tones, Halliwell etches the grounded beauty of simplicity: "On my side on the backseat I'm spread thin/ Against a lavender sunrise" and "I miss the small things". 2021 was a weird one (not to state the obvious), but it's the moments we sometimes overlook that surely count for something. Here's to 2022! Maybe it'll all make more sense then?
James Donovan (Egg Booking)
5. Mug - 'Coffee At Your House'
Mug appeared mid-year, unassuming and sincere, providing much-needed respite and validation for the sore heads and scrambled brains. 'Coffee At Your House' is all we craved and siblings Lily and Sam Harding came through with the goods, like a longing hug from an old friend. 'Coffee…' is a clever take on fading friendship. The beauty is in its minimalism, conjuring a real nostalgia and melancholy with a simple bubbling drum machine and a concoction of synthesisers. Minimal is probably underselling it; there's complexity in the layers, the weaving melodies, the witty lyrics. Mug are a lot more clever than they let on. To fully appreciate the weight of Mug's candid delivery you need to hear the full EP which dropped three weeks later - it's a captivating debut from start to finish. Accompanying me on countless Merri Creek walks, it slotted in perfectly with my 2021 sore head soundtrack; Broadcast, Grouper, Thibault… Mug.
Dougal Shaw (Dr Sure's Unusual Practice, Marthouse Records)
4. Izy - 'No Further Than You'
The release of Izy's debut album
Irene
in late March this year was a revelation. Composed around the band's minimal instrumentation of drums, bass, guitar and percussion, within a style that in the last few years has pushed towards pursuing grandeur and a maximalist approach, Izy have taken a completely different tact and the results are hypnotising.
Irene
is a masterclass in thoughtful neo-soul composition, and the individual performances are gorgeous – completely considered, tasteful and dedicated. There is probably no better example of this on the album than 'No Further Than You', built around Warrigo Tyrrell's smooth-as-hell vocals weaving around a restrained, razor-sharp groove for two minutes and forty-nine seconds of rootsy jazz-soul bliss. Highly repeatable and just as good live. Mmmm-mmm.
Francis Tait (Quality Used Cars)
3. Carpet Burn – 'Butterfinger Hands'
A highly tensile song where each instrument balances so delicately above another, Carpet Burn threaten to let slip and collapse in upon themselves so many times throughout 'Butterfinger Hands' but they are always in complete control. That's the beauty of their EP from earlier this year (
I Can't Believe It's Not Carpet Burn
, released via
Spoilsport Records
), the band built a wonky little world that feels just so comforting. 'Butterfinger Hands' is one of the most interesting and unique songs I've heard this year, equal parts hypnotising and unsettling; but undeniably brilliant.
Jack Cherry (Vintage Crop, Dragnet)
2. Power Supply –
'Let's Do This and Let's Do That'
Reunited under their freshly minted moniker Power Supply,
In the Time of the Sabre-Toothed Tiger
saw a group of local rock 'n' roll royalty reunited to offer up some of the best garage-punk to come out of Melbourne this year. What stood out from their previous work together in Ooga Boogas was just how relaxed this affair sounded; but few songs from this year felt just as effortlessly fun as our highlight 'Let's Do This and Let's Do That'. Built around a reliable guitar lead that unravelled over a rambling groove, 'Let's Do This…' came loaded with seemingly unlimited charm which was only furthered by Leon Stackpole's nonchalant vocals, all served up with his dependable smirk. Especially in a year when singing about not making plans could've felt like a bit of a drag, Power Supply made taking it easy sound better than ever.
James Lynch (Trouble Juice editor)
1. Our Carlson – 'Kickon'
My favourite musical experience is when a song takes me to a special place – be that a fond memory, a heightened emotional state, a turning point in one's life – and in any year of my life other than 2021, 'Kickon' by Our Carlson would not be that song. But rather than a cold sweat and a desire to go back and delete regrettable photos, in 2021 I have found 'Kickon' to evoke all the warm, drink-with-an-old-friend-like feelings that I'd previously reserved for songs like 'Brown Eyed Girl', 'My Pal' and 'Let's Get Loud'. And shit, call it what you will, but I don't know if the release of Our Carlson's debut EP
A Bit Much
in late January could've come at a better time. Perfection. That's why it's Trouble Juice's #1 song of 2021. I pushed pretty hard for this. And if you've got an issue with it, you can let me know later tonight – I'll be that person in the bathroom looking into a mirror.
Anonymous Friend of Trouble Juice