Music / Premieres
Premiere:
Coolabah Kings - Killing Time
Following a couple of teaser tracks shared over the past couple of months, today Coolabah Kings have treated us to a first listen of their debut EP Killing Time - a collection of raucous garage-rock, full to the brim with relentless punk energy and disarmingly haphazard storytelling.
Formed just prior to 2020, Coolabah Kings haven't had the easiest of runs stepping into the Melbourne music scene. But alongside articles for their previous two releases, 'Spineless' and 'I'm at a Loss', it's been repeatedly noted how the band have somehow managed to consistently bottle the energy and headiness of a local gig into their searing tracks, still without playing a single live show. What shines on Killing Time is Coolabah Kings' ability to paint evocative pictures of the life of a 20-something without romanticising the mayhem; instead, underpinning these stories with even less adorned garage blitzes to create a rough and ragged, yet completely vivid, listen.

Opening with the title track (and specifically the sound of a can opening), 'Killing Time' instantly propels into a fiery riff and a stomping backbeat, as Conor Walsh's raw snarl cuts down the centre of the track. For a song that evokes the experience of living within lockdown, it's surprisingly peppy, while packing an understandable amount of restless energy into every thundering groove. Previous single 'Spineless' is up next, with its reliable garage-punk chords and swaggering vocals, which leads onto 'The Local', an equally fervent blast that begins to reveal some of the pop-smarts that bubble beneath Coolabah Kings' tunes, as crafty melodies tangle with gangly group vocals and sinewy guitar dashes.

'Grinder' comes as a late EP highlight, as the slack on Coolabah Kings' highly-wound sound is slightly loosened to give the track an anthemic quality. With its sturdy groove, dynamic guitar moves and lyrics that are simultaneously hilarious and demoralisingly familiar, it's a track that reminds us how much fun this kind of punk can be. Finally, Killing Time rounds out with 'I'm at a Loss', one last burst of garage goodness that wrangles together all of the band's strengths - the unrelenting personality of Conor's vocals, combined with the super-charged and primitive instrumentals from guitarist Harry Anderson and drummer Seamus Murphy.

To celebrate the release, Coolabah Kings have treated us to an EP walkthrough below, sharing the stories and highlight details behind each track that makes up Killing Time.
Killing Time

Kicking things off with the EP's title track, Coolabah Kings dive headfirst into their signature garage sound. Narratively, 'Killing Time' tells the tale of lockdown loneliness through the eyes of a despondent protagonist's stream of consciousness. Covering a myriad of quarantine concerns ranging from losing all track of time, winning shower arguments, letting go of basic personal hygiene requirements and, above all, heartbreak. An instantly relatable song for everyone in the last two years.

Spineless

Released in September, 2021 as the band's debut single, 'Spineless' returns to bolster the track listing of Coolabah Kings' latest musical output. A tongue-in-cheek retelling of a true story, about a teenage bravado-fuelled journey to the wrong side of the tracks where a chance encounter with some much tougher boys left some scars that will never completely heal. Spineless features on A Long Time Alone 4, an exciting compilation produced by Blow Blood Records which was named Album of the Week by 3RRR.

The Local

As much a love letter to any iconic Melbourne pub as it is to the idolised life of the stereotypical barfly. 'The Local' romantically portrays one punter's night at their beloved watering hole as chaos erupts around them in their pursuit to win weekly trivia. Backed by constantly shifting, effervescent chord progressions and drunken group backing vocals, it's sure to tug at the heartstrings of any patron who may have stolen a beer jug from their favourite drinking establishment at one time or another.

Grinder

Another day on the grind, indeed! Coolabah Kings juxtapose their most musically upbeat track with the monotony of the working day, week, month and year. Lyrically composed of catch phrases, corporate slogans and lunchroom small talk from the band's own working lives, 'Grinder' directs the minute banality of nine-to-five human interaction. We may all be wearing a mask, but that doesn't mean that this leftover Pad Thai isn't delicious. Don't forget your footy tips!

I'm at a Loss

Rounding out the EP track listing is the band's latest single, 'I'm at a Loss'. It's a story of a wayward protagonist's failure to connect with a lover. Firstly, in the opening verse as a single hopeless romantic desperately clinging to clichés, and then as a cynical shell of a human stuck in a dead-end affair come the second verse. It later resolves in the song's outro with the narrator placing the final responsibility on the protagonist for being selfish, closed off and not willing to commit to their significant other. It's all incapsulated with the repeating lyrics, "She was all that you needed but you were never there, you bleed for yourself, you don't fucking care".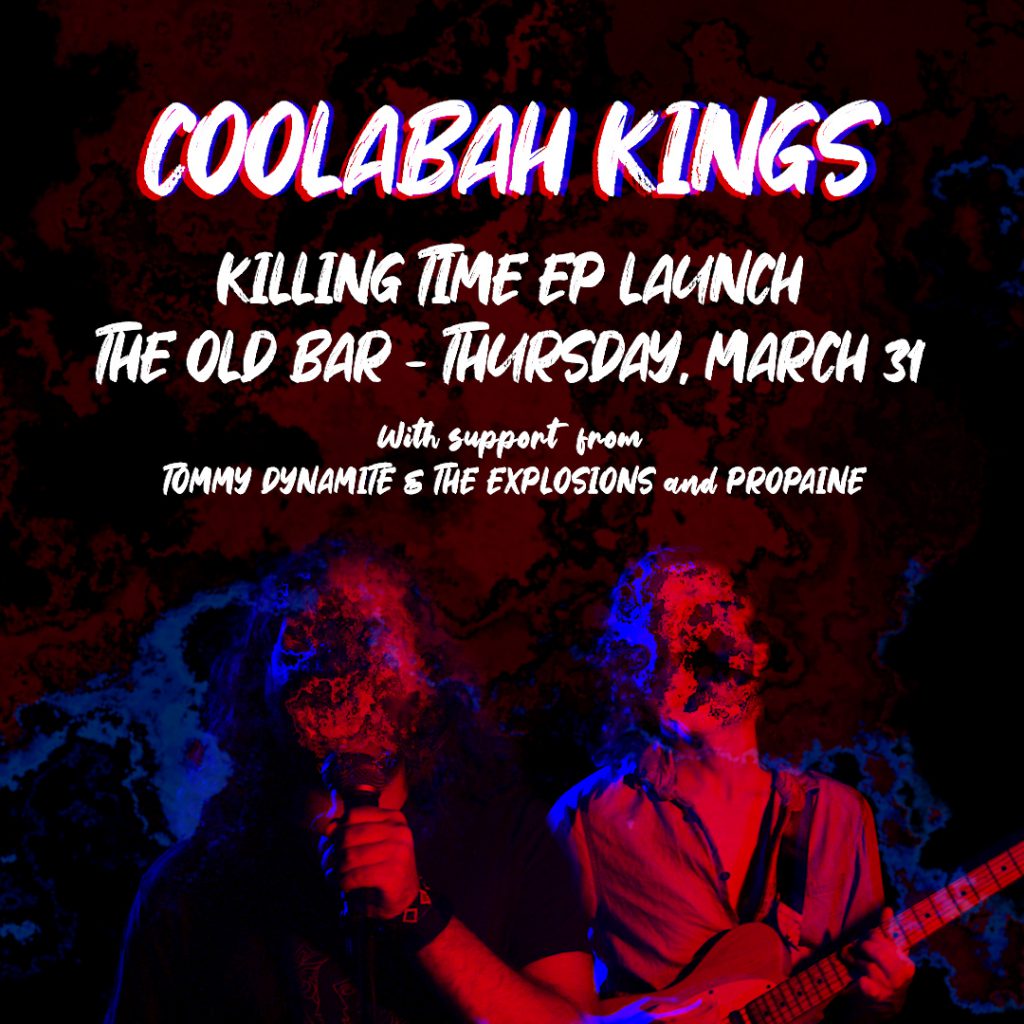 Killing Time
is out everywhere tomorrow, March 24th. Coolabah Kings will be launching the new EP on Thursday March 31st at The Old Bar with Tommy Dynamite & The Explosions and Propaine - tickets available
here
.