Music / Features
On The Road Again -
A chat with Last Quokka
Just before they embark on a national tour with their friends Plaster Of Paris, we got in touch with cult Freo rockers Last Quokka to dig into their latest blast of exhilarating garage-punk 'Cue'.
Following a sprint of releases from 2016 through to 2020, having to slam their foot on the brakes must have come as a bit of a shock to Last Quokka's seemingly unstoppable pace. 2021 was the first year the Fremantle punks hadn't released new music since forming, but fortunately for listeners, a fair bit was going on in the background. The release of 'Cue' this past January saw the group re-emerge, prepped for a new era of Last Quokka with a freshly minted lineup and their most finessed and assertive music yet.

A first taste of their forthcoming fifth release, 'Cue' bursts out of the gates with a charging groove, a tangle of fiery guitars and vocalist Trent Rojahn's forever frantic vocals. From the get-go, the band sound assured and bolder than ever without losing their usual mayhem - new drummer Carlota Rivera embeds the track with a propulsive backbone, and the double guitar attack from seasoned Quokka Kirill Ivoutin and newcomer Justin Zanetic is thrillingly caustic yet equally sophisticated. With this power surge behind him, Trent's vocals are all the more enigmatic, cutting through the soundscape ruthlessly as he paints a picture of the Western Australian outback, simultaneously riotous and reverential at once.

Over the coming month or so, Last Quokka are set to head around the country with post-punk pals Plaster of Paris, a long-awaited return to the touring circuit for the band. We can only imagine there's a whole heap of pent-up energy that's ready to be let off, so to get the lowdown we had a chat with Trent and bassist Ray to find out what's been happening.
TJ: Hey Last Quokka, how's it going? Last time Trouble Juice heard from you was in late 2020 when you'd just dropped your second album Unconscious Drivers, what's been happening in the meantime?

LQ: A lot has been happening over here! Cancelled tours, a few releases, lots of gigs (luckily, unlike a lot of folks around the country!)... But also we've also had a bit of a lineup change, the first time in the six years we've been going so that's been huge! With our old drummer José moving on to other projects we've got the incredible Carlota Rivera on the skins. Annnnd we've added an extra guitar in the form of Justin Zanetic. It's been really rad as it almost feels like a new band but is also the same old Quokka, just bigger and beefier.

At the start of this year you shared your latest single 'Cue' - want to tell us a bit about this track?

So the first show we played with the new lineup was in the WA country town Cue. It's about seven hours north east of Perth in what city folks would probably call the middle of nowhere. We played at the local pub. It was a pretty wild experience, the people were rad, the pub was loose AF, Trent and Ray got punched... But yeah it was just so beautiful being out in the red desert. Carlota had literally just joined the band so it was a kind of hilarious welcome to Last Quokka. So yeah we wrote a song about it and also I guess just about connection to country, this is a bloody beautiful rock that we live on, with the oldest living culture on the planet, so we wanted to express our appreciation for that.

You've mentioned 'Cue' marks a "significant positive shift" for Last Quokka. Could you tell us more about what's been changing? Does your new music reflect that?

I think for a long time we didn't really think about songwriting or what we sound like. We just love jamming and making noise. With the new lineup and I guess also the fact that we've been at it for six years now, we just think a little bit more about our songwriting and our overall production. 'Cue' kind of reflects that. It's just a bit more of a bigger sound and unlike some of our previous releases we didn't just record it in a horse shed... But yeah at the same time none of us have any idea what we're doing and we're still just having fun playing, so as much as it might be a bit of a shift towards a more 'polished' sound we're still just a bunch of drongos singing about how crap the government is.


I can imagine the vibes are pretty high at the moment, considering you're about to hit the road for the first time in ages with the excellent Plaster of Paris for a string of shows around the country. How'd you team up with Plaster of Paris and how are you feeling ahead of the tour? Anything to expect?

Well we were meant to both play Sonic Masala, the 4ZZZ benefit gig. When border closures meant we couldn't go to that, we started chatting about doing something else. Branko and some others at 4ZZZ have been super supportive and yeah it's all happening! We're super stoked to be joining Plaster Of Paris, they're all such legends and a great band. In terms of what to expect, hell we don't even know! Just a lot of pub rock, high-energy, queer punk fun times!

There's nothing like a partnership between two bands. Got any favourite double act combos and/or rivalries of all time?

You really can't go past Milo and Otis, just a shame about all those poor cats...

Finally, a classic TJ question to wrap this thing up - what's your perfect Sunday?

Well actually most of us Quokkas play badminton and social footy together every Sunday... That's pretty damn rad. So maybe a bit of social sport, a few beers and a swim in the ocean (water's bloody beaut over here in WA).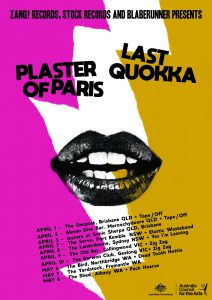 Last Quokka and
Plaster of Paris
are hitting the road together through April and May - check out the dates above and follow Last Quokka below so you don't miss any of the action. Last Quokka's forthcoming fifth release is expected to drop later this year.