Music / Features
They Made Me Do It -
Talking Influences with Soren
Following the release of his new single 'Sirens', we caught up with rising songwriter and producer Soren to dig into the influences behind his latest dose of eclectic and hook-heavy alternative-pop.
Since the beginning of 2021, Soren has been drip-feeding us taste after taste of his forthcoming debut EP The Perfect Place To Hide. He's been far from slack though - as an in-demand producer and bandmate, Soren has recently scored credits on a bunch of local releases from Stella Farnan to Orange Orange to Earnest Jackson. However, with the new EP set to drop on May 20th, it seems that it's about time for Soren to give himself the spotlight for once, and if new single 'Sirens' is anything to go by, he's not going to have any trouble stepping into it.

Opening with a blur of bouncing keys, worming synth bass and Soren's enigmatic falsetto vocals, 'Sirens' emerges like a dance track. However, one minute in the song shifts gears dramatically with a tangle of razor-sharp guitars over a propulsive groove, and sends it racing into a classic indie-rock zone - the hooks still buoyant and agile, yet now anchored by an urgent backbone that ignites the track. As 'Sirens' unravels it continues to shapeshift between styles and moods but it does so effortlessly, which makes every dancey moment all the more intoxicating and each chorus completely explosive.

To journey a little deeper down the rabbit hole with Soren, he kindly shared some key influences behind 'Sirens' with us.



My Friends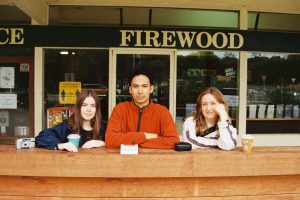 I really love my lovely, lovely friends. They are my biggest inspirations. Some of my closest musical friends include Ryan, Sydney and Stella. We all are very lucky to play together in Sydney's band which is extremely fun. I'm dedicating a little playlist to them in this section!

Originally, I actually thought 'Sirens' could turn into an Orange Orange song for whatever reason. I remember very excitedly calling Ryan when I made most of it thinking we could finish it together. But I guess it wasn't meant to be.

Bloc Party - 'Banquet'

This song is just so full of vibrant, urgent energy. You can't get away from the intensity of the drums and vocals on this one. But it also has this beautiful sense of space and groove. Add the syncopated guitars and it's just about the most dancey, exciting band song I've ever heard. I think 'Sirens' - intentionally or not - hearkens back to this 2000s indie sound, so I wanted to throw this one in.


Björk - 'Desired Constellation'

'Army of Me' all the time as a kid with my mum in the car, and seeing it on rage here and there. It's imprinted in my brain. As well, I think Vespertine is my favourite Björk record - and up there as one of my favourite records of all time. I've realised I have an odd obsession with late 90s/early 2000s pop music, when things moved over to digital recording fully in the mainstream; both the latest and most "perfect" attempts at tape recording (like Jeff Buckley's Grace) as well as the newer digital records.

Records like Radiohead's Kid A and Nine Inch Nails' The Fragile sound so perfect and clear and fresh even today. I'm not sure if it's just because we haven't changed musical format for that time but it's just constantly inspiring to me. I love trying to uncover whatever it is that makes a record sound timeless.

Getting back to Björk, this song isn't off Vespertine, but I chose it because it has this beautiful, ethereal bitcrushing thing going on, a sort of digital distortion. In some ways it flows on from the sampling culture of the time but I think it's an effect presented so uniquely here as a soft, quiet ballad. Here's 'Desired Constellation'.


Kylie Minogue - 'Can't Get You Out Of My Head'

Honestly, this is one of my favourite songs of all time. It sounds like it was released today, just like those Bjork and Radiohead records. The melody is one of the most iconic pop hooks of all time. At the same time it has that electronic perfection of the biggest Daft Punk and Kraftwerk tracks. I listen to it most days, even just briefly as a sort of audio palate cleanser.


Robin S. - 'Show Me Love'

The influence here was more subconscious. I think it's just one of those songs that get lodged deep in your memory. It's iconic. 'Sirens' is kind of my most fervent attempt so far at doing this sort of massive pop/housey thing. I can't think of a track that does it better than this.


Charli XCX - 'Vroom Vroom'
No artists have made me more open to the endless scope of music than Sophie and Charli XCX over the last few years, particularly in the pop realm. This song – alongside the rest of their records – has soundtracked many a beautiful, loud car trip down the freeway on the way to an uplifting party with my friends. RIP Sophie.
Soren's debut EP The Perfect Place To Hide is out on Friday May 20th.