Music / Features
Winning The Lottery -
A chat with Rose Bassett
Ahead of her single launch tonight at the Gasometer, we caught up with rising singer-songwriter Rose Bassett to dig into 'Winning The Lottery', her dazzling debut single that lures us into the charming indie-rock world of her new solo project.
After fronting local indie-folk project Half the Andes for a good few years, last month Rose Bassett officially stepped out on her own with the release of her evocative first single 'Winning The Lottery'. While it shouldn't come as a huge surprise given her musical background, 'Winning The Lottery' defies its lyrical themes and arrives brimming with self-assurance and wide-eyed charisma, a vibrant first taste of where this blossoming project might be headed.

After opening with a glowing synthesiser, 'Winning The Lottery' bursts with an easy-going tangle of guitars over a driving backbeat, before the soundscape broadens for Rose's emotive vocals to cut through the centre. While the track feels fairly serene as in unravels, there's is a sense of turbulence bubbling underneath, whether that's through the vulnerability in Rose's delivery as she reflects on her experiences after a panic attack, or the restless energy coming from the band, heightened by the steady chime of a cowbell and the irregular synth pulses. That said, 'Winning The Lottery' ultimately feels joyous, its hooks soaring and addictive, shining a positive light as it tackles the intricacies of individual mental health.

We caught up with Rose to find out a little more about the creation of 'Winning The Lottery' and what's coming next.
TJ: Hey Rose, hope you're well! Let's start at the beginning, who are you and what's the story?

RB: Hey James! Yes, I'm doing super well thanks! Just sitting with my border collie Milo so it's hard to feel anything but good haha.

So, I guess first and foremost I'm a songwriter and a vocalist. I've been studying vocals since I was about eleven and have been pretty enamoured with the technical aspects of the craft. I grew up in regional Victoria (Yorta Yorta and Taungurung Country) and made the move up to Melbourne/Naarm about seven years ago to study jazz vocals at Monash Uni. Originally, my teacher back in the country had me focus on classical soprano training, but over time I really edged towards jazz, I think because I felt it gave me more creative freedom and let me mess around with my tone.

But looking back now, I had a whole heap of different musical influences growing up. Both my parents have always been huge supporters of music and the arts and definitely passed that on to me and my three brothers. We grew up listening to CDs of Paul Kelly, Goanna, ABBA and The Corrs, alongside a bunch of classical music. Jazz was something that sort of fell into my lap and started to push me into a different music scene.

When I was studying it at a tertiary level, my whole perception of music and creativity became quite skewed, and I found it difficult to find my own space in what felt like a masculinised and critical environment. My own experience of studying music isn't something I regret, but it's definitely shaped how I interact in creative spaces, and it took a while for me to come back to feeling empowered and confident in my music. I think my self-titled project is really about reflecting that confidence and building up my own space to be proud of and inspired by.

You've just shared your debut single 'Winning The Lottery' and it's a really impressive way to introduce yourself to the world. Could you tell us a bit about the track?

I wrote 'Winning the Lottery' pretty much within an hour of having a panic attack for the first time. I had been experiencing low level anxiety for most of teen years, which probably isn't that unusual, but I hadn't recognised the signs of a growing mental health disorder. In that first moment I remember the most overwhelming feeling was confusion and in some ways loss. That's kind of where that lyric "I thought I was winning the lottery" came from, that feeling of loss, when you think you have something big but realise perhaps it's not as solid as you originally thought. For me, I thought I had more control and knew my limits but lost it in that moment. So, that illusion of control is really what I wanted to capture, alongside my own acceptance that relinquishing control is okay. I used to hold perfectionism really close to my work-ethic and musical creativity, but part of this song is also about rejecting that side of myself and revelling in the freedom to be imperfect. The main hook opening the track and rearing up throughout is an embodiment of that feeling, which I paired with the lyrics to create an upbeat timeline of my first panic experience.

What's your relationship like with your mental health now, following that situation? Do you have practices that help you keep in touch with their body and brain that you'd be willing to share?

I've got a pretty good relationship as it stands today. Which isn't to say that mental health is a constant, there are always going to be fluctuations. But I feel like where I am now, I have a much stronger grasp and understanding of my own boundaries and what self-care I need to take to help maintain a healthy equilibrium. As cliched as it may sound, I think learning to breath and focus on the simplicity of that action is the biggest practice that helps me keep in touch with my body and how I'm feeling mentally. Perhaps it's because I'm a vocalist, but if I really focus on the intake of breath, what parts of my body are working to draw that in and release it, I generally tend to feel myself reconnecting and gaining focus on what is causing me to feel higher levels of anxiety. But if all else fails heading out to the bush and walking in an environment that lives on with or without you in it always helps me to bring myself into focus.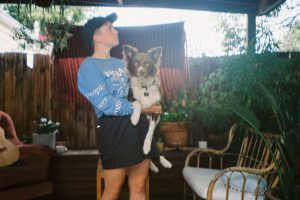 There's a bit of an all-star team behind the scenes on 'Winning The Lottery', with Gordi producing the track, Jono Steer engineering and Becki Whitton mastering. Could you talk us through how the song came to life, from its origins to its stunning final form? How much impact did these people have on the final product?

YES! I was extremely lucky to get to work with a team of absolute legends! I was introduced to Gordi through my lovely friend GUTHRIE after they had worked with her on their track 'Queenstown' (an amazing song, highly recommend checking it out). Originally, I was intending on only recording one single (my next release!) but realised that 'Winning The Lottery' was a song that had a heap of potential with the right team behind it. Gordi and I worked together on the pre-production of the track about a month before we buzzed into the studio. That was a really fun day! Gordi has an incredible ability to make you feel comfortable and valued, I came away from that day with way more confidence in my ideas and songwriting. We stripped the track quite bare during that session and worked out all the major kinks, rearranging how the song played out, as well as messing around with the chorus melody line. What we came away with was a much stronger song which I cannot thank Sophie enough for.

I'd been wanting to work with Jono ever since I'd started listening into Angie McMahon's music. I was a big fan of his mixing style and was extremely excited when we started working together. Jono is honestly one of the loveliest and most humble people I have ever had the pleasure of working with. He definitely helped me to feel empowered in the studio and that was a really massive thing for me.

The studio time was one of the two best days I've had as an artist, at a fun level, but also just seeing and hearing what is possible to achieve. Everyone that worked on this track contributed ideas and directions and it would not sound the same if even one person's name wasn't on the credits.

Becki and I have worked together on previous tracks and I knew that they would master the song with an atmosphere to suit the mixing and playing styles. Truly stoked with how it all turned out.

You've played in other projects in the past, but this is the first time you've officially stepped out under your own name? What inspired the decision? Has it changed much compared to your previous projects?

Yeah, so I used to play under an alias which stemmed from a random conversation Ronan (bass player and all-round good human) and I had had. I can't even fully remember the context but basically 'Half the Andes' sort of just came from it and stuck. I used that name for a couple of years, but really felt that it wasn't portraying what I wanted it to. So, it became a pretty natural progression to move away from that name and start releasing as myself. I think I mentioned it before, but it was also about confidence. I have more confidence now that I used to towards my writing and musicality. Releasing under your own name has a lot of vulnerability to it, there's nowhere to hide or move away to, so I think I needed the time to work and build up my confidence before making the change.

I think the Rose Bassett project is different, mainly because I'm different. I write differently and have a clearer idea of the sound I want to curate than I used to. HTA will always have a spot in my heart as a great medium to learn and express, but very excited to be putting Rose Bassett out into the world.

That said, we can't forget about your band! Who's joined you on this track and what's the group dynamic?

I have the incredible pleasure of playing with some of the most genuine and lovely musicians, both on this track and as part of my live band. My bass player, Ronan Nicholson, and I met at uni and (alongside being housemates for two years) have been playing music together ever since. He is honestly one of the most earnest and talented musicians and songwriters I have ever met. The electric guitar is played by Libby Ferris, who I started playing with on the recommendation of another muso. She is insanely good at her craft and inspires me to build my own guitar skills every time we play a gig. Sophie (Gordi) jumped on keys and Wurlitzer and Jess Ellwood came on board for the drums and percussion.

As a group we all worked so hard in those two studio days to bring the track to life. Dynamically, I think it felt like a really solid jell between us all. Everyone is incredibly good at what they do and that meant we had a lot of creative and technical expression coming through in the recording process. I think the best part of it all was getting to enjoy the company of likeminded people, with great senses of humour haha. We definitely had our fair share of banter.

What's coming up next for you?

I actually have a second single on the way in September which is very exciting! It's basically a sister track to 'Winning the Lottery' and was recorded within both pre-production and in-studio phases. But that's all I'll give away for now…

And finally, I know you would've answered this question when we speeddated with Half The Andres a few years ago but things change, so what's your perfect Sunday?

Hmmmm, honestly, I think my fav Sunday activity has become eating cereal in my Pj's, reading a book in the sun. Nothing better.
'Winning The Lottery' is out now in all the usual places. Catch Rose and her band tonight as they launch the single upstairs at the Gasometer Hotel with Bec Goring and GUTHRIE - grab a ticket
here
.