Music / Features
They Made Me Do It -
Talking Influences with Eggy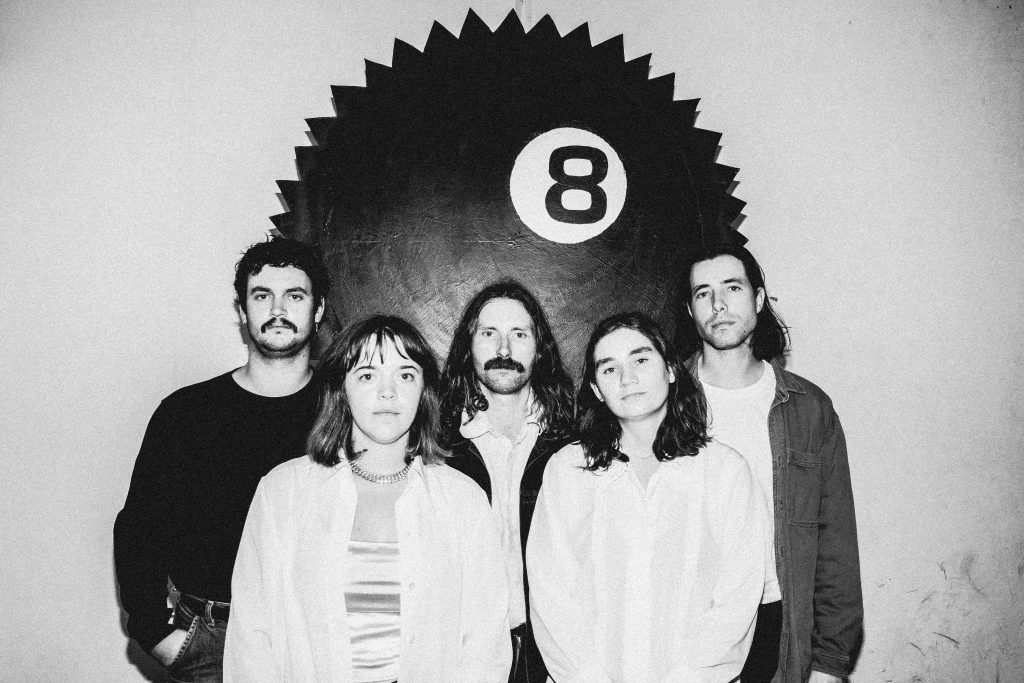 With the release of their sophomore album With Gusto just around the corner, we caught up with surrealist pop connoisseurs Eggy to dig into the sounds and ideas that inspired the upcoming record, as well as taking a dip into their woozy new single 'Fill in the Blanks'.
Following on from the release of 'A Toast To Good Health' last month, Eggy have returned today with another taster of where their forthcoming second album might be headed. Where 'Toast' simultaneously picked up the frantic energy of previous single 'Magic 8 Ball' but paired this with an extra dose of glitz and glamour, 'Fill In The Blanks' swerves in the other direction, revealing a softer side to the band without shaking their eccentric tendencies.

As expected for Eggy, synths warble and guitars chime alongside their usual array of idiosyncratic blips and fuzzes, but for the most part, 'Fill in the Blanks' unravels around an affable chord progression while Zoe Monk's wide-eyed vocals are refreshingly earnest. In light of the previous two singles' chaotic nature, this track feels almost sobering thanks to its directness and composure, but that's not to say it lacks imagination; instead, the soundscape plays like a constant evolution, growing more colourful and turbulent as it continually expands open. As Zo puts it, "these guitars are for anyone who's felt the push and pull. I see the chorus as glass half full."

With Gusto comes out in a little over a month via Flightless Records, and with three distinct singles out, what we're set to hear across the album is anyone's guess. But we couldn't resist finding out a little more, so we had the band delve into the tomfoolery that inspired the album to tide us over until release-day arrives.



Brian Eno - Taking Tiger Mountain (By Strategy)

Sam: 'Back in Judy's Jungle' was one of the first tracks we added to our inspo playlist when we were writing With Gusto. This album particularly was a massive influence from the style to the feeling of whimsy throughout it. Plus Eno's ethos and the idea of the studio being an instrument was something we were all very keen on trying going into this record, and are pretty keen to dive further into in the future.  


The Beatles - 'A Day In the Life'

Dom: Apparently when The Beatles recorded this they had a 40 piece classical orchestra that were told where to start and where to end but not what to play in between. This idea was a touchstone for the middle section of 'Luckiest Girl in the World', which kind of disintegrates into cascading strings. We didn't have a 40 piece orchestra but we had the next best thing in Sam Harding (cello) and Soph Lubczenko (violin).


Children's songs

Zo: I love children's songs, and the way they feel kind of eerie but welcoming at the same time. Using words and music to reflect each other to create these little worlds to jump right into. Immersive and imaginative, love it. 'Pass the Torch' and 'Upon Reflection' both took big inspo from the world of children's songs. 'Pass the Torch' is a bunch of short stories collated into one observational take on the macabre nature of nursery rhymes. I can't get enough of the stuff.

John Cale - 'Buffalo Ballet'

Dom: I got a little bit obsessed with John Cale in 2021. Hard to pick a particular song but I keep going back to 'Buffalo Ballet'. It's the perfect combination of piano, strings and beautiful song writing. Bliss!


Rules

Dom: When demoing some of the songs that ended up on With Gusto I got pretty into the idea of setting a songwriting boundary or rule and trying to write the song within that boundary. A friend had remarked to me that all of Eggy's songs were pretty short and so I was keen to prove the haters wrong and write a song that hit the five minute mark. I think I just recorded a simple drum machine for five minutes as a starting point and then tried to layer stuff on top and get to the end, which later turned into 'Magic 8 Ball'.


John Lee

John recorded, mixed, and mastered With Gusto. He understood what we were going for from the get-go, and helped turn our ideas into something we are all really proud of. He is patient, encouraging, and enthusiastic. We love John!!! His 'Mountains In The Sky' track above was used by the NBA in the playoffs. Very epic.
'Fill in the Blanks' is out now in all the usual places. Eggy's forthcoming album
With Gusto
is set to be released on July 22nd via
Flightless Records
.