Music / Premieres
Premiere:
Quality Used Cars -
Me and Damon Drinking Beers at the Grandview Hotel / I've Never Felt More Alive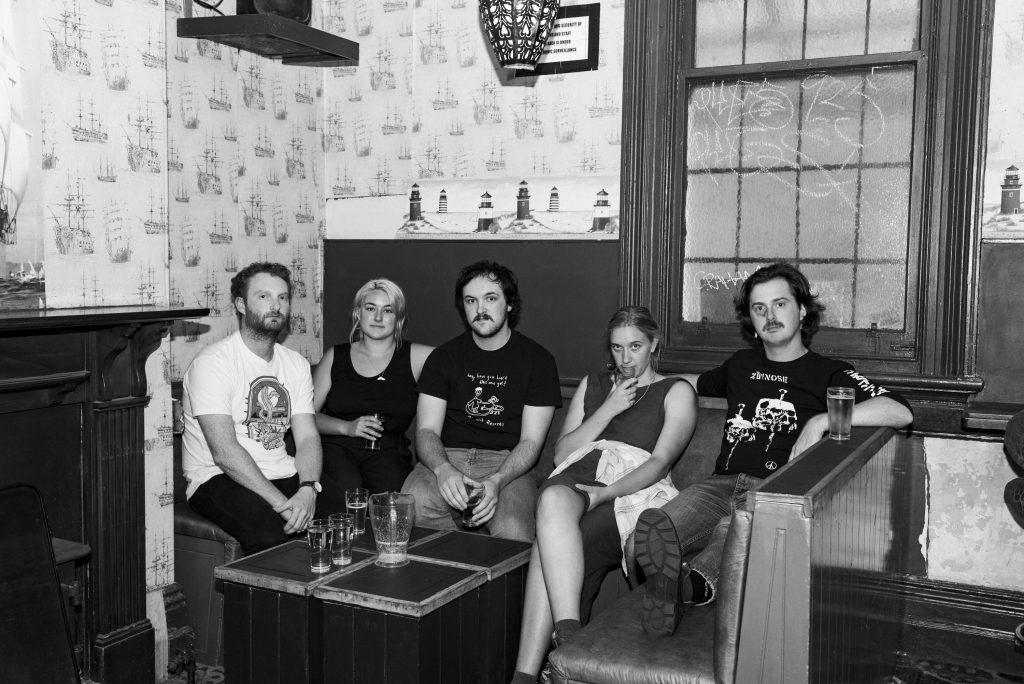 Back with their first new music since the release of their debut album in early 2021, Quality Used Cars have returned today with a brand new double single 'Me and Damon Drinking Beers at the Grandview Hotel/I've Never Felt More Alive', and a first taste of their upcoming second album.

Expanding on the rambling alt-country sounds heard across their debut, these two tracks push the growing strengths of the group to the forefront, led by a joyously evocative and narrative-driven A-side and paired with a more subtle and introspective second cut.
Francis Tait, the leader of Quality Used Cars, is something of a chameleon within the Naarm/Melbourne music scene. With a diverse list of projects to his name, Quality Used Cars has become an outlet for his direct and sharp-witted songwriting; but on his forthcoming sophomore album, the project appears to be transitioning towards a fully fledged band, with Francis drawing upon his band member's individual talents to create something broader and impressively cohesive. He tells us "I got to write with each member of the band for this album [whereas] last album I had played the songs solo, then turned them into band songs. We've got a bit of everyone's personality in there, which is nice".

He also notes that this album will be more "optimistic"; "people have been sad enough lately without me carrying on about it. Still gets a bit sad here and there, but hopefully in a sharing a beer-with-a-mate kind of way".

With that in mind, 'Me and Damon Drinking Beers at the Grandview Hotel' is the perfect starting point to lure us into the world of this next record. While at its core the track plays as a lazy jangle-pop cruiser, the tune gloriously centres around themes of friendship and gratitude as Francis reflects on how therapeutic the process of "reconnecting with someone can be, especially when you haven't been feeling all that good." With its ambling instrumentation, sunny harmonies and hilarious chit-chat inspired lyrics, it perfectly captures that warm feeling when you're a few in and are just really grateful for that moment, and the people that you have around you. For the most part, the track revels in contentment, however there's a constant sense of forward momentum, leading us towards a momentous conclusion (and one particularly spirited lyric) that captures Quality Used Cars at their most triumphant.

Following on from 'Me and Damon…', the second single fittingly plays a little like a hangover, a touch ironic given its title 'I've Never Felt More Alive'. Stripped back to its bare elements, the track emerges in a haze of warm harmony, the softness of Hannah McKittrick and Isobel Caldwell's voices tangling with the gruffness of Francis'. Although sounding a little exhausted, the track never feels totally hopeless - with Francis telling the listener, it's "not as much a total defeat but more a hung parliament" - before the fog eventually lifts as Ben Leahy takes hold of the song with a soaring guitar solo. We might not have believed him at the beginning of the song, but when Francis warbles "I've never felt more alive" at its end, it is a truly exhilarating feel.

If these first two songs are anything to go, it's the sort of music that is best appreciated with a beer in one hand and your mates around you. Fortunately for fans of Quality Used Cars, an upcoming NSW/regional Victoria tour is on the cards including a hometown show at The Old Bar, where just that will be able to take place.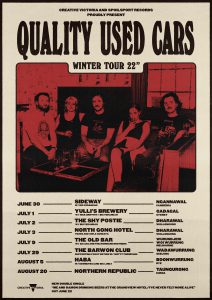 'Me and Damon Drinking Beers at the Grandview Hotel' / 'I've Never Felt More Alive' are out today in all the usual places via
Spoilsport Records
. Quality Used Cars are hitting the road around Victoria, Canberra and New South Wales - catch them at any of the dates above, and follow them below to keep up to date.