Music / Features
Can't Stop the Crop -
Tales from the EU with Vintage Crop (part 2)
The Vintage Crop rock 'n' roll machine don't stop! Melbourne's greatest rock band are currently traversing through Europe to share the good word of their latest triumph Kibitzer. It's a belter and the world's gotta know about it.

Here's part two of vocalist and guitarist Jack Cherry's tour diary - dig in!
Well, here we go again, I've got a few more insights for you. When we last spoke, we were on a hunt for a clothes dryer; I'm happy to confirm that we do once again have fresh clothes. It was touch and go for a minute there but we're in the clear now.

Tyler just talked in his sleep as I'm writing this, no word of a lie. He enthusiastically said "Oh yeah! I'd love one". Obviously having dreams about having a couple of beers after the show tomorrow night.

Anyway, last Saturday we played a festival just outside of Rennes called Coucou Fest. That was heaps of fun, it was at a little brewery and all of the beers and food were made on site. They also had these awesome urinals made from traffic cones.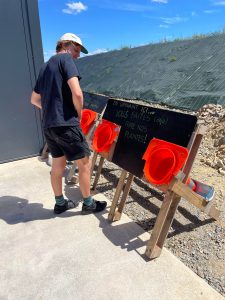 The following Sunday was our first rest day for the tour, which we spent travelling towards Calais to get the ferry across to England. We stayed in a really flash AirBNB, it felt like we were in Queensland. Our tour manager, Gilberto cooked us a gnocchi ragu for dinner. It was amazing. Whilst walking the streets we also found a baguette vending machine, incredible! None of tried it, too full of ragu to want anything else. That's sticking with me as a big regret, I didn't have to eat it right then; I could have saved it for the following night. Fool.


| | |
| --- | --- |
We arrived into England on Monday night, playing our first show of the UK leg in Bristol. We met our record label boss, Chris, from Upset The Rhythm for the first time. Lovely chap. He drove down from London to welcome us to the country, and we all went and ate yet another burger and chips. Not keeping a tally, because we don't want to know the harsh truth. But when there's not many options, and no one to keep you accountable, it's very easy to settle into this diet.

It quickly occurred to us after the show that people don't carry cash anymore. This made selling our merchandise very hard, so we scrambled the next day to buy a card reader so we can accept card payments. Huge heads up to anyone who is touring Europe/UK soon - look into this!!! You need to arrange a way to receive digital payments from people. "Sum Up" branded card readers don't link to Australian bank accounts either, so beware of that too. PayPal is okay, but a lot of the older crew don't F with that S.

The show in Manchester was awesome, we played in a place called Peer Hat with a very cool band called Honk. They were nice people too, we managed to film a live video session with some of the members that day. Hopefully that will see the light of day soon! The crowd were awesome, played to a pretty full room on a Tuesday night and they were most kind to us. I proudly wore my Blur t-shirt that night, quietly hoping to stir a few locals. Probably a few decades too late for that. This time was peak pain for Luke too, he's been dealing with his wisdom teeth coming in - so he's been eating his burgers very gingerly.


Wednesday's show was in Leeds at the legendary Brudenell Social Club. A lot of great bands have played that room. We felt like rockstars because the dressing room had a shower. We're from Geelong. We arrived a little early to soundcheck, so we wandered off to get a burger. The show went well, probably the burgers. We are on a roll.

Thursday we drove up to Glasgow for a hotly anticipated show. Last time we played Glasgow it was a highlight, and this time was much the same. Unusually, it was actually a warm night which made my decision to buy a tartan scarf and gloves from the servo seem even more ludicrous. I still played with them on though, I think the Glaswegians appreciated the commitment. Fun crowd, they know how to drink too. We all woke up with a sore head the following day, but definitely worth it.

Saturday nights show was in sunny London, a nice place called The Lexington. We rocked with Public Body & Marcel Wave - two very cool London bands. A great way to wrap up the UK portion of the tour, we partied downstairs until around 4am. Unfortunately McDonalds was closed on the way home, but there was a couple pieces of fruit that had been bouncing around the van for the last week that were drunk enough to finally eat. It's not a total blow out if you're making healthy choices right?

We spent our Sunday travelling back down to Europe and arrived at our lovely accomodation around 8PM. Pictures attached. The days here run so much longer, the sun didn't set until around 10.30 tonight. We've all managed to wash and dry our clothes, re-organise our bags and clean up the car. We're now ready for a week of big drives, we cover a lot of ground this week as we are driving from France to Germany, then up to Denmark for a few shows this weekend. Tyler has spent majority of his spare time watching Le Tour De France. Every 30 minutes or so, we just hear him yell in the back seat about some near-miss or near-excitement that's going on.


| | |
| --- | --- |
So far, the broken string count is at six; four of them from Jack & two from Tyson. We even had to drop into a music store and pick up a £120 Fender Starcaster, just to make sure we can keep the show going when we break a string.

London setlist:

2K Hip Pocket
Casting Calls
Double Slants
Hold The Line
The Ladder
The Bloody War
Drafted
The Duke
The North
Jack's Casino
Company Man
Under Offer
Gridlock
American Living