Music / Features
Can't Stop the Crop -
Tales from the EU with Vintage Crop (part 3)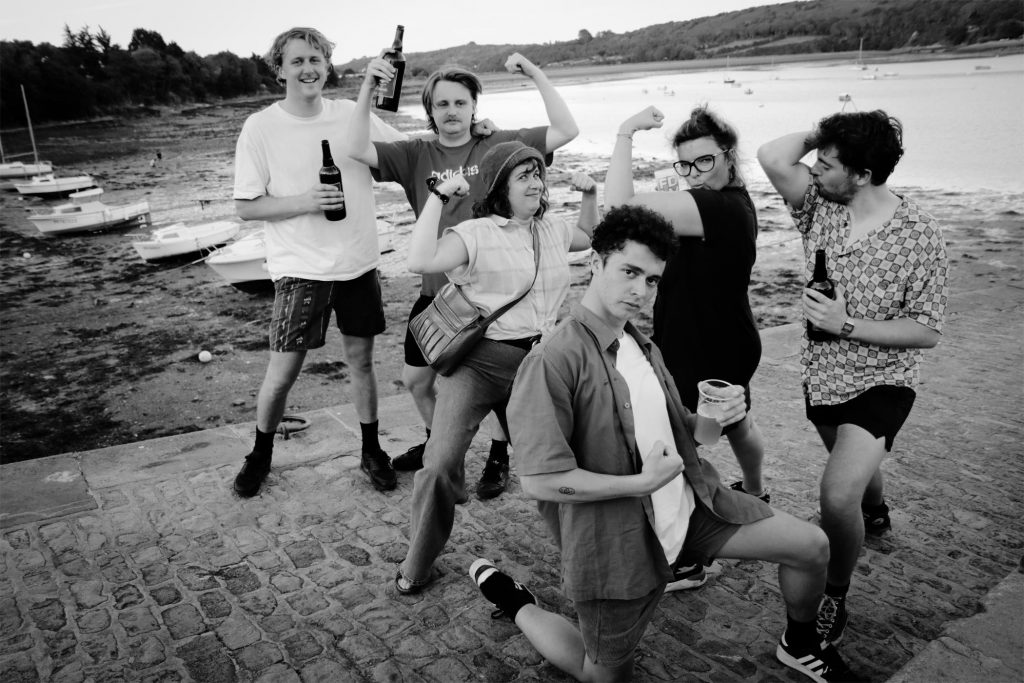 Okay you get the idea, Vintage Crop rule, they are on tour, blah blah blah.

Treat your ears to the soothing sounds of their new record Kibitzer below, and while you're at it treat your brain to another round of handsome Jack Cherry's musings. He's getting more cultured by the day!
Dear diary, it's Monday July 18 and I'm in Kiel, Germany.

Last Monday, we played a show in Plougastel-Daoulas in France. It's a small town, on the far west coast just outside of Brest. We played at a venue called Le Tapecul, and we are the first band to have ever played there. Knowing this, on the way to the venue we were automatically thinking the worst, I mean it's a Monday night as well.

We arrived to find a marquee set up outside a little pub, literally across the road from the most beautiful little beach. There were holiday makers swimming & diving off the pier and the sun was shining strong. Unlike Australia, there aren't really a lot of liquor laws over here - so we all grabbed a pot from the pub and wandered over to the beach for a look. We had a paddle around in the water and it was marvellous.

We wandered back over for soundcheck, and we felt a little silly as all the people at the beach wandered over to see what was going on. Soundchecking the microphones involves us singing at full volume into the microphone with no other instruments so that they can hear how it will sound and add any effects if needed - which is no worries when you're in the bandroom of some dingy pub or down in the basement somewhere but it's a little more embarrassing when you're yelling "I just wanna live the American Lifestyle" in front of five old French blokes and a couple families of tourists in a small little village.

By show time, the locals had come out in force. We were greeted by 150 local rock dogs on a Monday night, and their hospitality was unrivalled. We didn't pay a cent for anything all day and night. They even passed around a hat after the gig, with €200 worth of tips in it, unbelievable for a Saturday, unheard of on a Monday. God bless the French.


| | |
| --- | --- |
Tuesday's show was in Kusel, Germany; which any geographically minded Crop fans out there would know is ten hours drive away from Plougastel. So after our show on Monday, we drove hour hours into the night to stay at a hotel in Le Mans (3.30am arrival!) and then rose around 8am to drive the remaining seven hours to Kusel. It was a marathon effort, so huge shout out to our driver Lorenzo for keeping France's favourite band alive.

Our show in Kusel followed the small town theme, as the town itself has a population of around 5000. Yet somehow we still managed to drag about 20 dedicated fans out on a Tuesday. A nice little town, where we were fed with a delightful vegetarian curry.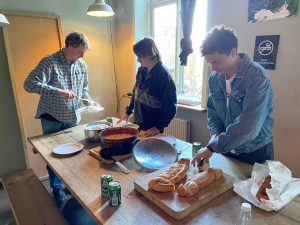 Wednesday we played in Fürth at Kunstkeller 027. We played there in 2019 as well, so it was nice to see some familiar faces and we even played with the same support act Rita Ritz. It seems that people remembered us, as we played to a nice crowd on the night. I later found out that the venue is an old World War 2 bunker, with all of the original hand-painted signage above the doors still intact. We ate our dinner in the communications room. Very eery, but super cool!

Thursdays show was our return to the legendary Molotow in Hamburg (pronounced Molotov, remember Germans pronounce their W's and V's differently). One of the best venues in Europe - the hospitality it unmatched. Showers, dressing rooms, washer and dryers, vegan dinner (Cauliflower curry, our second curry of the week!) & plenty of free beers. We played in the Sky Bar (upstairs bar), with a great Danish (there's some sort of joke about a Great Dane dog in there somewhere but I'm too tired to find it) band called Miltown.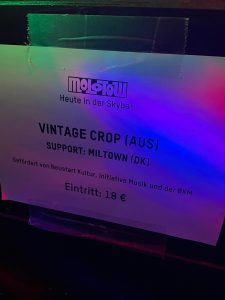 The next night we made our debut in Denmark, playing once again with great Danes Miltown and Tazer. The show was at a cool little community arts hub/squat/venue in Aarhus called Institute X. Prior to our show there was a Volcom-present 'Tricks for Cash' skateboarding event, where a bunch of the local skaters were having a go on the little skatepark out the back of the venue. It was a great vibe. We were treated to a Halloumi Stroganoff for dinner (I'm considering that our third curry of the week). The show itself was awesome too, we were welcomed so warmly by the Danish. It was great to make some new friends up North.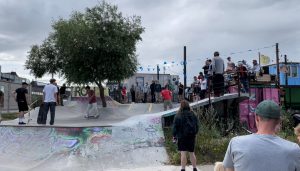 Our week concluded with a show in Aalborg, at 1000Fryd. We'd been warned the night before that shows there can be really full or really empty, which I can relate to being from Geelong. As we loaded in and set up, the vibe was high. Unsure whether we were pumped to be in Aalborg or if we were pumped that the next day was a day off. Either way, it was great. We snuck off to a pub before soundcheck and got a couple of beers in to steady the ship. Vegan hot dogs for dinner, a huge vibe. We were lucky as the people turned out and we gave em a show.

String tally:
Tyson - 6
Jack - 6
Luke - 0

The race for most broken strings is really heating up now, Tyson managed to tear his way through 4 this week to even things up. Luke is slow off the mark, but hopefully he can break his first this week.

We now have two weeks, ten shows remaining.