Music / Features
Year Of The Spider -
A chat with Shannon and the Clams
Oakland garage-punks Shannon and the Clams have landed in Australia and are set to hit the Corner Hotel tonight as they tour their latest album Year Of The Spider. Ahead of their show, we caught up with Shannon Shaw and Cody Blanchard to discuss getting back on the road and the heavy and personal subject matter of their sixth album.
Since forming in 2009, Shannon and the Clams have been melding their garage-punk stylings with '60s doo-wop, neo-psychedelia, and a dose of R&B. With Dan Auerbach returning behind the soundboard across their sixth album, the reflective and ebullient Year Of The Spider, the Oakland outfit digs deeper into their retro-inflected nuggets and blood harmonies, bringing in a wider array of subgenres.

The resulting album is an intimate portrait of the group overcoming seemingly overwhelming odds with a pulse that's completely refreshing and transcendent. To dig deeper into the new album, we caught up with frontwoman Shannon Shaw and guitarist/vocalist Cody Blanchard, to discuss the album's personal subject matter and sessions, and the band's grand return to Australia.
TJ: First off, welcome back! What have you been up to since you've landed in Australia?

Cody Blanchard: Thank you! We love it here SO MUCH. I think I would move here if I had to leave the states. We've just been rehearsing! And sleeping. And trying to stay clear of Covid! The cold weather is inspiring to stay inside and be anti-social.

What are you looking forward to the most while playing here? Any favourite spots you enjoy hitting up? What have been some of your favourite memories playing here?

CB: Meat pies! You can't get them in the states. Hoping to see some flying foxes, but it might be the wrong season. I have a great memory of walking through the botanic gardens in Sydney just before sunset, watching all the bats doing their bat business. Playing at Golden Plains a few years back was transcendent magic. Incredible setting and bands -‌ Marlon Williams, Beach House. We'll miss jumping in the ocean this time - this is the first time we've been here in the winter. It's such a joy to swim here,‌ the water is about 15 degrees warmer than in the states.

Your most recent album Year Of The Spider contains some of your most confessional and vulnerable material yet, while exploring sonic pathways outside of your timeless garage-punk and doo-wop stylings. Tell us what the sessions were like and the significance of the title.

Shannon Shaw: I was very musically restless going into this one. I felt sick of my own songwriting and all of my go-to techniques. I wanted to get out of our box a bit. I dredged up some old demos that weren't intended to be Clams songs and they came out great - 'All of My Cryin', 'I Need You Bad', 'Flowers Will Return'. We wrote way too many songs in the end. We had about 20 or more songs so we had to cut about seven or eight. We wrote most of it in the fall of 2019, getting together at our recently built tiny studio in Portland to fine-tune stuff, sending demos back and forth. We sent a bunch of stuff to Dan. Then we went to Nashville and spent a few days outside of the studio with Dan tuning up songs and figuring out what was working and what wasn't before we actually started recording. We were mixing the record the next week and a tornado came through Nashville late one night. It destroyed a bunch of music venues. In the morning I had a bunch of missed calls from people making sure no one had died. I watched the pool furniture at Margaritaville flying around outside my window. I couldn't sleep until it had gone.

I read that much of the songwriting came as a result of many unprecedented happenings in your lives. When you began to sit down and write these songs, what were you feeling?

SS: When I sat down and began to write, I was helping take my dad to cancer treatments in my hometown, dealing with a stalker/"Peeping Tom" character in my home in Oakland all while my group of friends had disbanded and were seemingly at war. I think the feelings I had were so much about lack of comfort, lack of safety, lack of support. My idea of "home" was destroyed and I felt desperate for stability! I felt desperate to find a way to make sense of the world flipping upside down, and all of this was PRE COVID! I was determined to find something I could control and that was songwriting and my outlook.


One of my favourite tracks is the slowburning Motown-esque 'Vanishing,' which I read is a reflection on your father's diagnosis with cancer. As much as there is tragedy here, there's also empathy. How important was it to you to write about the bond between you and your family?

SS: Yeah it's partially the cancer, it's also an agoraphobic state he's been in for about 25 years that complicates everything even more. My dad is the kindest, most generous, sweetest soul ever! I am lucky to have him! But he never wants to discuss feelings, emotions, or the future. Doesn't want to acknowledge this tough reality we live together… nothing hard is discussed ever. I write a lot of songs about him because we can't communicate how I want to in real life. When I write a song about him, it's a little bit of blowing off steam, screaming into the void because it feels cathartic, but it's also giving me perspective. Have you ever been told to write a letter to someone and say all that you wanna say and then destroy it? That's songwriting for me. Usually the things I can't say, or things I'm grappling with and need to problem solve. It's a way to extract all those complicated feelings from your heart and mind, turn them into a THING and look at it from a different perspective. It really helps me.

What was it like working with Black Keys' Dan Auerbach, who produced the new LP. Did he bring out something that wasn't present prior?

CB: So great. He shines as a producer. He brings a lot to the table and isn't afraid to get his hands dirty. He never phones it in and I think being in his studio working on records is his favourite thing in the world. He likes to get into the songwriting and song structure and streamline things, trim the fat, pare a song down to its purest most essential form. It's hugely helpful to have an impartial outsider listen to your material and not be shy about giving feedback, someone who can hear it from a different angle and hear what's missing. I really think all he wants to do is make great records every day and collaborate with cool artists. If you let him, he'll co-write your album with you, bring in other amazing songwriters, sing a backing vocal, overdub a guitar part, write lyrics with you hah. He gets in there.

Were there any songs on this release that turned out way different than their initial idea? Were there any that really surprised you? If so, can you give a few examples?

CC: Yes, definitely. 'Flowers Will Return' came out very differently from its original form. It was much faster and more nervous, and had a stiff anxious punk energy. We really chopped it down with Dan and relaxed it. I struggled with the lyrics on that right up until the day we recorded it. I learned a harsh lesson, which is to get the bulk of the lyrics down right from the start. If you play a song for too long with placeholder lyrics, they get stuck in your head and it's so hard to write something new. But I always think of McCartney's "Scrambled Eggs". A lot of songs come to me spontaneously like that -‌ a very silly phrase and a melody when I'm like... cleaning my house or packing a bag, doing something mindless. But sometimes you know there's a great song in there, beyond the goofy placeholder lyric that first came to you.

Aside from your shows here this month, you're playing at this year's Gonerfest in Memphis in September. You've played there before so describe what it's like? Also what artists do you want to see from this year's bill? There's some great Australian acts making it over!

CB: It's been a while! They always dig up some incredible bands that you never get to see. It can get very debaucherous if you're in the mood (or if you don't, make yourself go to bed after the show). Always lots of super fans there. People travel from all over the world for Gonerfest, it's amazing. Definitely want to see Tha Retail Simps, Michael Beach, Bennett. Curious to see all the Aussie stuff I wouldn't normally have the chance to see -‌ Research Reactor Corp, Screensaver, Gee Tee.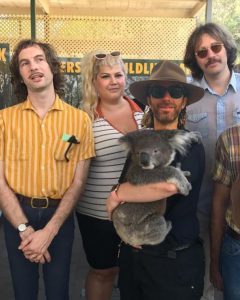 What Australian artists are you enjoying the most right now and why?

CB: Will you hate me if I name some NZ acts I'm loving?? Close enough?? Marlon Williams, Aldous Harding, so great.

SS: We've spent the last few days at Flightless Factory rehearsing and I've been Introduced to a few bands on that label and I'm loving them! I love Traffic Island! Imperial Leather, Hot Tubs Time Machine and everything Marcus does - I'm a long time UV Race fan. Of course, an Amyl and the Sniffers fan!!! Bad Bangs, Michael Beach, Terry, Ooga Boogas… not all totally current but I love them all.

After touring this year, what will be next for Shannon and the Clams?

CB: We're planning to work on a record in the next six months. We're still working out the schedule and writing, but hopefully we can get it all down before next spring. We also have a goal of being more active on TikTok lol.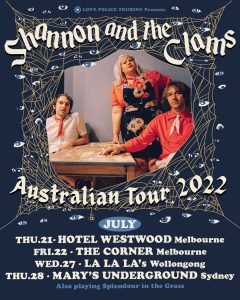 Year Of The Spider
is out now - head to
shannonandtheclams.bandcamp.com
to purchase the album. Shannon and the Clams play at The Corner Hotel tonight - tickets available here
here
.