Track by Track:
Sunbather - Simmer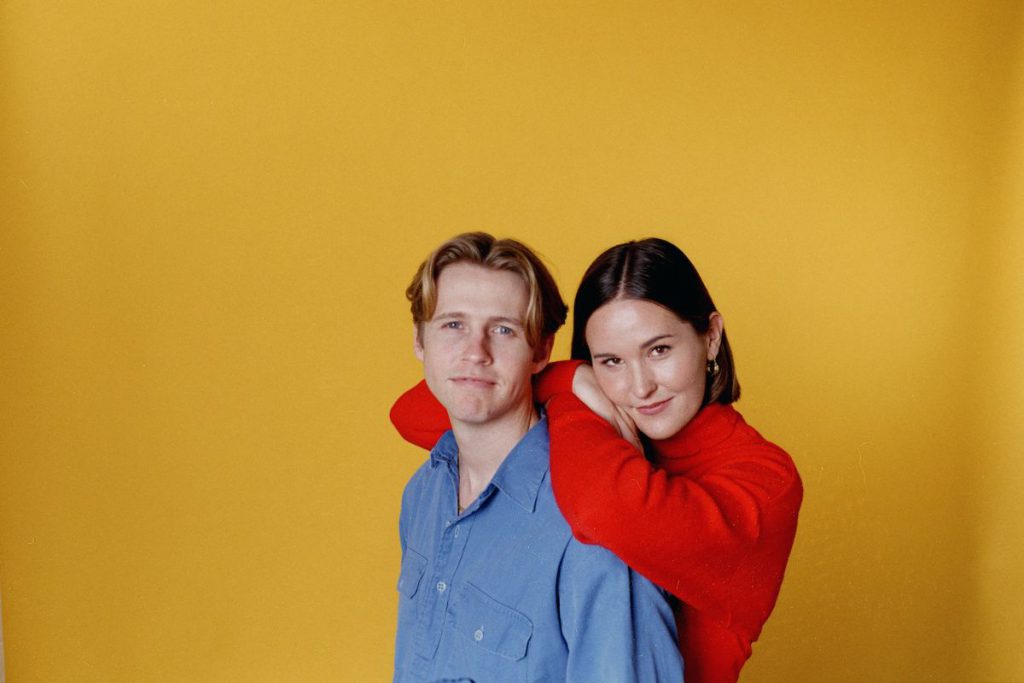 Off the back of the release of their sophomore EP earlier this month, we caught up with Sally and Mike from Sunbather to dig into the dazzling dream-pop that makes up Simmer.
Two years on from the release of their debut EP Brown Bread, Sunbather have returned with Simmer, a new collection of their heady and immersive brand of indie-rock that captures their mesmerising sonic universe as it grows more expansive and sophisticated. Recorded in Brisbane before the duo relocated to Melbourne, we can only assume that a chunk of this material was crafted in and out of lockdowns and restrictions, yet across the EP there's a true sense of joyousness and fluidity that defies its introspective themes.

Kicking off with the EP's first single 'Out Of Context', we're instantly dunked deep into Sunbather's world, as gleaming guitars tangle and chime over delicate hooks and racing grooves. Both this track and 'No Charm' feature some incredibly clever guitar-work from Mike Todman, which mingles perfectly with Sally Latter's vocals as they float dreamily while managing to carve out a space between sounding commanding and intimate. Next along, 'Holiday' and 'Between Us' lean into more enthralling atmospheres, both tracks built with a wall of evocative sound, leaving Sally's emotion vocals to overwhelm the song and pour out over it. 'Frozen Cherries' continues with these moods to wrap things up in an especially striking way, picking up the right amounts of melodrama and nostalgia to send the EP out in dazzling fashion.

To help us get to know Simmer a little better, Sally and Mike walked us through the EP track by track.
Out Of Context

'Out Of Context' is about change, and was written for a friend. The lyrics were written while walking, capturing the feeling of being outside on a cold morning, when the world seems clear and sharp, the wind is blowing, and it's like you're seeing everything with new eyes.

No Charm

'No Charm' is about slowly untangling from the fear of failure and letting go of the pressure to make sure everything has a purpose and a plan. I'm a chronically serious person and get a bit tired of myself in that way, so it's about just letting myself be frivolous and do things purely for fun.

For both 'Out Of Context' and 'No Charm', musically we took inspiration from a deep dive into midwest emo, particularly the sparkly interlacing guitars of bands like American Football and Cap'n Jazz. But rather than the melancholy tone that characterises the genre, we leaned towards an upbeat chord structure that better complemented the lyrics.


Holiday

'Holiday' is about how the stories we tell ourselves shape who we are, and how those stories are sometimes murky. The demo started as just a string of glitchy ambience that Mike ran through his pedals, which made it into the final version of the song. Building from that, we tried to keep the tone of the instrumentation dark and lush. The lyric "I saw the moonlight landscape" is a reference to landscape painter Aert van der Neer, who specialised in small night scenes lit only by moonlight and fires - inspiration for the mood of the song.

Between Us

'Between Us' is inspired by a quote from Rainer Marie Wilke: "Once the realisation is accepted that, even between the closest human beings, infinite distances continue to exist, a wonderful living side by side can grow up, if they succeed in loving the distance between them which makes it possible for each to see the other whole and against a wide sky".

The song is also written around our favourite bridge on the EP, pushing into shoegaze territory.

Frozen Cherries

'Frozen Cherries' is a reflection on living under capitalism and the murky and exploitative processes that support the desire for profit and convenience. We must raise the floor instead of allowing a tiny number to puncture the ceiling.

Musically it began as a simple melody on a four-chord guitar part, the original image of frozen cherries coming from our sudden desire to make cherry pie after watching all of Twin Peaks.
Simmer is out now in all the usual places.