Music / Features
Can't Stop the Crop -
Tales from the EU with Vintage Crop (part 4)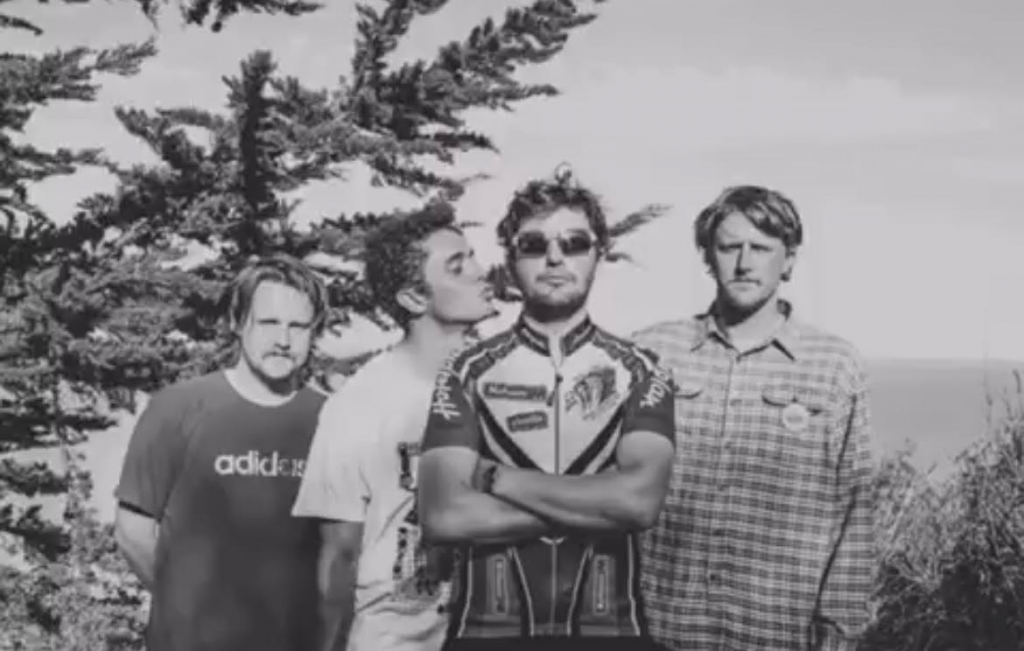 Who would've thought, we've made it to part 4 of our tour diary with Vintage Crop!

What could happen next… has our narrator Jack Cherry and his band of merry men cracked yet? Have the people of Europe decided to adopt the Crop? And is their new record Kibitzer becoming a worldwide phenomenon or a global flop? Let's find out.
It's been a week already? What a week it was!

We started our week with a couple of days off, and we spent them in Potsdam; just outside of Berlin. We had big plans for those days off, but we ended up spending the whole first day off in bed pretty much. The weather over here has been ridiculously hot. We copped three consecutive days over 35 degrees. On the second day off, we caught the train into Berlin for a look. We had lunch at a lovely Mexican restaurant because it's important to take in the local culture. Afterwards we split up, myself and our driver Lorenzo went on the hunt for some clothes while Tyson, Tyler and Luke saw the sights from a Lime Scooter. Although, Tyler's phone was flat so him and Luke shared a scooter between them. The O'Brien boys getting around Berlin on a scooter together, what a sight.

Lorenzo & I stumbled upon a nice vintage shop where I picked up a nice green coat (need I remind you, it was 38 degrees when I bought it) a flashy pair of pink sunglasses & a Lycra cycling guernsey. Lorenzo's Italian charm couldn't get him a cash discount on a pair of blue Levi's unfortunately. Worth noting for any other travellers, German's MUCH prefer cash over card. Handy to have some with you. Also, you have to pay for the toilets in German & Danish servo's - don't say we didn't warn you.

We concluded our tour of German culture & cuisine at the local Italian restaurant, Bellissimo!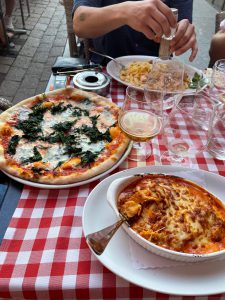 Wednesday night we arrived in Halle, Germany for a show at Hühnermanhattan, a nice little DIY bar. The heat finally snapped that afternoon, so the townsfolk were keen to take in a rock show that night. We played with a cool band called Onyon (Onion), who were lovely folks. Due to the heat, we were exhausted after the show so we didn't put up much of a fight during the kick-ons. You've gotta know when to fold 'em.

Thursday night was absolute madness, we played in Charleroi, Belgium at a venue called Rockerill. It was their 10th anniversary party and they let loose. Charleroi was previously voted the most depressing city in Europe, so we had already let that create images of a bad show in our minds. Man we were wrong. The venue was an old warehouse/factory and I'm not exaggerating when I say you could fit 1000+ people in the main room. We didn't play in the main room though, that was for the techno DJ's who played until 5am. We were in the band room off to the side. One of the bigger rooms we've played to on the tour, consider it a highlight. We stayed next door at an AirBNB, I've got the wifi password here if you need it.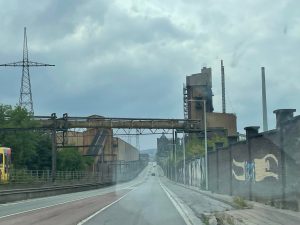 Friday night we finally graced Holland, with a show in Rotterdam at V11 - which is a boat. Very cool, we played down below the deck and you could definitely feel the weight shift from side to side every time Tyson turned on his fuzz pedal. This was a really fun show, and we got a chance to catch up with some old friends from Rotterdam and linked up with Melbourne's own Jack Golding for the night.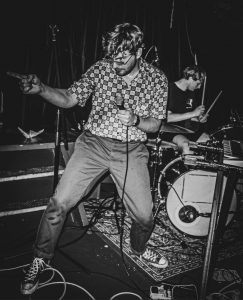 Saturday kicked off one of the most exciting, amazing, tiring and sleep deprived weekends of my life. We played at Rock Zerkegem festival in Belgium, a huge honour to be the headline act at their final ever festival. However, being the headline act means you play last - in this case we played at 12.30am. So you have to pace yourself for the entire day, which is difficult when in this case it was €1 beers all day. That's $1.50 AUD. The vibe was up all day, the crowd were loving it and the sun was out. We saw so many great bands too: Warm Exit, Tramhaus, Purrses, Kallaalit Nunaat.

We finally hit the stage right on 12.30 and the crowd were so lit. They'd been drinking $1 beers all day and it showed - they were a rowdy bunch. During the final song, I decided it would be fun to go for a crowd surf. So I jumped down to the fence line, climbed up on to the rail and beckoned for a lift up - but I lost my balance and fell backwards away from the crowd. Embarrassed, but determined to get up there, I pulled myself up and gave it another crack. This time I got up over the railing only to be dropped straight away and hit the dirt again. Fuck.

And then the song finished, so I just had to walk my way back to the stage and say goodnight. By this time it was 1.30 in the morning and we had to pack down all our equipment and load it into the van as quick as possible as we had to get back to the hotel and try get some rest because we had a 7 hour drive to France the following day. On the agenda for Sunday was Binic's Super Cathedrale Festival and we had to be there at 2PM for our load in. This meant a 7am departure from Belgium and thus begun a long day for us.

We arrived at the festival and were greeted by some of the best scenery in the world.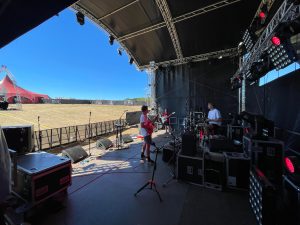 Playing alongside Beige Banquet, Jackson Reid Briggs and Stiff Richards meant that we were amongst friends for the day which made it just so much sweeter. Was also nice to speak Australian again, I've been speaking this weird, slowed-down, semi-broken English for three weeks now to try and navigate the language barrier. This show was so much fun and we had an incredible time with everyone there. It felt like the crown jewel in our already unfathomably excellent tour.

Broken string talley:
Jack - 7
Tyson - 8
Luke - 0
Tyler - 1 snare wire

Tig is making a late move on the charts, overtaking Luke for third place. Whilst Tyson and I fight for first place. If it's as warm as I think it will be this week, then we're in for an explosive race to the finish.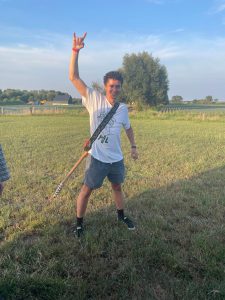 It's our final week in Europe, and we're playing in Valence & Marseille. If you're in France and you want to see us, then this is your last chance!

Also on a personal note, I'm still smashing burgers every chance I get. I've sent a pic here for any burg lovers back home to drool over.