Music / Features
At Least -
A chat with Bec Sykes
Following the release of her latest single in late June, we caught up with local singer-songwriter Bec Sykes to dig into the dreamy-folk sounds of 'At Least' and its gloriously daggy film clip.
In a relatively short period, Bec Sykes has emerged as one of the fastest rising songwriters in Melbourne's indie-folk community. Over the past couple of years, she's won the Josh Pyke partnership and Pieater Records' 'Pie School' comp, and with only a handful of releases to her name has just finished an Australian tour alongside Josh Pyke. As it turns out though, this is just the beginning - where her first two singles introduced her enthralling songcraft in its most intimate form, her latest single 'At Least' now showcases the scope of her potential against the expansive backdrop of her full band.

From the get-go, we're immersed in a tangle of chiming guitars over a restless groove, the track blossoming open with Bec's compelling vocal delivery while the band ebb and flow effortlessly around her. Passionate without force, 'At Least' comes loaded with self-assurance even if its themes are a little more turbulent, as Bec shares "'At Least' is about validating my own heavy feelings when I'm going through a dark time. It's also a pledge to listen to people when they are expressing their pain and not to dismiss them with an 'it could be worse' mentality." Plus, paired with a perfectly goofy clip that "draws influence from some of the eclectic, poorly curated and sometimes disheartening gigs", Bec and her band are able to highlight the playful edge that underpins the track even in its heavier moments.

Ahead of her single launch next Thursday at the Fringe Common Rooms, we caught up with Bec to get to know her a little better.
TJ: Hey Bec, how's it going? For the unacquainted, want to tell us a bit about yourself?

BS: Hello! I'm good thanks. I'm a singer-songwriter from the outer eastern suburbs of Melbourne/Naarm. I've been singing for as long as I can remember and I play keys and guitar. I suppose the genre I play is dream folk/indie folk with elements of pop. Melody is very central to my music.

You've just shared your new single 'At Least' - what's the story behind the new track?

I started writing this song a few years ago and then chipped away at it til it reached its current form. I wrote it when I was going through a really dark period in my life. The song is about validating my feelings and rejecting toxic positivity. To be more specific, it's partly about depression related to chronic illness. I was really struggling with the narrative that when you're going through a hard time things will "get better". The thing about chronic illness is that it often doesn't get better. The song is also about me realising that I was unconsciously partaking in toxic positivity in my relationships with my friends. That I was trying to look on the bright side instead of just being there for them and sitting with them in their pain.

It's also come paired with a really fun (and perfectly cringe-inducing) new clip, shot in your hometown Boronia. What's the story here?

So the theme of the video is the 'Boronia Talent Show'. It's basically inspired by some of the strange, poorly curated and sometimes depressing gigs I've played over the years, that I think a lot of musicians can relate to early in their career.

We shot it at The Mall in Boronia, which is an amazing 70's time capsule. The circular stage lifts out of the ground with the press of a button, which according to the centre manager, Lorry, is the only stage left of its kind in Australia. The likes of Humphrey B Bear and Kylie Minogue have performed on that very stage.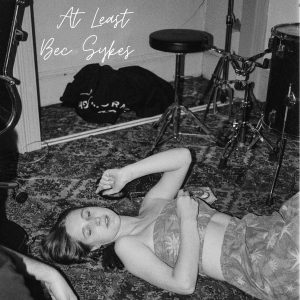 Compared to the stripped-down atmosphere of your past two singles, 'At Least' features your full band for the first time! Who's joining you on this track and what was the process of bringing this song from its original idea into its fully realised form?

So I recorded this song in Sydney with the amazing Wayne Connolly. It features Gabriel Jessop-Smith (The Nagging Doubts) on lead guitar, Patrick Matthews (Youth Group, The Vines) on bass and Nic Cecire on drums. I just went in with an acoustic demo and we had a day of pre-production arranging the band parts. Everyone brought their own sonic flavours and it morphed into this really cool happy-sad folk-pop song.

What's coming up next for Bec Sykes?

I've got my first full band show on Thursday 18th August at Fringe Common Rooms in Melbourne/Naarm. I also just bought an upright piano so I plan to do some writing. Going into the studio to record an EP is on the horizon too.

And a classic TJ question to close, what's your perfect Sunday?

Lying in bed listening to Tiny Desk concerts, a walk in the forest, then a table tennis tournament with my family.
'At Least' is out now in all the usual places. Catch Bec and her band launching the single at Fringe Common Rooms on Thursday August 18th - grab a ticket
here
.