Track by Track:
CLAMM - Care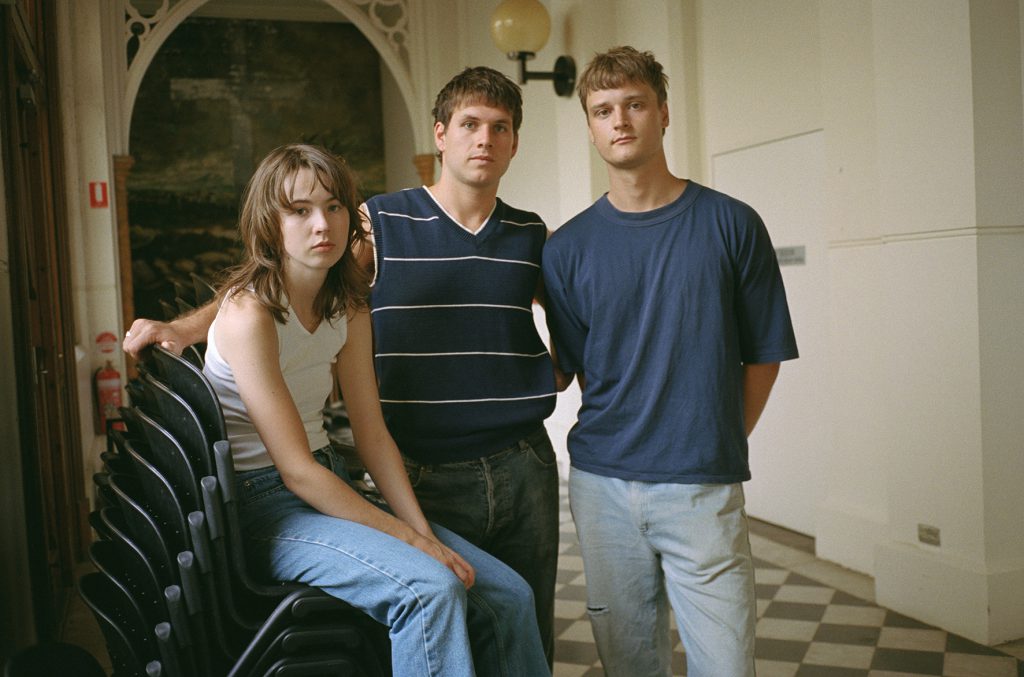 Following the release of Care last Friday, the sophomore album from punk powerhouse CLAMM, we got in touch with the band to get some intel on each scorching and scathing moment that makes up the new record.
Between the release of their debut album Beseech Me in late 2019 and Care last week, CLAMM have developed into one of the most loved bands of the Melbourne underground. The irony here is that in the space between these two albums, the band's true impact - the sheer force of their live show - was largely absent. With that in mind, Care seems to right that wrong, bottling the trio's raw power and unfiltered intensity into 40 minutes of unstoppable garage-punk.

For the most part, CLAMM operate on one of two levels on Care - fast and loud, and faster and louder. That's not to say the album lacks dynamic or flavour though; across these fifteen tracks, CLAMM constantly manage to reinvent their winning formula of pummelling drums and discordant guitar work in compelling ways, and as Jack Summer's roaring, hooky vocals begin to stack up they increasingly become more potent, his empowered lyrics effortlessly taking on the form of mantras.

The few times when this momentum does slow, as on 'Fearmonger' or amidst the noise break of 'Bit Much', it's not really a chance to catch your breathe; instead, the band are just building the tension ahead of their next swarm of fury. The trick is that by never quite letting up, there's a real sense of catharsis that emerges from the chaos, and with so much emotion poured into these tracks, the band's overwhelming force feels strangely comforting.

To help us dig into Care, Jack has kindly walked us through the album track by track.
Scheme

'Scheme' is a big track that bursts out of the gate. Simple, fast and loud like most of the tracks on the album. We thought it would be appropriate for the opening track. Its lyrics refer to capitalism's effect on our ability to love and care for one another. It's hard to have heaps of compassion when you can barely get a second to look after yourself. Heaps of people working really hard at something with little reward doesn't make for a very nice environment does it?

Bit Much

This track was our lead single and follows up from the intensity of 'Scheme', with a similar message and also features Maisie's vocals in the chorus which is great. I remember somehow coming up with the chords in the chorus and thinking it kind of sounded like Green Day but we all liked it and felt like we had to do something about it. I'm definitely happy we used it as a single, it's one of my favourites I think. The song is about the strangeness of focusing on yourself whilst being aware of the terrible things happening to people all around the world at any given moment. Feels like a strange dynamic.

Something New

Our last single before the album came out. I remember listening to heaps of Total Control when I wrote this riff. I thought it sounded like Total Control. I don't think it does now haha. I wish. Anyway, I think we love playing this track live and managed to capture the energy of the track in our recordings. It features Anna Gordon on saxophone doing a noisy thing at the end of the song. It was great to record with Anna. The lyrics came out pretty naturally when we were playing the song and seem to be about some kind of searching or yearning. It's about impatience and time.


Buy

'Buy' is another one we've been playing live for a while and I think we really love. We wanted to record it really fast. It's a bit angular. It's about how life in the city seems to be fast paced and intense. Flashing lights, shopping, drinking, trains and work all make for a fast paced style of living which seems to make time move quickly and all centre around our continued purchasing of goods and services. And it goes on and on!

Monday

Our second single 'Monday' is a track Maisie wrote and features us both singing back and forward. It was initially written pretty last second and we weren't sure how it would turn out. Maisie had to come up with lyrics and vocal melodies pretty quickly and it wound up being a single which is awesome. Maisie wrote this about the track: "'Monday' talks about the frustrations of working a job that you feel consumes your life and gives you little reward. It's a dig at those in charge, who seem to reap all the benefits without putting in the work. It's about recognising the inequality in certain aspects of the nation".


Done It Myself

Rock'n'roll riff intro leads into a charging rock song about reflection self-empowerment. I think this is one of the only songs where all of us sing the song together. Has an angular instrumental bridge in between a double chorus. I remember we all worked out we had to sing on it.

Care

The album's title track! This song sums up the album I think. It's fast, frantic and intense and underneath all of this is a message that explains that all this energy comes from a place of care and concern for human life. I think to retaliate and express discontent for things is to care because you're trying to make everything better in a way. "We can do better" or "'X' deserves better" or "could this be better?". Does that make sense? I think I'm rambling. This song has a psych rock bridge haha.

Fearmonger

'Fearmonger' has a slow, doomy and drawn out intro. It's where you can tell we were listening to a bit of Sleep in lockdown. I love Sleep. It's about the media spreading fear. I don't really trust news outlets. Watching the news on any of the main TV channels makes me feel WEIRD in my body. I don't trust privately owned mass media outlets.

Global

A really short song written about Scott Morrison ignoring climate change. He and his party got voted out as a result! This song is one of the oldest on the album. I think from memory we were talking about not including it but I think one of us liked it.

NRG

This track is exhilarating and includes a lot of Nao Anzai on synth and Anna Gordon on sax. This might be the only song on the album that is really hard to play live without the help from our extended band members. It's fun and repetitive and continues to build and build.

That Way

Bit of a heavy hitter I think. The song is about facing challenges but not being able to compare them to other people's situations, possibly a bit like 'Bit Much'. It's a weird one because some people seem to minimise their own experience because other people are going through things that are 'worse', and I'm not really sure I agree with it. But then I guess it can be strange to be feeling like things in your life are heavy and then imagining how some people have it. The song asks the question 'Why does it have to be this way?'. It was written a long time ago now, I think my thoughts on it all have changed but I guess that's for another time.

I Can Do It

Another track that was one of the first written for the album and was being played live before we recorded it. Think it's in a time signature that isn't 4/4. It is about overthinking and then realising that it's actually ok. Originally it was half the time that we recorded it but we decided to just play the song twice cause it felt a bit awkward how it was. I always forget how to play it live for some reason.

Make Time

Another one where I love to sing with Maisie. About making time for yourself despite the pressure to constantly work.

Incompetence

Another song written under the rule of Scott Morrison. Need I say more. Alludes to the incapabilities of our elected representatives who are supposed to represent our wants and needs among other things.

Symphony

Another old song we've been playing for a while. Has got a really weird boppy bridge bit. I still haven't worked out what the lyrics mean. Because we played it live so much I had to come up with some kind of lyrics and eventually wound up singing the exact same thing every time. None of it made sense, but I guess that makes sense in its own way.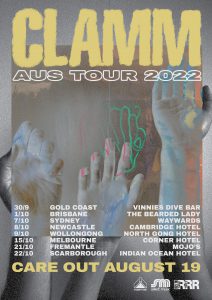 Care
is out now via
Chapter Music
- head to
clammxo.bandcamp.com
to purchase the album on limited clear vinyl. CLAMM are playing around Australia through late September and October.