Music / Features
Pinch Points take on the world (EU/UK edition)
Part 1
With Melbourne/Naarm post-punk heroes Pinch Points currently far from home and tearing through Europe and the UK, we ordered the band to keep us updated. The sweethearts that they are, they didn't need any convincing.

Come along for the ride with part one of their tour diary!
The first third of our tour has passed and things have gone splendidly with no major hiccups so far. The shows have been huge on the whole! We've been waiting two years to get to this part of the world and to be met with such enthusiastic music lovers is just amazing.


Wed 24 Aug
Hej! We arrived bright and early in Copenhagen on a pearler of a day. Found out Acacia's bass was missing and never made it onto the plane out of Melbourne. The friendly airport staff arranged to have it on the next flight and handed over 500 Danish Kroner of "cash money. It's quite a lot" (their words) in compensation. Walked over 20kms exploring that first day. Getting a lovely vibe; pristine weather and nice quiet suburbs. Jordan's fantasising about living here and cycling everywhere. Checked out the city centre and Nyhavn. Had dinner at Gråbrødretorv and a homesick Aussie chef heard our accents and kindly gave us lots of free food and culinary recommendations. Also there was a huge cow on a spit getting smoked in the city square. 

Thu 25 Aug
Played our first show at Loppen in Christiania (a commune which began as a squat in the '70s). The venue had a wild hand-operated elevator cage to lug the gear up to the stage. We got to explore the area a bit before the show, including the huge wooden indoor skate bowl, market area with stall holders selling their wares. Played with Swash, who are lovely, talented blokes. And got to meet our biggest Danish fan, Kasper! 

Fri 26 Aug
Operation: Rescue The Bass was a success! After a little airport pleading the staff (and baggage gods) answered our prayers and escorted Adam through to baggage claim, bypassing security. Phew.

Onwards toward the ferry which crossed the choppy Baltic to Germany and we rolled into Hafenklang in Hamburg for Get Lost Fest. Got settled into our bunks in the big band dorm we were sharing with UK post-punks Powerplant. We were buzzing to play 'cos the fest was sold out and we'd had too many Flora Power Mate drinks (not knowing the punch they packed in the caffeine department…) Had a great time performing to a packed room and loved getting to meet lots of friendly folk afterwards. 


| Photo by Baby Lemonade | Nice shirt Jordy |
| --- | --- |
Sat 27 Aug
Woke up to Adam nowhere to be found and not picking up his phone so we became detectives for the morning to hunt him down with the help of Marian from Lassie. "Roll a D20 to find your guitarist", he joked. Once the cheeky bugger was collected we set off for Berlin. The venue Autobahn was a volunteer-run DIY space high up in an industrial building. Lugged our gear up the five flights of stairs and sound checked. It was another awesome, sold out show with Lassie, Powerplant and more great bands. It was a real hot one; by the end of Powerplant's set the whole room was soaked and the ceiling dripping. It was great to have our Melbourne mates Eve, Zev, Jesse and Shelby with us too. (Side note: us Aussies are frustrated by the recurring lukewarm beer but big fans of Radler and Mate. Also, constant smoking indoors at venues is weirding us out). After the show finally wrapped Jordan joined Shelby and Jesse for an all-night clubbing adventure.

Sun 28 Aug
Off to Leipzig to play another DIY venue Gleiserei, for another show with besties Lassie and Powerplant, with our Aussie mates in tow. It was a great crowd and space. We had a blast dancing to the other bands. We stayed at Lassie's bassist Fritz's house 'The Ranch' which is in a trailer park-type property, with trailer homes being built in the yard.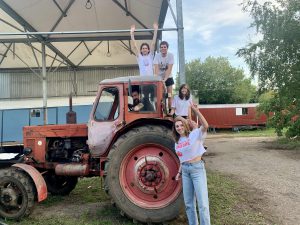 Mon 29 Aug
A day off!! We enjoyed a lazy morning and a brekky feast of frittata, homemade hummus, wurst and other delicacies thanks to Fritz and co. Headed to Kulkwitzer lake with aforementioned Melb pals and found a nice little spot where we weren't intruding on any nudists and went for a dip. Highly recommend spending your day off like this. Had a beaut night cooking tabouleh, drinking beer and sharing stories with some of the Lassie crew. Germany was awesome. The punk scene there is so passionate and caring and we were super privileged to be welcomed into that space.

Tue 30 Aug
Off to Prague in Czech Republic today. Made a quick stop off in the Leipzig city centre to pop into Bach's cathedral before we hit the road. Some warm hugs and goodbyes to our Aussie mates too. Got to MeetFactory, which was a very cool venue with pink cars suspended on walls, a gallery, a band apartment and a parrot. We played in a small outdoor space down the side under a highway. They served us an epic dinner of dahl, rice with roast carrots and beans, toasted sunflower seeds and coconut garnish with a side of fresh golden berries. Plus, the beer was on tap and cold!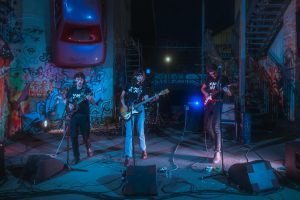 Wed 31 Aug
Had a long-ish drive to Kreuzlingen with an extended stop at the Swiss border to declare our merchandise. Horst Klub is sick! It has a skate bowl and ramps, and a custom-made eight-person bunk room upstairs which hosts many imaginative drawings of human anatomy as well as memories of other Aussie bands such as Vintage Crop and EXEK (their infamous van rolling incident memorialised in sharpie). The community there was really dedicated. You could tell there wasn't another similar space for many kilometres. Dr Sure's are heading there soon! Loving talking to people about other Aus bands that've been through or are heading up soon.


| | |
| --- | --- |
Thurs 1 Sept
Visited neighbouring city Konstanz then drove to a little town in the Black Forest where we were staying for our night off. We were greeted by our host Wolfgang who looked up our music video on his iPad and insisted on watching the whole thing in silence with us sitting around the table, before he proceeded to begin the longest check-in of all time. "Oh you are musicians? I have to know this. Do you play traditional or pop?" he asked. Had an epic homemade risotto at the lodge, made by our tour driver (and all-round legend) Marco.

Friday 2 Sept
Drove a few hours down to Freiburg in Germany and played the first show at Slow Club after they returned from summer break. Following an interview at one of Germany's oldest community stations Radio Dreyeckland we had another lovely home cooked meal and then sold out the venue! Adam finally broke a string. It was great meeting Ingrid who had been listening to Bright Lights on RRR that arvo and had just subscribed during Radiothon!


Onwards to the UK after we play Lyon! Spirits are high and we've been soaking up the sun, friendship, beers and overpriced petrol station sandwiches. Thanks for reading. -PP HQ xxx