Track by Track:
The Frowning Clouds -
Gospel Sounds & More from the Church of Scientology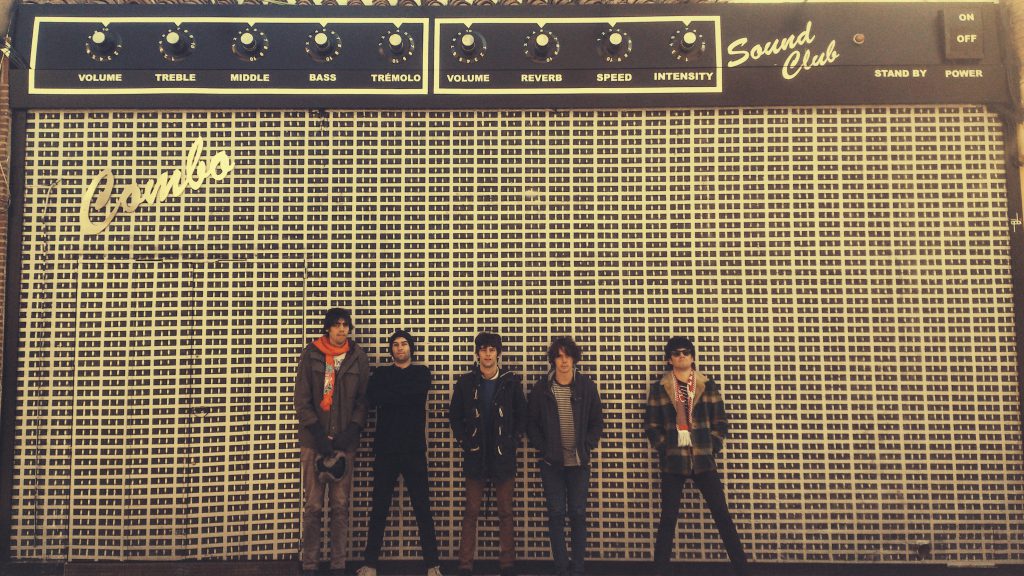 Following the release of Gospel Sounds & More from the Church of Scientology - a collection of unreleased gems from cult garage-rockers The Frowning Clouds via the unstoppable Anti Fade Records - we caught up with Zak, Nick and Jake from the band to get the stories behind the tracks ten years on.
If you're a fan of Australian rock 'n' roll and you're not on top of The Frowning Clouds, you've got some homework to do. The group seemingly kickstarted a scene (or dare I say generation) of local garage and punk, originally throughout Geelong before seeping out into the rest of Aus. Recorded around 2012, this new collection of songs has been described as the second album that never came out; while their true second album Whereabouts was released in 2013, Gospel Sounds… catches the band at the top of their garage/RnB game before they began journeying down the rabbit hole on later releases.

Over its 14 tracks, Gospel Sounds… feels more like a companion to the Clouds' debut album Listen Closelier, a record incredibly faithful in its adaption of 60's beat music. However, across the listen, we can hear the band growing more self-assured and a little frivolous as they toy with classic sounding garage gems - they make it look easy as each track comes loaded with character, charm and plenty of hooks. From the groovy jangle of 'Guess Again', to the riotous 'All Night Long' and onto the lopsided charisma of 'Bad Vibes', Gospel Sounds… is remarkably all-killer no-filler for an album of supposed B-sides.

Now ten years of, Zak, Nick and Jake from the Frowning Clouds have taken a walk down memory lane with a track by track for us below.
Not The Fool

Zak: One of Nick's, good bridge. Nick's bridges are legit. We used to make lots of songs about boy/girl scenarios, then we were embarrassed by it, but now I'm glad we did. It's better than songs about footy or junk food or being bored.

Guess Again

Zak: Another stacked bridge, there's enough chords in this one for five different songs.

Thought About Her

Zak: Maybe my favourite one on this whole LP, not sure why we never released it at the time. I like how the riff interacts with the chords.

Nick: I was at Zak's in the driveway and overheard what I thought was the riff, but when I went inside and checked what the song was the riff was way different. Freebie!

The Grass is Greener (Further Still)

Nick: My songs around this time, the lyrics weren't really important, just to fill a melody with the right amount of syllables and it really shows haha.

Zak: This was a staple in the set for a long time. Fun to pay and Daff's got the solo from hell.

Jake: Nick demonstrating that nobody else has a better ear for melody or writing bridges.

Picking Room

Nick: I was working in a warehouse and they kept trying to get more and more and more hours out of me. I found a way to cheat their performance monitor system if you just turn the scanner off between your task it made it look like you were doing more haha.

Zak: I remember making this riff/lead break on acid at this disaster festival we played. I thought it was so crazy at the time but the next day I realised it was pretty standard. Nick's song about the 9-5 hustle.

Sea Partner

Nick: Definitely knee deep in a hard days night phase via some gypsy fist pump.

Zak: Another one I like and don't know why we didn't put on Whereabouts. Reminds me of The Hollies which can only be a good thing.

Stream Two

Zak: A goofy Louie Louie type song about being an anxious teen on Centrelink. I really needed someone to come and smack some sense into me back then, teenagers think they're special, especially teenagers in bands.

Nick: Especially enjoyed everyone doing the doo-woppy gang vocals when we recorded this.

Stick Fight

Zak: We had a photoshoot for a record cover at this nude beach down past Geelong. It's got an unusual landscape, looks like another planet. Once the shoot was done we started throwing sand at each other and in typical fashion it got more and more out of hand. By the end we were throwing fist sized rocks and large sticks, barely missing each other. This instrumental was named after that incident.

Jake: I'm pretty sure Daff ended up with a stick through his leg - am I remembering this correctly?

All Night Long

Zak: Nick and Jake wrote this one in a fury one morning. I think we just wanted a fun garage one to throw in the set. It's hard play this one without really digging in. Owen nailed this recording and I dare say its one of the greatest Oz garage 7"s of all time haha. I can say that because I didn't play on it.

Jake: Nick and I were hanging out at his mum's place in Grovedale listening to World Beaters comps. It was the first time I heard 'Walk One Way' by The Lost Tribe. What a tune. Nick showed me the bare bones of this new song he was working on and we fleshed it out between listening to the comps.

Nick: I felt like I cheated because the verse and the chorus have the same chord progression which made it easy as. Simple is always best. I was in the courting phase and hoping maybe this would seal the deal for me. Hi Tess.


A Dame A Dozen

Zak: Typical garage 7 minor key flip side for 'All Night Long'.

Jake: Zak is selling himself short. Could have been a double A side. A minor is probably my favourite chord and this song makes good use of it.

Nick: It was fun recording this in a tiny little kitchen very fun. I really like the lyrics

Open Your Eyes

Zak: This was never released at the time because of its striking resemblance to another 60s garage staple. If ya know ya know, if ya don't, ya wont.

Nick: This is with Wishy on drums, we were so anal about nuances of drum beats and felt like he didn't really nail those whip crack surf drum fills but now I think it's perfect, I like the absence of busy fills.

Propellers

Zak: Sometimes a band can start feeling stale and you need a something fresh to kick it in the ass again. Thats what it felt like when Nick showed us this one.

Nick: I remember having a sook because I got stuck on a part and went and laid facedown on the concrete out the back haha, inspiration is mysterious. I think it's my only guitar solo in the Clouds.

Bad Vibes

Zak: Jake's garage staple. When we played it live he used to change the words to all sorts of things that I couldn't type out here for fear of jail time.

Jake: In Geelong in 2012 everybody always said catch phrases like "fried" and "bad vibes" to describe something bad or whacky. Thought I'd jump on the band wagon.

Nick: Ironically this song has a great vibe! One of my favourites to play.

If You're Half Then I'll Make You A Whole

Zak: Daff's riff I think. Always kind of reminded me of the song on the Panadol ads.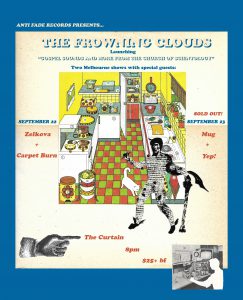 Gospel Sounds & More from the Church of Scientology
is out now via
Anti Fade Records
- head to
thefrowningclouds.bandcamp.com
to pick up the album on limited vinyl.
The Frowning Clouds have just announced a second launch show at The Curtin on Thursday September 22nd with Zelkova and Carpet Burn - tickets available
here
- ahead of their sold out show with Mug and Yep! on Friday September 23rd.