Music / Premieres
Video Premiere:
Slag Queens - Excuses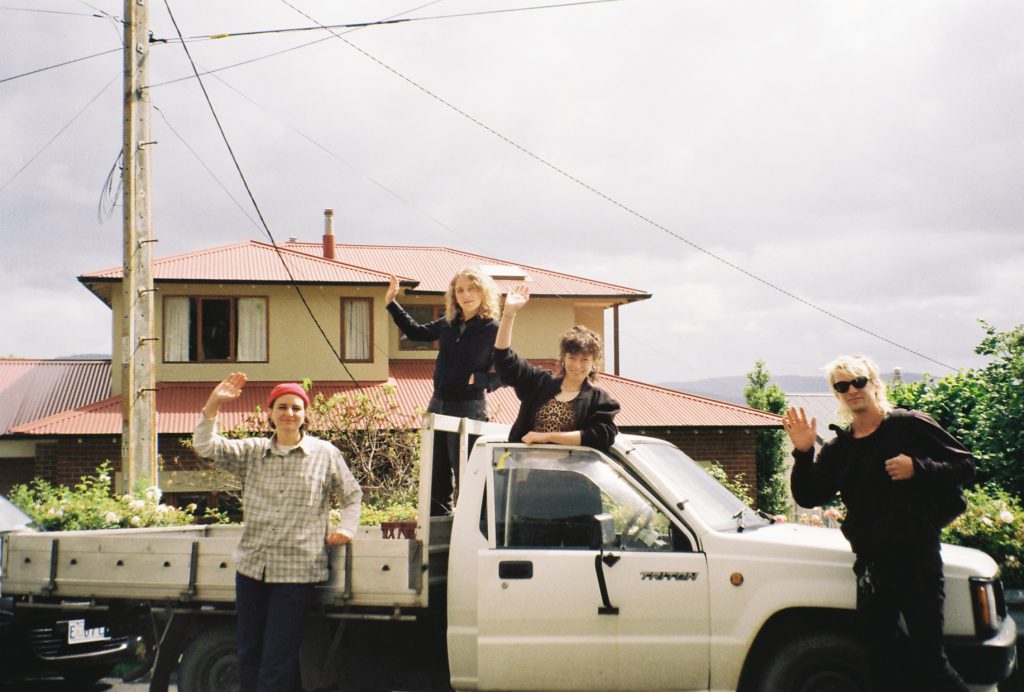 Alongside the release of nipaluna/Hobart group Slag Queens' sophomore album Favours today, we've got the pleasure of sharing a first look at the new clip for 'Excuses', an album highlight that reimagines their grimy post-punk sound with an alluring visual accompaniment.
Three years on from the release of Slag Queens' debut album You Can't Go Out Like That, the Tasmanian four-piece have returned with Favours. Although building sonically on the sounds of their first release, this album marks a new era for the band - the project on a whole has migrated from Launceston to nipaluna/Hobart, and founding members Lucinda Shannon and Claire Johnston are now joined by newcomers Amber Perez-Wright and Wesley Miles.

That's still not the most impactful change on this collection of songs though, as vocalist and bassist Lucinda Shannon shares "Sadly, while reading through my lyrics today with a compassionate eye I can feel the exhaustion and pessimism that's been the wallpaper since 2020. I see it as a sense of claustrophobia at living in a shrinking world. This shrinking has sent me (and I doubt I am alone here) inward."

To coincide with the album's release, the band have shared a new clip for 'Excuses' today, an album highlight that amalgamates Slag Queens' strengths across Favours. Led by a minimal programmed beat and the sluggish chug of a bass guitar, the track expands around Lucinda's biting vocals, loaded with acidity and weariness equally. Like the track, the new clip cleverly continues to unfold open, with each new development providing added context to what's come before, making for a watch the feels darkly surreal. Against the music of 'Excuses' though, the clip feels especially poker-faced; never quite revealing whether it's absurdist or sombre, while in turn, the band's lethargic performances become all the more gripping.
Favours
is out everywhere today via
Rough Skies Records
- head to
roughskiesrecords.bandcamp.com
to purchase the album on limited edition vinyl.
Slag Queens are celebrating the release with a string of shows around the country:
Friday 21/10 The Royal Oak, Launceston (TAS) supporting Bad//Dreems
Saturday 22/10 The Republic Bar, nipaluna/Hobart (TAS) supporting Bad//Dreems with RABBIT
Saturday 29/10 The Polish Club, nipaluna/Hobart (TAS) Album Launch with All The Weathers, 208L Containers & Blue Screen of Death
Friday 18/11, Sydney (NSW)
Saturday 19/11, Dicey Riley's Wollongong (NSW)
Friday 25/11, The Cactus Room, Thornbury (VIC) with Carpet Burn, The Sprouts & Tuffy
Saturday 26/11, The Retreat Hotel, Brunswick (VIC)
@slagqueens
Photo by Isabelle Gander
Clip by Keith Deverell