Track by Track:
Double Vanity - Love to Leave You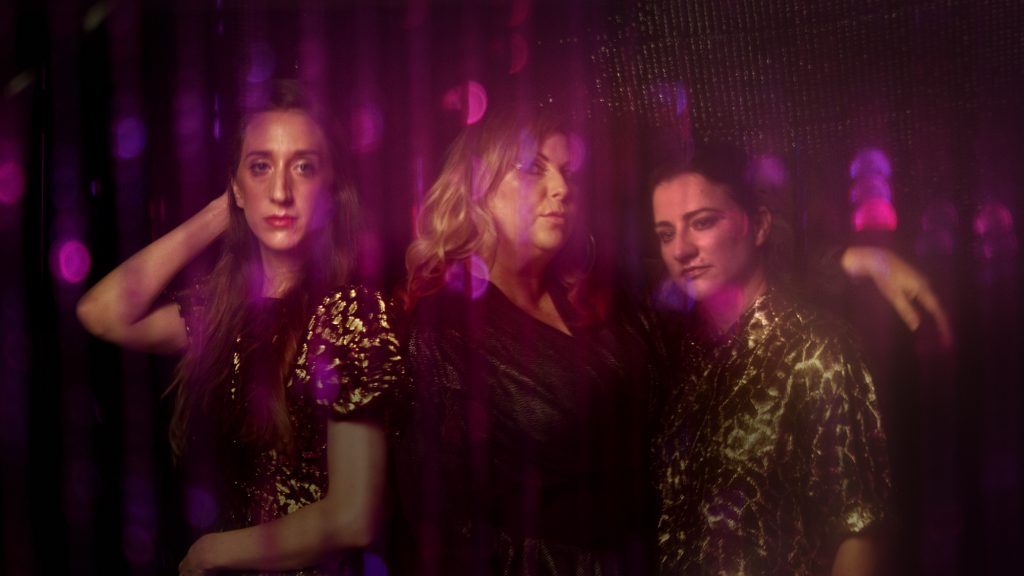 Following the release of their debut album at the end of last month, we caught up with Melbourne/Naarm's cult synthwave trio Double Vanity to delve into the glamorous dreamscapes of Love to Leave You.
Since the trio's arrival in 2020, Double Vanity have effortlessly stood out from the crowd with an immersive and genre-bending brand of synth-wave and disco. By combining an eclectic soundscape of pulsing rhythms with raw, idiosyncratic vocals, their debut album Love to Leave You expertly showcases the band's shapeshifting sound and mood-evoking prowess.

From beginning to end, Love to Leave You is shrouded in a dream-like atmosphere, as walls of lush harmonies and lead singer Zec Zechner's soothingly cragged vocals coat each track with a hazy, ethereal tinge. On the opening track 'Observatory I', Zec's vocals reverberate over a murky backdrop of slinking bass and pulsing drums, before their debut single 'Double Vanity' abruptly shifts the sedated tone with waves of jangly guitars and lingering synths.

Alike to the haunting charm of a siren-call, the pulsating harmonies and flurry of shrieks on 'On Bland' and the hushed whispers within 'What Are Your Numbers?' feel immensely phantasmal and unnervingly enchanting. We're submerged further by the combination of swelling synthesisers and emotionally vigorous vocals on singles 'Escalator' and 'Night Move', drawing us into an alluringly anomalous dreamscape before the record rounds out with the electronica-induced 'Observatory II'. As we depart Love to Leave You, we're left with a confusing and ecstatic feeling of having just experienced a beguilingly strange and bizarre new world.

To help us get to know the enthralling and intricate world of Love to Leave You, Double Vanity have walked us through the album track by track.
Observatory I + Observatory II

We top and tailed the entry and departure points of our album Love To Leave You with 'Observatory' I and II. The first beckoning us up to a floating point higher and higher where we can look down and look back and question our memories and stories. A clarity is promised amidst the misty-eyed smoke screen en route to reclaiming our perspective. But the looking glass is starting to crack.

'Observatory II' is a much starker and brutal vision, a clear-eyed reflection. Sometimes there are no answers and no resolutions. It's a heavy, heartbreaking statement of memory and nostalgia and escape from a real-life suburban fever dream. There were tears in the studio for these takes. It's not something we'll play live often. It's recorded in an alien, tech-layered way to create a distance between subject and listener, removing it from the harsh reality it depicts.

Double Vanity

A vaseline lense captures the whirl of subconscious perfection seeking, unravelling to insanity. Consumerism, feminism, perfectionism, hedonism, tokenism. A mansion of porcelain, marble, ceramic tile, hardwood, granite benchtops torpedoing into a dystopian doomsday. She's lost control (again)?

Mercury In Retrograde

A breakdown in communication and technology. Ghostly spectres, that hum to us through walls, in the wiring and the wifi. Inviting the listener to expose their wiring and to effectively assimilate and join the wireframe. This song is full of ghosts, tricks of the mind and movements in the corner of your eye. Did that light flash? Did that painting move? Is the thermostat broken? Is a floating dandelion a sign?

On Bland

Identity, theft and the masquerade of the personal brand. The personal blah blah bland, everyone is a marketing expert and life is in 'always on' mode. We're blending our foundation, our make-up, trying on new personas every day to become an 'individual' but we are sadly, one big melting pot of homogenised beige puree. There's a lyric in there too "Typical, analytical, let it go" - an ode to The Slits famous single 'Typical Girls' honouring a true original, Ari Up.

What Are Your Numbers?

The classic conundrum. Are we in control or is new tech winning? Are we the gamechangers? Who are the curators and gatekeepers of technology and of the music industry. "What are your numbers?" Labels blocking album releases if the Tik Tok isn't viral. Who's listening to the art and to the song? We are literally 'instrumental' as musicians, we are open-source, opening our hearts, we're the content management systems. We see and speak the truths around us, and that is our role. Our limbs are outstretched, and the gatekeepers continue emulating perpetual straight, white masculinity. They are broken dream investors, more invisible than ever behind the algorithm. Slay to the algorithm. Let's Dance.

Escalator

A meditation. A dream. On a swing seat, eyes closed, travelling in time, in between arrival and departure. A soul flying free and not wanting to come back down. Unhinged. Choosing a different realm to exist in. Escalating.

Night Moves

We enjoyed someone else referring to this song as a synth crooner and we also completely cherished and tuned in the work of Julee Cruise while making it and were stunned that she died the week of its release. 'Night Moves' is a trip into 2062, where a nuclear storm is endlessly roaring outside the window, and a single thirty-something A.I. House Bot, in kitchen apron and platinum blonde hair is burning the dinner and swirling on the kitchen linoleum in the smoke with implanted memories of the long-lost dancefloor. Alexa burning down the house.


Feel It Moving
Living with and through an invisible illness. Music and art to melt the day away. Battling the mind and body and choosing to get up everyday and breath in and out. Written and recorded before the pandemic made us all question the interrelation of the health of our mind and body.
Beauty Weaponised
'Beauty Weaponised' was sparked when posed the question: What does beauty mean to you? Zec, was being interviewed on camera by F.C.K - a legendary local hip hop artist who was filming their 'Fightin On' clip (find
here
). The question permeated into this song. The answer was an amalgamation of memory and tactile tales. A jumper made from wool your mother made herself, a patchwork quilt, a fleeting landscape, an explosion of colour across the sky. What does beauty mean to you?