Events
Meredith 30 in 30 minutes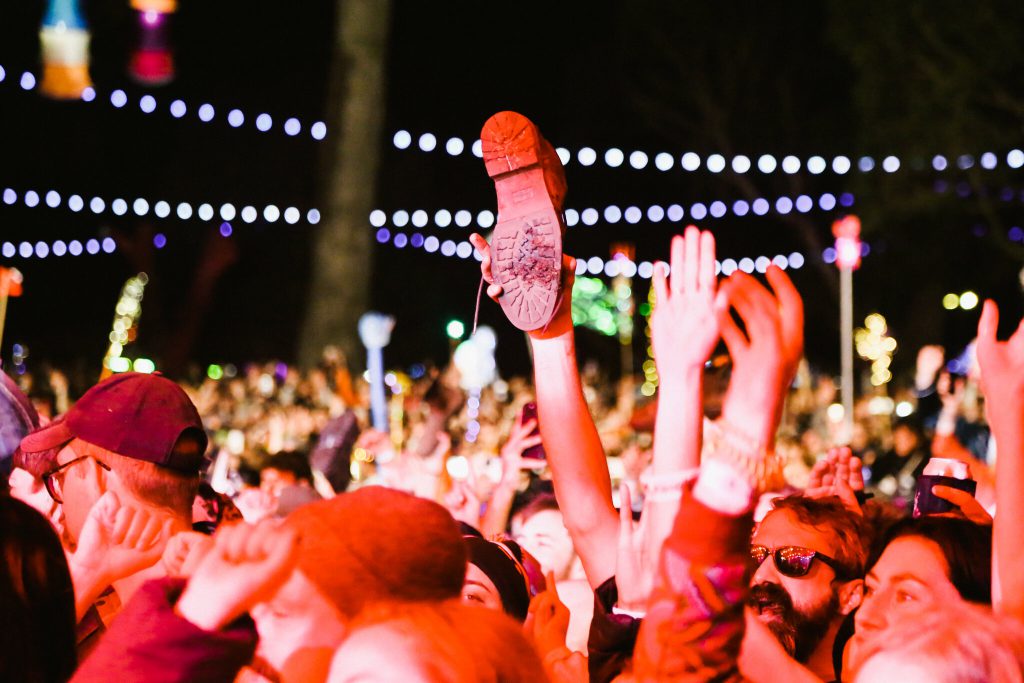 Even at the best of times, it's not easy to articulate the wondrous beauty and chaos that is Meredith Music Festival. It's even more difficult when you've just been spat back out of the Supernatural Amphitheatre, its transcendental powers having just done their majestic best to you and 12,000 others. To paint a picture of the best weekend of the year, we've broken Meredith 30 down to its rawest elements, one minute at a time in all its glory.
Day 1


10.44am - Arrival

It might've been a good two and a half years since our last visit, but as we roll back into the festival site, it feels like we'd barely left. With the sun shining, the volunteers in high spirits and the wind turbines waving hello like old friends, it becomes immediately clear that we're on for something special this weekend.

11.52am - First sips

While some braver festival-goers often like to get into their first drinks before they've even hit the road, this year I took a classier approach. Once tents are up and the campsite has taken shape, there isn't all that much left to do but crack in. Not even midday yet.

1.42pm - The calm before the storm

There's not much else like cruising around the site before the mayhem has really kicked off, getting reacquainted with all the magical bits and pieces that makes Meredith what it is before things start to get a little foggier. It's also a great time to bump into friends that you'll somehow not see again for the rest of the festival.

3.20pm - Welcome to Country

The countdown is over and Uncle Barry Gilson graciously welcomes us back to beautiful Wadawurrung Country. There's an undeniable buzz in the air as we're reminded how lucky we are to be here.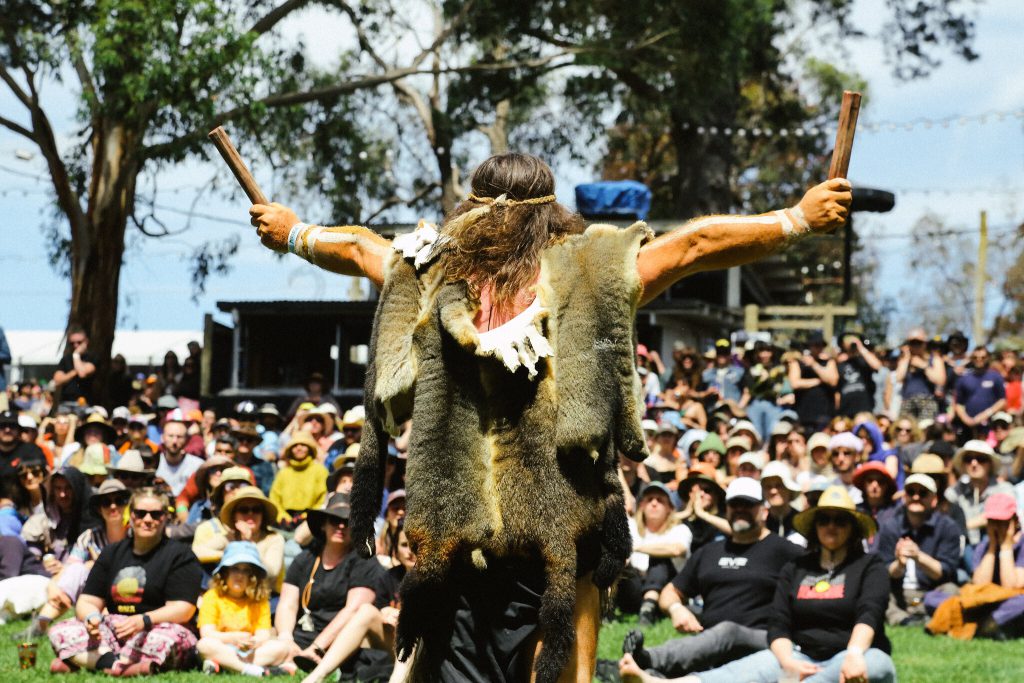 4.27pm - Rot TV

It's rock o'clock and Rot TV are tearing up the 'Sup with their blend of relentless garage-punk and hooky power-pop. Despite the fact they've been tasked with bringing Meredith back to life after three years off, 'Ready To Die' hits hard.

5.15pm - Surprise Chef

With the initial rush of excitement over, Surprise Chef's groove-heavy take on instrumental soul sets the perfect mood as the crowd settles in for the long haul. Out of their beloved 3058 postcode and into 3333, all six members are beaming.

6.30pm - Tasman Keith

Wearing traditional body paint and a black cowboy hat, Tasman Keith takes control over the 'Sup, winning over a legion of new fans with his unique brand of hip-hop and an effortless charisma.

7.10pm - Minami Deutsch

They'd been at the top of my list of acts to check out and Japanese krautrock group Minami Deutsch more than delivered, as their inventive and shapeshifting psychedelia stretched out enigmatically around us. Not too dissimilar from the night that was about to stretch out around us.

8.39pm - Sunset

Hmm, I missed the sunset. Mental note to catch it tomorrow night.


9.40pm - Munchin'

Time to fuel up. A satay roti wrap does the job just fine.

11.20pm - Yothu Yindi

It's nighttime now and Yothu Yindi are taking the festivities to a new kind of special - not just anthemic and legendary, but completely euphoric. When they burst into 'Treaty', the band ignite the crowd in a way that not many acts can.

12.33am - The Comet Is Coming

Damn, it's party-time but never like this before. Sitting somewhere between electronica, free jazz and freaky psychedelia, The Comet Is Coming cast a spell over us all and it's absolutely wild. It says a lot that even in the 'Sup, this band managed to sound this supernatural.

1.45am - Pink Flamingos

Wander into the Pink Flamingos Bar at this time on Friday night and you're guaranteed to find someone you know. The stars align and it tastes good.

2.50am - Day 1 done

After BIG WETT manages to inspire even the most debaucherous of festival goers, I admit defeat and stumble to bed. I write a note in my phone that says "I saw everyone". This is simply not true, but I've had a great crack.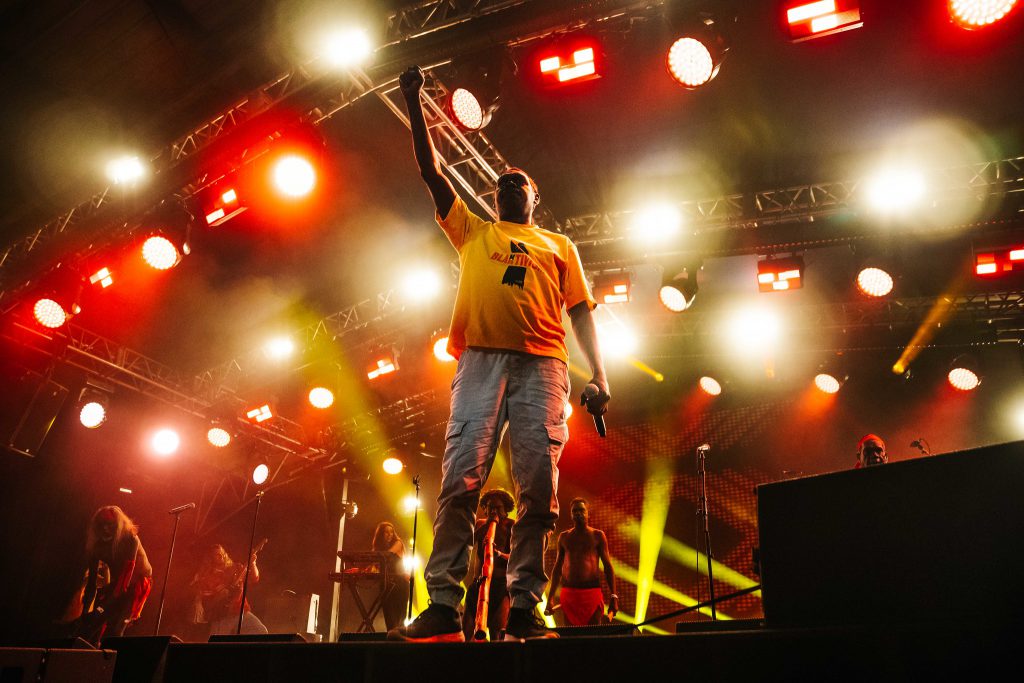 Day 2


8.17am - Wake up

How do tents get so hot in the morning? I am suddenly awake and I'm ready for day two. And I must get out of this tent immediately.

9.30am - Campsite chats

Someone at our site tells us that you can't get hungover at Meredith. As in, your body physically rejects a hangover. I cannot confirm or deny this.

10.15am - Tucker Tent (attempt)

I head down to the International Food Court to treat myself to an egg roll and a coffee, an absolute staple of any trip to Meredith. The line shakes me to my core. I go back to my campsite and make myself a pita bread wrap with hummus. The Tucker Tent hasn't seen the last of me though.

11.07am - Snowy Band

Local favourites Snowy Band bring us back to life, their intimate brand of indie-rock sounding bolder than ever on the Meredith stage. Before playing 'Never Change', Snowy tells the crowd that the song was the "undisputed number one song of 2020". He clearly didn't read Trouble Juice's Top 50 tracks of 2020.


| | |
| --- | --- |
1.15pm - Our Carlson

The spiritual leader of Melbourne's underground, Our Carlson hits the stage with all guns blazing, his ocker take on techno instantly revitalising fans and winning over newcomers. As always, Carlson is hilarious and defiant, and in the 'Sup, he's completely commanding. Plus, with DJ Cash Daddy bringing the thunder from behind the decks, the pair put on a show that no one is likely to forget.

2.35pm - CLAMM

As one of Melbourne's most exciting punk bands in recent years, CLAMM's performance in the 'Sup seemed almost predetermined and the hometown heroes show up in a big way this afternoon. Despite their unassuming presence (save for bassist Maisie Everett's killer sunglasses and hat combo), the trio served up a blistering set, and when they are joined by a synthesiser player and two saxophonists for their final sprint of songs, the group seemed entirely unstoppable.

4.25pm - Shower

I've never had a shower before at Meredith or Golden Plains, but it made for a very nice Saturday afternoon treat. I'm feeling refreshed, revitalised and ready for the big final night that is about to come.

5.37pm - Nu Genea

As expected, we've spent a good stint of the afternoon fucking around at the campsite, which means it's imperative we get back down to the 'Sup for a boogie before the day gets too far away from us. Fortunately, Italo party-starters Nu Genea have us sorted beyond a doubt, their disco-funk giving us a well-needed nudge towards the dancefloor as dusk starts to fall.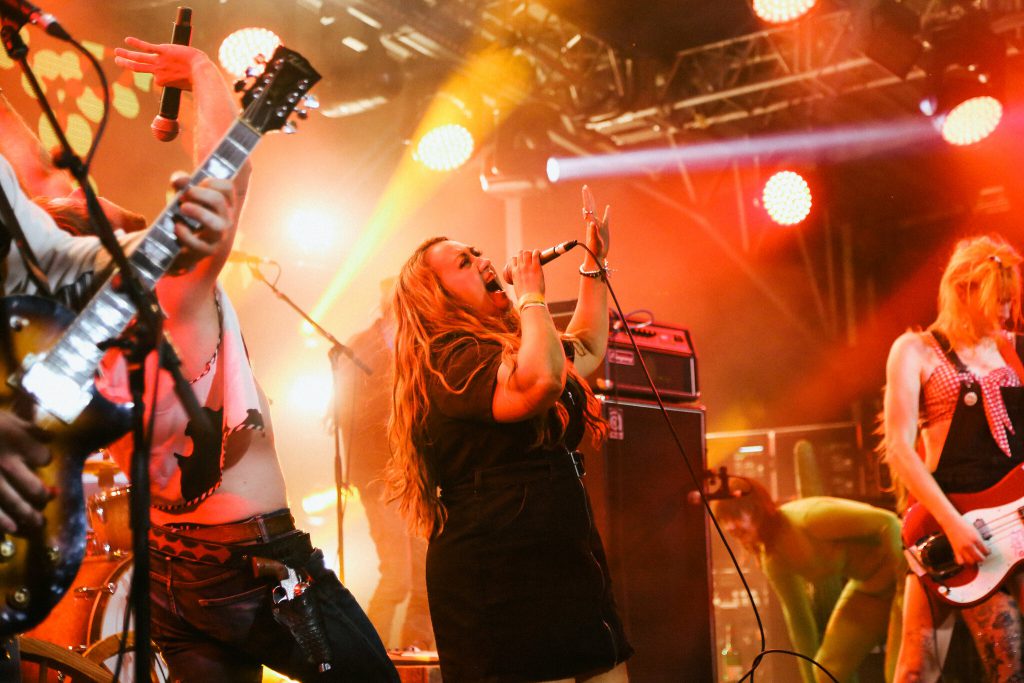 9.30pm - Private Function

I'm not going to lie, Private Function weren't at the top of my list to catch this Meredith, but somehow the Melbourne punks served up one of the most memorable and absurdly spectacular sets of the entire festival. I might've missed the sunset again, but I can guarantee it couldn't have been anywhere near as radiant as it was when Joanne joined the band for 'Jackie' to round out their monumental performance.

1.05am - Light show

At this point during the festival, time starts to move differently, and when you mix that in with a couple more Pink Flamingos and an hour of Caribou, it's understandable that things are gonna be a little blurry. Fortunately, some smoke and lasers shooting across the Meredith sky can bring even the most stray punters back to earth.

2.15am - Daphni

Daphni's invigorating electronica makes for the perfect soundtrack for me to discover moves I didn't know I had on the dancefloor.

??? - Bedtime

It's been a lot of fun but my body must rest.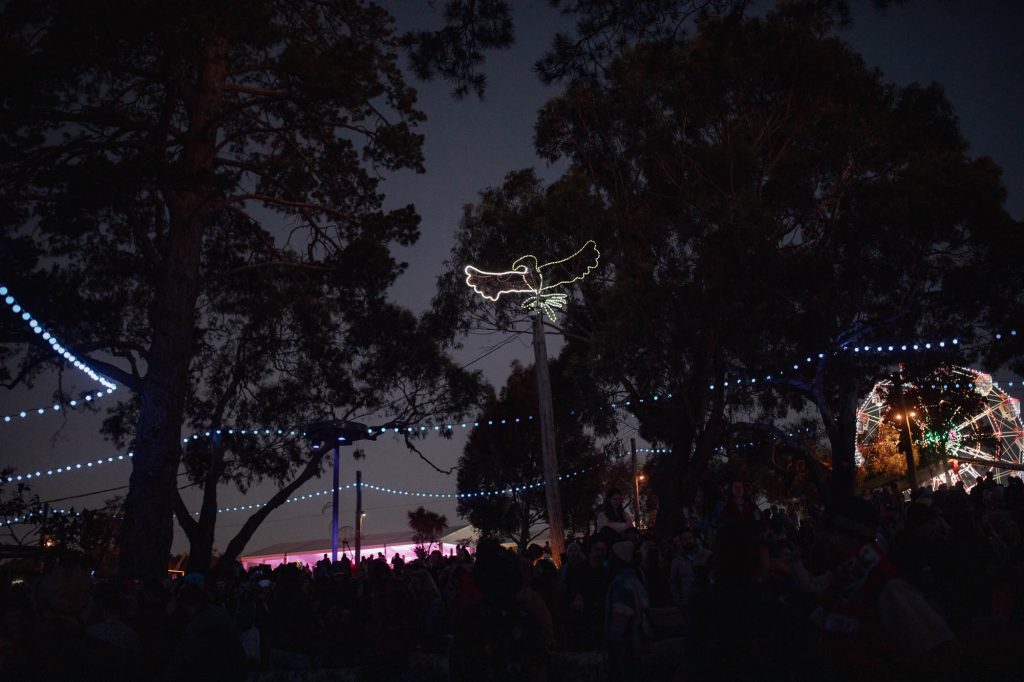 Day 3


10.20am - Lou

There's a few fragile heads floating around on the final morning of Meredith 30, and Lou's blend of serene guitarwork and ambient excursions welcome us gently into the day. I've managed to score some pizza and a coffee from the International Food Court, and Lou's set helps everything go down that little bit easier.

12.15pm - Michael Beach

Michael Beach hits the stage for one of the final sets of the day, and Melbourne's adopted son of rock 'n' roll looks triumphant. When Mike and the band charge into the propulsive 'Irregardless', they draw an energy from the crowd that many of us didn't realise we still had.

2.30pm - The Meredith Gift

The Gift is what it is, I'm not explaining this one.

5.14pm - Take me home

After two and a half days of glorious weather, it begins to rain right as Smooch finish the final set of the 30th Meredith Music Festival, almost like it had been planned. There's some traffic hold ups though, which means a few of us are stranded waiting for our lifts home, and in true Meredith style, the remaining staff and volunteers make no effort to hurry us out. When my bus home finally arrives, it feels like a blessing… but I know it won't be long until I'm itching to return to the Supernatural Amphitheatre.