Music / Premieres
Video Premiere:
Hearts and Rockets x Skink Tank split 7"
Following their split 7" release in late November through Psychic Hysteria, today local favourites Hearts and Rockets and Skink Tank are back with two new video clips, both serving up an extra dollop of each band's spirited punk attitude and scrappy charm.
On the A-side of the 7" comes Hearts and Rockets' latest blitz 'Clown Town', a vibrant post-punk tune that continues in the same vein as the duo's winning streak of singles and EPs throughout 2020 and 2021. Built around their signature tangle of grimy bass, sinewy guitars and Kalindy Williams' explosive vocals, the track slips right in as one more charger in the unstoppable Hearts and Rockets arsenal. Leaning into their clown theme, the new clip (created by Kalindy) perfectly visualises the track's deceptive atmosphere, equal parts playful and vicious.


Up next is the new number from Skink Tank, which follows on from their endearing self-titled 2020 debut. A slight change of pace this time around though - while the EP felt indebted to Melbourne's jangle-pop scene, with its beaming melodies and chiming guitars, 'Aries Season' comes loaded with a brattier edge; the grooves more propulsive, the melodies sharper and Maggins' vocals thrillingly volatile. With the video clip capturing a raucous house-party-type performance, filmed in a residence that potentially seems set to be demolished, it's a badge of chaotic honour to cap the track off.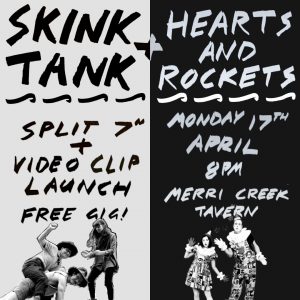 The
Clown Town / Aries Season
split 7" is out now via
Psychic Hysteria
- head
here
to grab one. Hearts and Rockets and Skink Tank are launching the release (and the videos!) on Monday April 17th with a free show at the Merri Creek Tavern.