Music / Features
Delivery World Domination -
EU/UK Tour Diary (Part 1)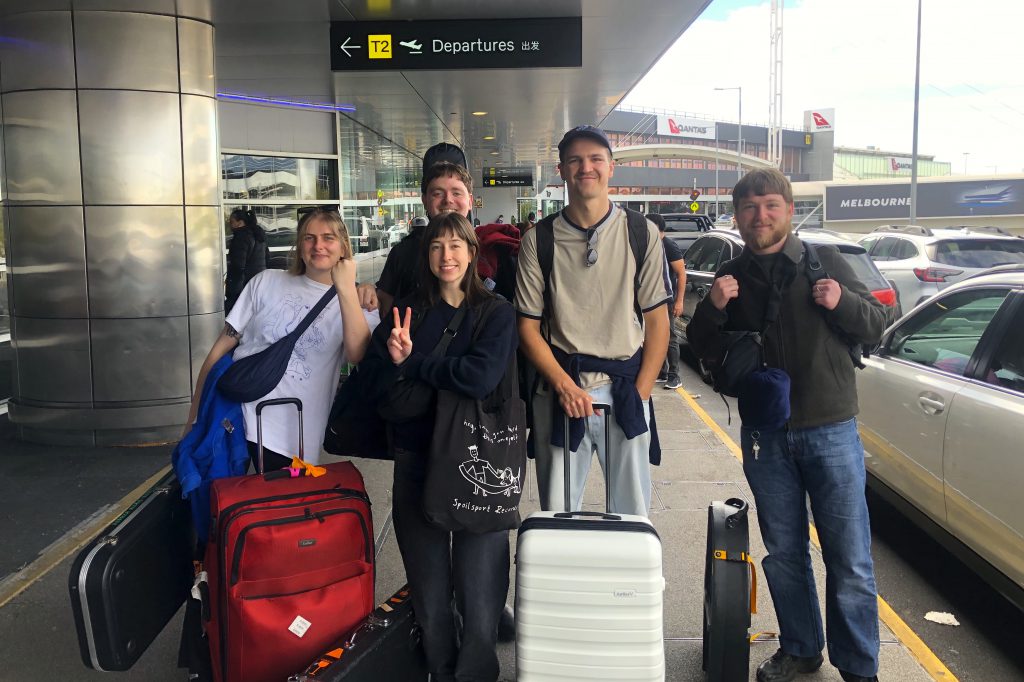 En route to complete world domination, Delivery have landed for their first tour of the mighty United Kingdom and Europe! With bias on our side thanks to TJ's editor at the helm, we'll be sharing our tour diary to keep track of the wild times on the road.
Day 1
Lisa: Delivery are no stranger to traveling together and packing tightly so as expected, the journey from home to the airport goes perfectly. The only flaw in an otherwise seamless morning was when Danny accidentally pocketed his partner's house keys. These were swiftly returned via Uber courier. Rose coloured glasses on, we were all in high spirits. A couple beers and wines were tipped in at the airport bar to celebrate and kill the time pre flight.

Boarding the plane I make some heartfelt comments to Sam about his leaving Australia for four months and a few other corny blahs. The flight takes off and the band settle into their chosen entertainment. My first pick being The Fellowship of the Ring.

Just as Frodo makes it to Rivendale, the pilot announces that there have been some technical difficulties with the plane. We are notified that we will be returning to Melbourne and our excess fuel will need to be dumped into the Tasman at 30,000ft (there goes our netzero goal). If you've not seen this procedure before, picture streams of fuel pouring out of both wings. The pilot turns us around and we land back in Melbourne. The band are appropriately rattled but we're grateful to be back on solid ground.

Next, we're left to our own devices for a few hours whilst we await news about whether we can reboard. To add salt to the wound, business class are offered refreshments in the lounge while we are offered cheese and crackers (I loved it though). The announcement eventually comes that our flight has been canceled and so Delivery trudge back through customs and biosecurity to reclaim our baggage. We all witness James' soul completely leave his body when he realises he has left his laptop in the last lounge. The laptop is resecured thanks to James literally leaping over chairs to find it.

After another hour or so wait, we are given taxi and hotel vouchers and told to come back tomorrow. Spirits are low but nobody has cracked yet. We step back out into Melbourne and are greeted by a private chauffeur who hooks us up with a ride which conveniently costs the exact amount our voucher was for… We check in at the hotel. It is so boujee that they don't even have cup noodles in the mini bar. After a couple of room beers and discussions about hitting the hotel gym/pool before breakfast which will inevitably not happen, we sleep.
Day 1 take 2
Lisa: Buffet breaky at the hotel. Sam gets excited and eats too much. Gaviscon is purchased at the first available chemist. Danny cleverly uses our canceled flight as an opportunity to go home and pack his crocs and Nalgene bottle. Thanks to the brilliant Bec and James, we've been rebooked on the same flight today. Feelings of anticipation and hope begin to return. We get a taxi back to the airport and Groundhog Day begins. We make it onto the plane, it takes off successfully and we're on our way. No LOTR today - Stanley Tucci's Searching For Italy is more my speed this time round.
Day 2
Lisa: We touch down in Manchester at 7am and we can hardly believe we've finally made it. Everyone's in good spirits, albeit feeling a bit tired. We train it to Sheffield where the day has absolutely turned it on for us. Blue skies, baby lambs in green fields and Monster Munch in our bellies, we're on cloud 9. Thanks to our 24 hour delay, we're due to play our first show in approximately 12 hours. As a team we decide the best move is to avoid all naps to stave off jet lag. We freshen up at our accom, which overlooks the Sheffield United football club, before heading out to find a local pub that some guy Sam found on YouTube suggested.

We stumble into the Rutland Arms and down our first pints and try our first chip butties. We strike up a convo with a fella named Dave who was wearing a Fontaines D.C. shirt. He tells us about the history of the iconic pub, including the jukebox where recommended and not recommended music is listed - no Arctic Monkeys allowed 🙁

We start getting real loopy at this point due to jet lag, and possibly the amount of gluten we'd just consumed. We can't stop yet so we go to the local Londies (like a 7/11) and pick up some sugar free red bulls… and vodka. We make some of the most disgusting drinks I've ever tried but it gives us the energy we need to grind on. We finally meet up with the beautiful Jas, donning a captain's hat, who is our manager and trusty driver of the tour van.

We roll into the Delicious Clam, a DIY/ BYO space in the Sheffield CBD. We soundcheck and meet the other bands. Knorke kick off the night and treat us to a math-rock-esque 20 min set of power. Next up are Honk, a bunch of Manchester hillbilly rockers. We were blown away by Honk's performance and are left begging them to play with us again when we're down in Brixton. It's our turn next. Somehow we make it through the set and it turns out to be a real good show. We meet a bunch of wonderful people and ⅗ members of Delivery purchase matching Delicious Clam scarves. We, especially me, came grossly unprepared for the freezing UK weather.

We promptly head back to the accom and crash hard.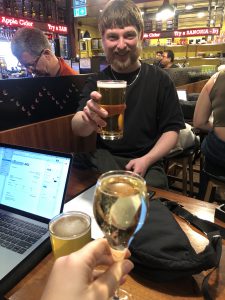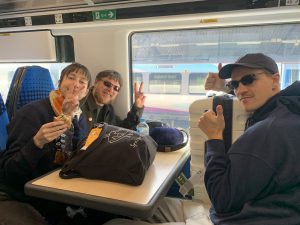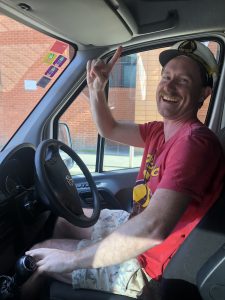 | The Rutland Arms' Recommended & Forbidden list | Delivery's first Chip Butty |
| --- | --- |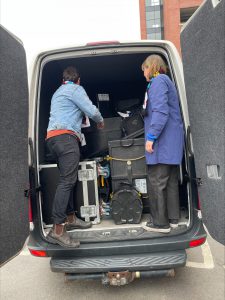 Day 3
Dan: After an amazing first show at the Delicious Clam, Delivery awake with tired eyes to the low hanging sun over Sheffield. We drag our bones to the John Street Kitchen, a great cafe just south of the city centre, for a full English spread. A beautiful spot to plan our first day off on tour!

Taking advantage of the clear skies, we hop in the van and head to the Peak District for an authentic walk through the Northern countryside. It's not long before we pass an incredible pub (as suspected, not hard to find) for a pint of Guinness and a yarn on what's to come. In my excited and, let's face it, graceless state, it's not long before an entire pint of Guinness is seeped into every inch of my clothing. As documented on @hoodwinked_frothgoblin's Instagram story, the whole ordeal sparks quite the debate around who caused the spillage. In the end it was definitely a clumsy Jas, but I'll forgive him for the swift refill! Back in the van, we finally connect the Bluetooth for a first run through of tunes. Volume up!

We move onward to Manchester, renowned for being the first industrialised city in the world, the infamous 'Madchester' scene and the breeding ground for new wave and post-punk a la The Fall, Joy Division, The Smiths at al. As an unironic fan of Oasis too, I have to reel in my love for this place amongst the cool and kind presence of Mancunians.

We arrive in the city, taking the recommendation of Honk - our new favourite band and UK besties - grabbing curry at the Pakistani curry cafe, Maharba. This place is amazing and acts as an antidote for our tired bodies. I'm sure if Bourdain ever hit Manchester he would have loved it. After dinner, we head to our accommodation to unwind.

In the Budget Ibis we find our bunks before dividing and concurring. The jet lag is hitting in different ways between the Deliveroos, but James, Jas and myself still have the spirit to catch a gig on our night off. Heading up the road to Gullivers, a fantastic pub in the heart of Manchester, we head in to catch fellow Aussie rockers The Grogans. It's their second show of a big tour over here and they are already tight as hell. It's nice to see friends on the other side of the world so early into the tour - playing to a sold-out bandroom no less! Back to the Ibis, sleep.
Day 4
Dan: In the Ibis we rise to a beautiful morning in Manchester. After soiling my clothes with Guinness yesterday, it's time for a trip to the UK's greatest establishment, Primark. Despite what my Irish instincts tell me, it is in fact pronounced "Pry-mark", not "preee-mark". We head in for a mosey while Jas goes for a run and James smashes out some work.

In Primark, I find what I think are definitely not skinny jeans (they are) and Lisa finds an economical puffer jacket that fits perfectly in her carry on. In our endeavour to avoid the cold winds of Northern England, the sun casts its shadow and I break a significant sweat regardless on our walk back to the Ibis. Summer is coming, and the ducks are out and bobbing along the river. The perfect spot to eat a Tesco meal deal.

After checking out of the Ibis, we head straight to Old Trafford for a quick look at the mighty Man United stadium. In a cheeky confession from a bitter Leeds fan, Jas admits that he intentionally drove the van to Old Trafford Cricket Stadium, where he made us get a band photo before taking us to the real Old Trafford around the corner. A hilarious gag, but I will get my revenge when we head to Leeds on Monday…

Around another corner, we arrive at the Carlton Club, a fantastic venue not dissimilar to the great bowls clubs of Australia, to record our first live session of the tour. Thank you to CJ and the rest of the Primitive Slant crew for the great session/day. We will see you in Bristol!

After a ½ pint in the gardens of the Carlton Club, we leave the afternoon sun setting sail for Big Hands. We arrive at the venue to meet Giorgio, a man with a heart of gold and a house big enough to fit Delivery. Through his work with Sour Grapes Records, Giorgio has helped put this show together for us. Over a few Krombachers (endorsed by Jas), we get to know Giorgio and the rest of the Primitive Slant crew who have come down to watch the show. The night got a bit blurry from here, but more on that tomorrow.

Some favourite slang terms heard today:
Gaff (word for someone's house)
How do? (used amongst the Primitive Slant lads as a greeting)
Day 5
Dan: How do, Manchester!

We awake hungover in the dorms of Giorgio's Mancunian abode. Last night was legendary. As the clock struck midnight, it was time to celebrate the one and only Rebecca Allan on her birthday, and thanks to the encouragement of our new friends Honk, the beers were flowing. With sore heads, we move - albeit, 3 hours behind schedule - to the beautiful city of Glasgow! We say our goodbyes to the wonderful Giorgio and get moving.

We arrive in rainy Glasgow for our second live session of the tour. We are greeted by Jimmy and Alice of Artsy Vice for a party themed live session in their fantastic studio. The party theme may have been unintentional, but we were gearing up for a fun night to celebrate Bec's big day! After a dramatic smashed light bulb halfway through the second song of the session, our hangovers are well and truly gone. Thanks to the grace of Jimmy, Alice and engineer Ross, we are quickly steered back on track and the session gets finished in time for sound check at the Flying Duck.

On top of the birthday celebrations for Bec, today is particularly special for Lisa, who lived in Glasgow for two years playing in the brilliant band Soursob. It was very nice to witness Lisa and her great friend/former band mate Goda reunite after such a long time and approximately 8 million lockdowns. We all can't wait to see Godas new band Water Machine tonight!

After soundcheck and a particularly challenging load in, we head to Stereo - a fantastic, fully vegan restaurant in the heart of Glasgow for dinner. In a day already filled with joyful reconvening, James' brother Tom joins us for dinner amidst his long bike ride across the UK. We order Guinness all round, but a few sweet cocktails for Bec on her bday.

Back to Flying Duck, Brenda warm up the stage to an excited Glasgow crowd. Thereafter, Water Machine - soon to be releasing their debut record on Upset the Rythym - play a fiery and eccentric set of post-punk belters to a completely swooned crowd/Delivery. Jimmy from Artsy Vice rips on the gat, and Goda's cowbell action draws the ear of everyone. Melbourne would love 'em.

During one of our funnest sets yet, Jas organises a cake for Bec's birthday to be brought on stage during 'Baader Meinhof'. Sam and James begin an impromptu, somewhat atonal rendition of the happy birthday song, and the crowd rejoices in her big birthday celebrations. In true Glasgow fashion, James begins the riff to 'Take Me Out' to an animated crowd before charging into our final song. For those who know me, my selective hearing is horrendous, and I feared I had missed a planned Franz Ferdinand cover in the set for Bec's bday. Luckily, it was just a gag amplified by Sam's exceptional ability to play (almost) any song on command.

After the set we enjoy chats with many wonderful Glaswegians, including old friends who have visited Melbourne and lots of Lisa's pals from her time here. Avoiding the urge to pound five bottles of Buckfast between us, we pack our gear and head back to Goda's for a night cap and catch up.

Lisa, Bec and James quickly head to bed while Sam, Jas and I enjoy a glass of Cherry beer with Goda and her accommodating housemates. We end the night with a cup of tea aback Sam's passionate take on the house mate mug collection.

Something about Glasgow, I really love it. Can't wait to come back.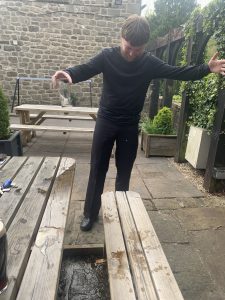 | Dan at the real Old Trafford | Sam at The Carlton Club in Manchester |
| --- | --- |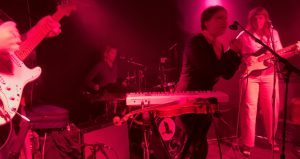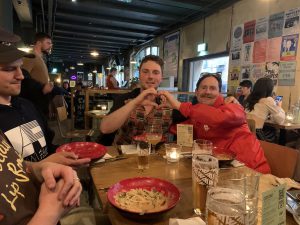 More to come! Follow Delivery below to keep up to date or find our where you can catch them next.