Visual / Illustration
Olivia Grbac
In Melbourne there are nail salons, gigs, people filming them on their phones and hip guys with some okay mullets. Olivia Grbac knows all about them and draws them too. She has a chat with us about all of the above.
TJ: Can you tell us a bit about your zine Shit People At Gigs?

OG: 'Shit People at Gigs' is a 16-page illustrated zine which documents certain types of people that make everyone's experience at a gig shit. It's two thirds tongue-in-cheek, one third serious and insulting. It was printed and released by the lovely Ashley Ronning at Helio Press using her risograph printer.


When and how did you start working on it? Do you see the Melbourne music scene as a big influence on your work?

I was at a gig standing behind a woman who filmed the entire set on her phone. I was enraged because it spoiled my experience. After that I realised just how many shit people there are ruining it for everyone so I had to start documenting them in my sketchbook. Every 'shit person' is someone I've actually run into at a gig, which is why the Melbourne Music scene was such a big influence. It has pros and cons. There's always an amazing variety of bands playing each night but the people can change an experience so quickly.


Evidently there's a pretty eclectic group of characters to draw on as subject matter. Who are some of the funniest bunch of people you've come across to draw?

I love drawing the Melbourne hip guy who has a decent mullet and visits The Tote often, he always makes an appearance. Non gig-related would have to be people at nail salons. I also find enjoyment drawing people who have a habit of complaining/being rude in any situation. Oh, and drivers being assholes. Always.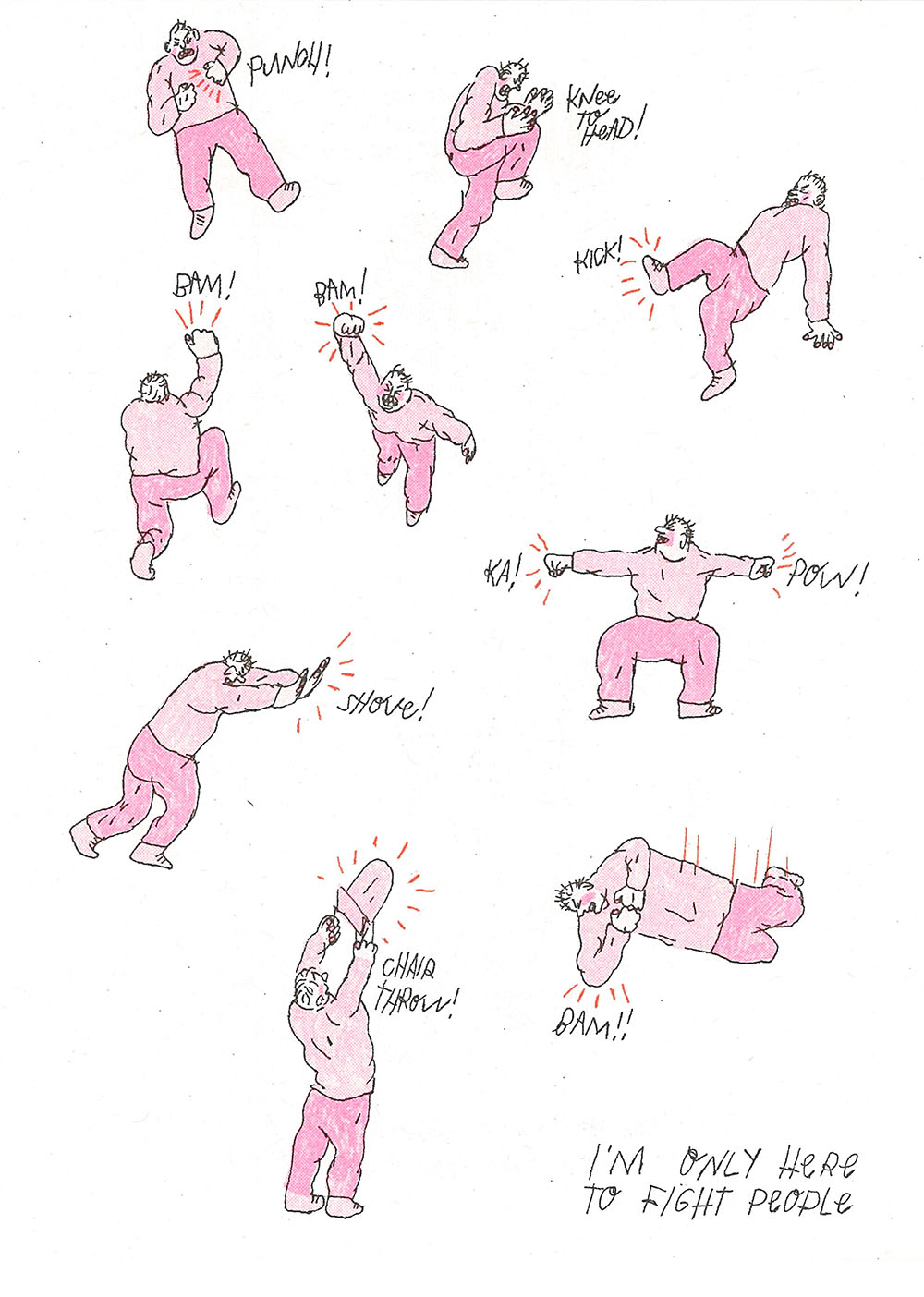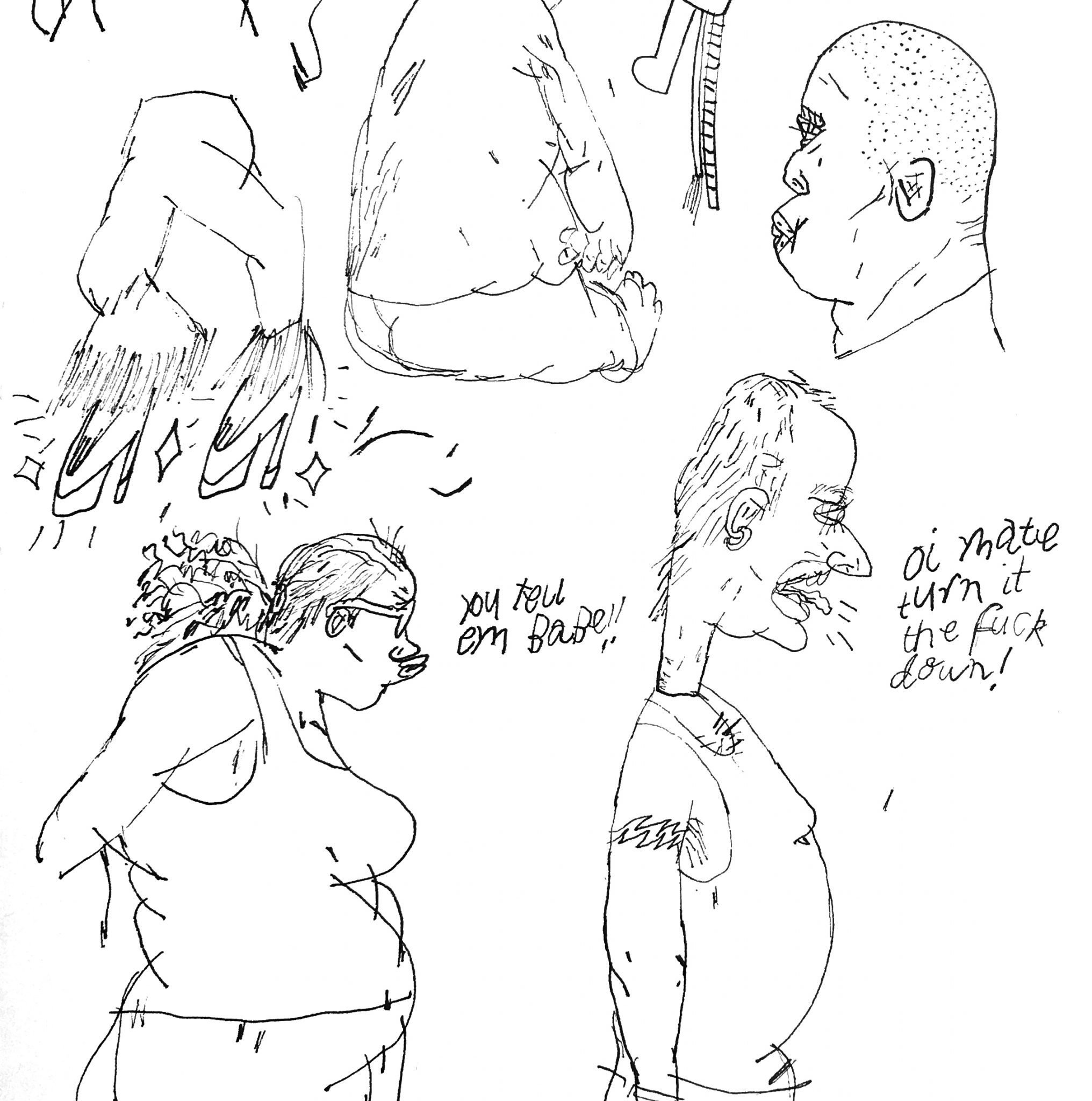 What is the weirdest thing that's happened to you at a gig?

Seeing Fat White Family in London for the first time was pretty weird. It just felt very primal. Everyone on stage was getting their kit off and the audience were really feeding off how crazy and electric they were.


Would you ever consider yourself or anyone close to you belonging to the group of shit people at gigs?

I can't speak badly of my friends. They're all super respectful and wonderful. I, on the other hand, have been an idiot, especially when I was younger. I've definitely grown up to be a lot more self-aware. Just be nice!!


You've got a real nice sketchy, loose style - how do you like to work? Are your ideas fleshed out pretty quickly onto paper? Do you draw a lot on the go or work better in a controlled environment?

I draw directly with ink and pens when I'm sketching which I guess is the finished drawing. If I'm feeling how my lines are going at the time I can get a few pages of my sketchbook filled. Sitting on a nice sun soaked table is the best! When I am trying to come up with ideas, I reference old sketchbooks. I feel very uncomfortable drawing on transport or in front of people I don't know well. My drawings can be quite personal, so I feel way more relaxed drawing in a secluded environment.


Do you like listening to music while you work? What have you been listening to lately?

Yes! It's a must. As long as it's nothing too crazy and distracting I've always got something on. If I need to get stuff done it's something like LCD Soundsystem or Mount Kimbie. Lately, I have been listening to The Courtneys, a compilation of A-Sides from The Fall, Aldous Harding, the new Black Lips and Slowdive albums, Tonstartssbandht and the latest singles from Chastity Belt.


What's your favourite Melbourne venue? How about local bands?

The Forum is at the top of the list because of how beautiful it is. Gigs always feel more special there. Smaller venues like The John Curtin and Old Bar are also great. Local talent I'm loving at the moment: RVG, Good Morning, Cable Ties, The Pink Tiles, Empat Lima and Suss Cunts!


Who are some bands that you've collaborated with and created work for and how did you come across that?

I designed Die! Die! Die!'s latest EP as they were releasing it with a record label I worked for called Bad Health. That was cool because I'd never really done anything like that before. I have done a few posters for Cable Ties and the latest band poster was one for a local band called Customer. One of my pals is in both bands. I also worked on the animation for a music video for The Smith Street Band which was directed by Celeste Potter.


In one of your works wrapping up on 2016 you hash tagged #stillsadaboutbowie. Do you have any major artists that have had a particular influence on your work?

Oh yeah! Fog Lake is a big one. He's a solo artist from Canada. His music has left a huge impression on me. And Bowie. Angel Olsen - what a voice. I sobbed when I saw her live!! Trish Keenan of Broadcast too. Broadcast are magic.