Visuals / Illustration
A Flower Each Month -
Tegan Iversen

Opening today is Tegan Iversen's second solo exhibition A Flower Each Month at Montsalvat, Residents Gallery in Eltham. Tegan's show focuses on the birth flower and gemstone colour of each month, exploring related symbolism and pattern, and the connection with corresponding personalities. Tegan's signature sketchy, playful style here translates to busy, energetic pops of floral pattern contrasted with bold, single illustrations.
Working out of her small shared studio space in Fitzroy, twenty-four year old artist and illustrator, Tegan Iversen spends her time drawing and co-running workshops, events and the triannual zine for Melbourne feminist collective F*EMS after graduating from the Victorian College of the Arts, with a Bachelor of Fine Arts (Visual Art), in 2014.

While Tegan has been part of an impressive list of group exhibitions, A Flower Each Month is her second solo show and an opportunity to show a diverse body of work. Across the works Tegan pushes her style - stripping imagery back to single, delicate forms and contrastingly occupying full bleed images with vibrant, dynamic patterns. Working across mixed mediums of painted, digital and sketched works, the pieces are unified by her signature raw, sketchy style. Tegan explains that her practice "revolves around the spontaneous act of drawing", evident as its instant and honest qualities carry across all of her work whether it's digital, sketched or painted.



| 'Flowers for January (carnation, flannel flower & snowdrop)' |   |
| --- | --- |
The idea for A Flower Each Month blossomed from Tegan's love and personal tie to flowers. While Tegan's mother informed her strong interest in flowers, she herself had gained an extensive knowledge and fondness for flowers from Tegan's grandmother, a florist. Memories of admiring and picking flowers on neighbourhood walks with her walks with her Grandmother and mum inspired Tegan to further explore the relationship between people, patterns and colour. Her fondness and nostalgia for flowers translates to a colourful array of drawn, digital and painted works throughout the exhibition.

Throughout A Flower Each Month, Tegan invites viewers to see which works they are naturally drawn to, curious to see whether they agree with the works that depict their designated flower or gemstone colour according to their birth month.



| 'Flowers for February (iris, primrose & violet)' | 'Lovely lily of the valley (May)' |
| --- | --- |
The exhibition will run from January 31st-February 25th, with a Meet the Artist event taking place on Sunday the 18th of February from 1-3pm.

All the works exhibited at Tegan's show A Flower Each Month, will be displayed in frames hand-crafted by Tegan's partner Alexander and his grandpa, Peter Radevski.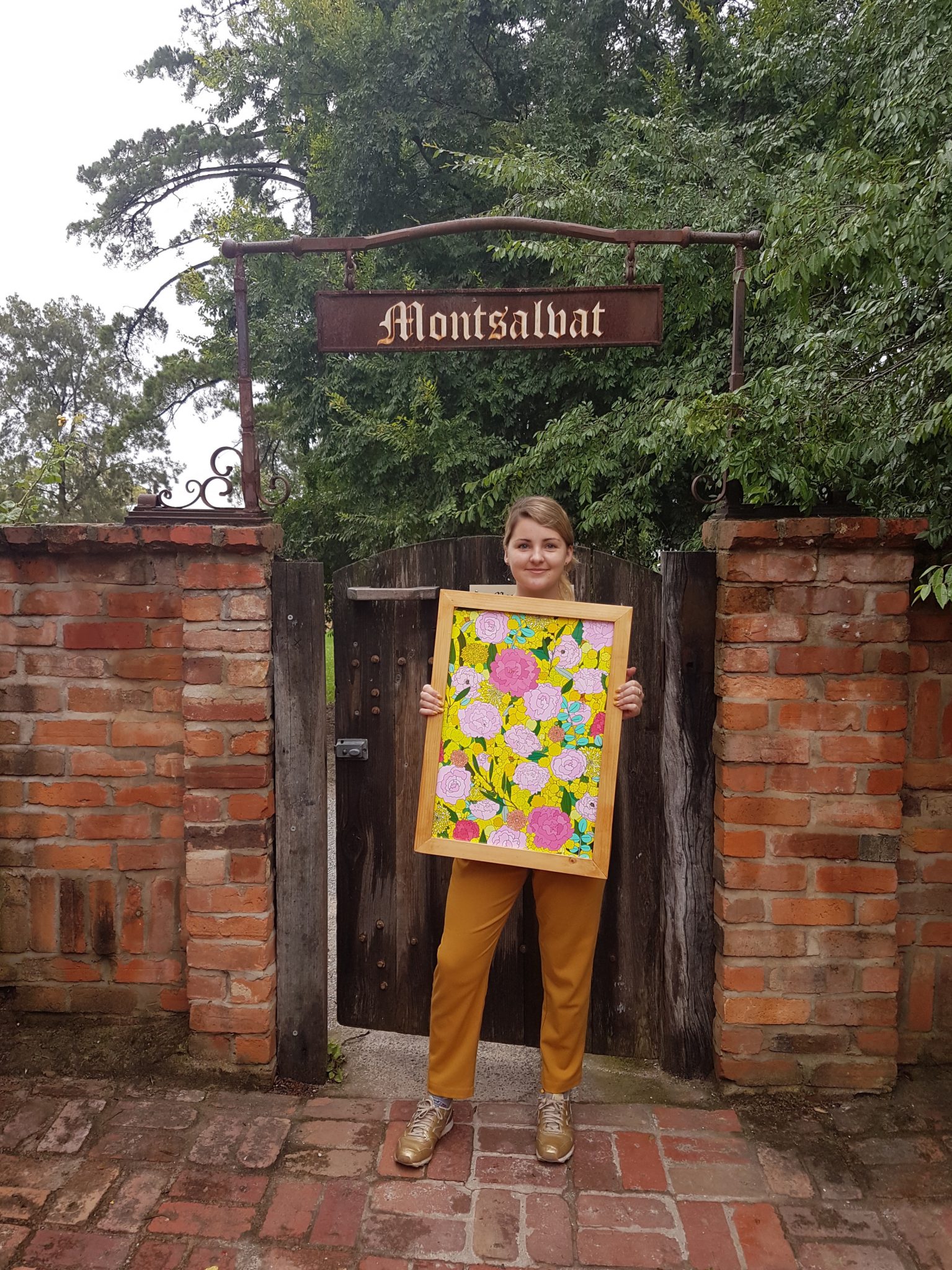 A Flower Each Month
January 31st - February 25th
Montsalvat
7 Hillcrest Avenue, Eltham
FREE